Current Affairs - 28 July 2021
Current Affairs - 28 July 2021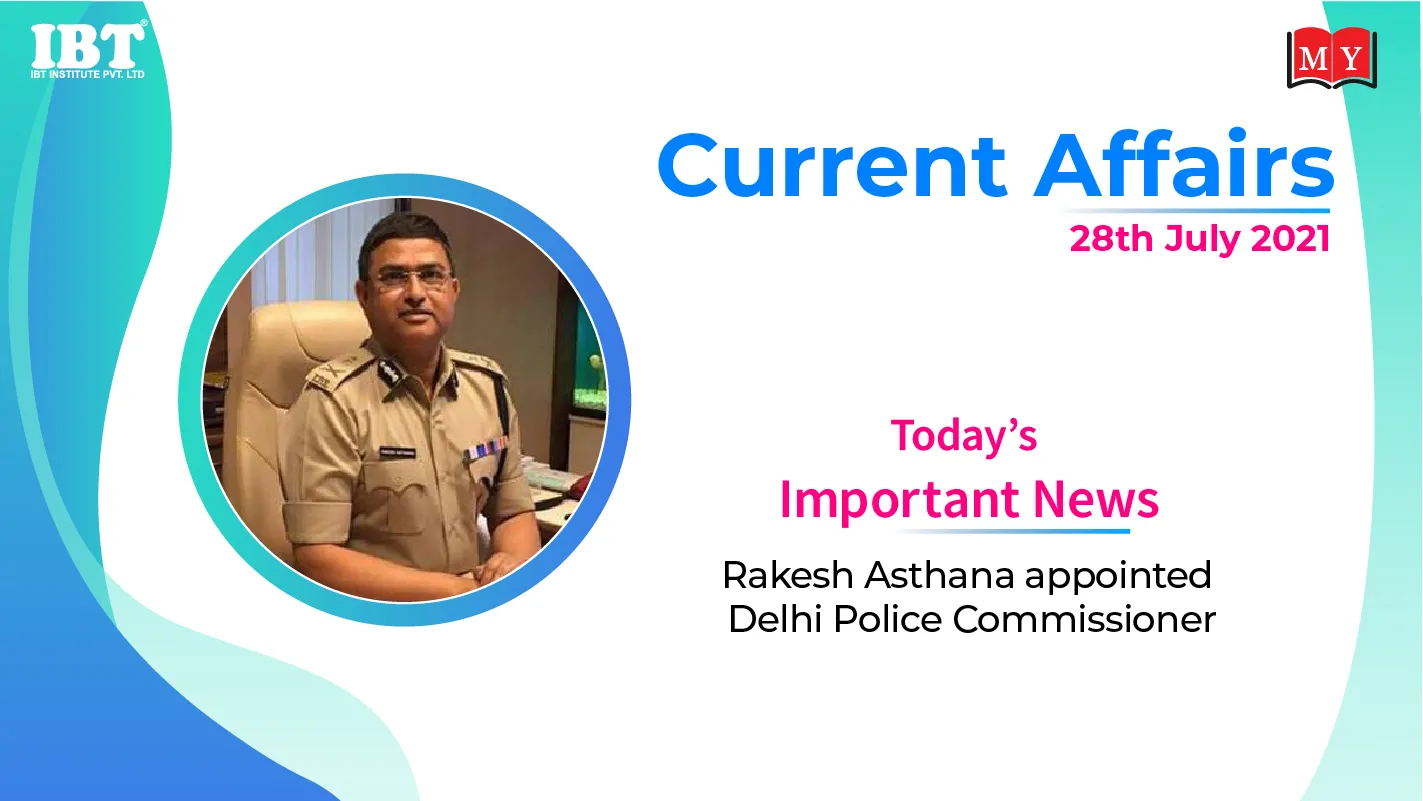 1.Rakesh Asthana appointed Delhi Police Commissioner
Rakesh Asthana (1984-Gujarat cadre IPS officer) has been appointed Delhi Police Commissioner with immediate effect.

He was set to retire on July 31.

He was serving as Director-General, Border Security Force.

This is one of the very few instances when an IPS officer outside of AGMUT cadre has been appointed as Delhi Police chief.

Asthana had earlier served as the Special Director of the Central Bureau of Investigation.
Chief Minister: Arvind Kejriwal
Lieutenant Governor: Anil Baijal
2.World Hepatitis Day 2021: 28 July
World Hepatitis Day is observed every year on 28 July to raise global awareness of the burden of viral hepatitis, an inflammation of the liver that causes a range of health problems, including liver cancer.

28 July was chosen for World Hepatitis Day as it is the birthday of Nobel-prize winning scientist Dr Baruch Blumberg, who discovered Hepatitis B Virus (HBV).

Theme of World Hepatitis Day 2021: 'Hepatitis Can't Wait'.
3.Central & South Asia connectivity conference 2021 held
Uzbekistan hosted a high-level International Conference titled as 'Central and South Asia: Regional Connectivity. Challenges and Opportunities' at Tashkent.

The conference was an initiative of the President of Uzbekistan, Shavkat Mirziyoyev.

Delegates from over 40 countries and about 30 international organizations, and heads of think tanks participated in the conference.

Minister of External Affairs of India Dr. S. Jaishankar also participated in the conference.
4.Basavaraj Bommai elected as 23rd Chief Minister of Karnataka
Basavaraj S Bommai (61 years) has been unanimously elected as the new Chief Minister of Karnataka.

He will succeed BS Yediyurappa, who resigned on July 26, 2021.

Prior to this, he was the Home Minister in the BSY government.

He is a 3-time member of Karnataka Legislative Assembly from Shiggaon since 2008.

He was a member of Karnataka Legislative Council between 1998 and 2008.

He previously served as Minister for Water Resources and Cooperation between 2008 to 2013.
Governor: Thawar Chand Gehlot
Chief Minister: Basavaraj Bommai
Capital: Bengaluru
5.Dholavira inscribed as India's 40th UNESCO World Heritage Site
Dholavira, Harappan City in Gujarat's Rann of Kutchch has been inscribed as 40th UNESCO World Heritage Site of India with effect from July 27, 2021.

The historic of 'Dholavira' was on the UNESCO's tentative list since 2014.

Dholavira: a Harappan city' is one of the very few well preserved urban settlements in South Asia dating from the 3rd to mid-2nd millennium BCE.

With this, India has entered the Super-40 club for World Heritage Site inscriptions.
6.Indo-Russia Joint Military Drill 'Exercise INDRA 2021'
Indo-Russia Joint Military Drill 'Exercise INDRA 2021' is to be held in August 2021 at Volgograd, Russia.

It is the 12th Edition of Indo-Russia joint military exercise that will be held from 1 to 13 August 2021.

250 personnel from both the nations will form part of this exercise that will involve conduct of counter terror operations against international terror groups, under UN mandate.

It will strengthen mutual confidence and interoperability between both armies.
7.Puri becomes India's first city to provide quality drinking tap water
Puri (Odisha) became first Indian city where people can avail high quality drinking water directly from the tap on 24-hour.

Due to this, people will need not have to store or filter drinking water.

No metropolitan city in India has such facility till now.

Similar facilities are available only in cities like London, New York and Singapore.

Puri would no more be burdened with 400 metric tonne of plastic waste. Water fountains have been developed at 400 locations in Puri.
8.ISRO gears to launch its Merchandise Programme
ISRO has come up with the customised-themed merchandise programme in partnership with multiple companies to create awareness and kindling interest of students, children and the public in the domain of space and technology.

So far, eight companies have registered with ISRO on a non-exclusive basis with registration fee regarding customised ISRO-theme-based articles/models and it includes Indic Inspirations (Pune), 1947IND (Bengaluru) and Ankur Hobby Centre (Ahmedabad).
Founder: Vikram Sarabhai
Founded: 15 August 1969
Headquarters: Bengaluru
Director: Kailasavadivoo Sivan
9.Carissa Moore becomes Olympic women's surf champion
U. S. surfer Carissa Moore is the first woman to ever win a Gold medal at the Olympics women's surf champion.

She defeated Bianca Buitendag of South Africa and registered a score of 14.93.

Italo Ferreira of Brazil has defeated Kanoa Igarashi of Japan with massive lead in men's surfing event and secured gold medal.

Surfing made its Olympic debut during three days of competition at Tsurigasaki Beach, in Chiba province, 40 miles from Tokyo.
10.IMF slashes India's economic growth forecast for FY22 to 9.5%
The International Monetary Fund (IMF) has sharply cut India's economic growth projection by 300 basis points, from 12.5 percent to 9.5 percent for the financial year 2021-22 (FY22).

The downward revision in the GDP growth rate is due to lack of access to vaccines and possibility of renewed waves of coronavirus.

For FY23 (2022-23), IMF has estimated the gross domestic product (GDP) of India at 8.5 percent, which is 160 basis points higher than its earlier projection of 6.9 percent.

Incase of global economy IMF has projected 6.0 percent growth in 2021 and 4.9 percent in 2022.
Managing Director: Kristalina Georgieva
Headquarters: Washington, D.C., U.S
Chief Economist: Gita Gopinath
Formation: 27 December 1945