Current Affairs 28-29 September, 2019
Current Affairs 28-29 September, 2019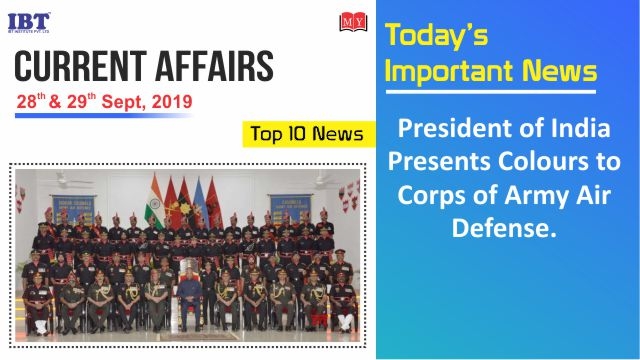 Current Affairs 28-29 September, 2019
1. Indian Navy inaugurates its largest dry dock.
The Indian Navy's first aircraft-carrier dry dock was inaugurated in Mumbai on Friday. However, there is a connection between this Aircraft Carrier Dock and the Eiffel Tower in Paris.

India's only aircraft carrier, INS Vikramaditya, weighing 44,500 tons and the first indigenous carrier Vikrant

In a dry dock, water is drained out after a ship is brought in to enable repair and inspection. This dry dock has been under construction for nine years. Five lakh tonnes of concrete has gone into making it.
Foot Notes:
Indian Navy
1. Vice Chief of the Naval Staff (VCNS): Vice Admiral G. Ashok Kumar
2. Chief of the Naval Staff (CNS): Admiral Karambir Singh,
3. Deputy Chief of the Naval Staff (DCNS): Vice Admiral M. S. Pawar
2. N Srinivasan's daughter Rupa Gurunath elected Tamil Nadu Cricket Association president
Rupa Gurunath, daughter of former Board of Control for Cricket in India's (BCCI) President N Srinivasan, has been elected the President of the Tamil Nadu Cricket Association (TNCA) at its annual general meeting.

With this, she has become the first woman to head a state-level cricket body in the country. Gurunath was elected unanimously.

Gurunath's was the only nomination filed for the post of president. Her husband Gurunath Meiyappan was banned for life for indulging in spot-fixing in the Indian Premier League. She will represent the state association at the meetings in BCCI.
Foot Notes:
About BCCI
1. President: C.K. Khanna
2. Headquarters: Mumbai
3. CEO: Rahul Johri
3. Pakistan stops postal exchange with India
The ongoing tension between India and Pakistan following the scrapping of special status for Jammu & Kashmir, Islamabad now stopped the postal mail exchange between the two countries.

Pakistan has stopped sending postal mails to India since the tensions between the neighbours heightened amidst the abrogation of Article 370 in Jammu and Kashmir.

The people in Punjab on the Indian side have stopped receiving regular mails such as magazines, publications, and even letters which they used to get regularly earlier from Pakistan via post.
4. Air Marshal HS Arora appointed new IAF Vice Chief
Air Marshal HS Arora has been appointed as the Vice Chief of Indian Air Force. He will succeed Air Marshal RKS Bhadauria who will take over as the Chief of Air Staff.

Air Marshal Arora is currently heading the Gandhinagar headquartered South Western Air Command of the Air Force. He was also deputed as Defence Attache at the Embassy of India, Bangkok, Thailand from 2006 to 2009.

In another re-shuffle, Air Marshal B Suresh has been appointed as Western Air Commander of the Air Force, in New Delhi. Suresh will succeed Kargil war hero Air Marshal Raghunath Nambiar.
Foot Notes:
About Indian Air Force
1. Founded: 8 October 1932, India
2. Headquarters: New Delhi
3. Air Chief Marshal: Birender Singh Dhanoa
4. Commander-in-Chief: President Ram Nath Kovind
5. Fighters: Sukhoi Su-30MKI, Dassault Mirage 2000, Mikoyan MiG-29, Mikoyan-Gurevich MiG-21, HAL Tejas
5. Bengaluru Airport wants Citizens to Donate Plastic Waste, Will Be Used to Build Roads
Bangalore International Airport Limited (BIAL) is seeking donations, but of a different kind of plastic waste. The airport authorities have asked citizens of the state capital to donate their plastic waste to build 50-lane-km roads in the airport campus.

The campaign, called the #PlasticBeku (Want Plastic) campaign, is part of an ongoing plan to lay roads at the Kempegowda International Airport using collected plastic waste.

The #PlasticBeku collection programme will be undertaken at three BIAL-adopted schools Bettakote Government Lower Primary School, Vijayapura Government Higher Primary Girls Model School, and Ardeshanahalli Government Lower Primary School and five panchayats of Devanahalli taluk as well as in private schools and resident welfare associations (RWAs) in north Bengaluru.
Foot Notes:
About Karnataka
1. Chief Minister: B. S. Yediyurappa
2. Governor: Vajubhai Vala
3. Capital: Bengaluru
6. Nepal Central Bank releases 3 coins to mark Guru Nanak Dev's birth anniversary
The Central Bank of Nepal released three coins to commemorate the birth anniversary of Sikh Guru Nanak Dev.

The coins with denomination of NPR (Nepali Rupees) 100, 1000 and 2500 were jointly launched by Governor of Nepal Rastra Bank (NRB) Chiranjibi Nepal and Indian Ambassador to Nepal Manjeev Singh Puri at Hotel Aloft in Kathmandu . The coins possess monetary value and its sale will start from September 30, the NRB said. "Proud to be a Sikh today. Proud to be a follower of Guru Nanak Dev.

Sikhs residing in every part of the world that too in large numbers.
About Nepal
1. Prime Minister: KP Sharma Oli
2. Capital: Kathmandu
3. Currency: Nepalese rupee
7. Astronomers 13-Billion-Year-Old Protocluster Galaxy Discovered
Astronomers have discovered a 13-billion-year-old galaxy cluster that is the earliest ever observed.

The early-stage cluster called a protocluster is not easy to find Yuichi Harikane, a researcher at the National Astronomical Observatory of Japan who led the international team.

A protocluster is a rare and special system with an extremely high density.The researchers used the wide viewing field of the Subaru telescope in Hawaii to map a large area of the sky in their search.

The discovery of the protocluster, a collection of 12 galaxies, suggests that large cosmic structures were present in the very early stages of the universe which scientists believe was born 13.8 billion years ago.
Foot Notes:
About National Astronomical Observatory of Japan
1. Founded: 1988
About Japan
1. Capital: Tokyo
2. Currency: Japanese yen
8. President of India Presents Colours to Corps of Army Air Defence
President of India, Shri Ram Nath Kovind presented Colours to Corps of Army Air Defence at Gopalpur, Odisha. They paid homage to the martyrs of the Corps of Army Air Defence.

The sacrifice has secured our sovereignty, brought glory to our Nation and protected our people. The veterans and serving soldiers of the Corps for their stupendous performance.

The true force multipliers in the most inhospitable terrain and climatic conditions in the world. The Indian Army and the Nation is proud of them who are the real heroes who serve the country.
9. Andhra Pradesh bans bauxite mining in tribal areas
Andhra Pradesh government collecting a 'green tax' besides imposing a ban on single-use plastic. The bauxite mining lease in about 1,520 hectares in Jarella of Chintapalli agency area in Visakhapatnam district, given to the Andhra Pradesh Mineral Development Corporation (APMDC) for a period of 30 years.

The growing pollution levels and its impact, chief minister Y. S. Jagan Mohan Reddy. Around one lakh tonnes of waste is being generated from pharma companies.

The department officials to prepare a proposal within one month to promote the protection of the environment and prevention of pollution, and also asked them to study and observe various steps taken by other countries in preserving the environment. The pollution levels in Visakhapatnam are very high. It should be prevented immediately if not there will be severe consequences.
Foot Notes:
About Andhra Pradesh
1. Governor: Biswabhusan Harichandan
2. Chief Minister: Y. S. Jaganmohan Reddy
3. Capital : Hyderabad
10. Facebook Wins Exclusive Digital Content Rights for ICC Events in Indian Subcontinent
Facebook will have exclusive digital content rights for International Cricket Council (ICC) events in the Indian subcontinent till 2023, the world's governing body of the sport.

The deal will include the next two men's World Twenty20 events in 2020 and 2022, the 50-over World Cup in 2023 and the World Test Championship final in 2023.

The social media giant will carry a range of digital content across four years including match recaps, in-play key moments and other match and feature content on its various platform.
Foot Notes:
About Facebook
CEO: Mark Zuckerberg
Headquarters: Menlo Park, California, United States
CFO: David Wehner