Current Affairs - 27 October 2020
Current Affairs - 27 October 2020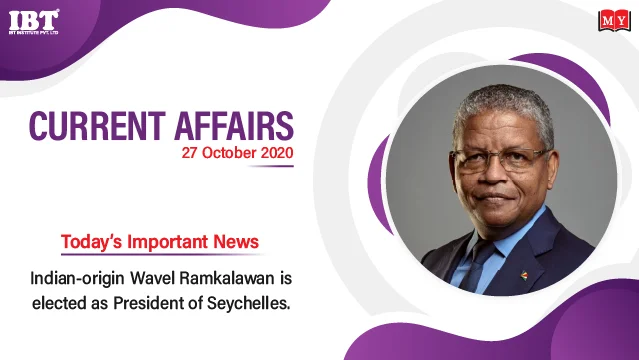 1. World Day for Audiovisual Heritage observed on 27 October
The World Day for Audiovisual Heritage takes place every 27 October. This commemorative day was chosen by UNESCO in 2005 to raise awareness of the significance and preservation risks of recorded sound and audiovisual documents.

2020 theme : "Your Window to the World".
Foot Notes:
About UNESCO:
Headquarters: Paris, France
Head: Audrey Azoulay
Founded: 16 November 1945, London, United Kingdom
2. Indian-origin Wavel Ramkalawan is elected as President of Seychelles
Indian-origin Wavel Ramkalawan has been elected as the President of Seychelles.

Seychelles has elected an opposition candidate as president for the first time since 1977.

He has defeated the incumbent Danny Faure. Ramakalwan is a priest of Indian Origin whose grandfather came from Gopalganj, Bihar.
Foot Notes:
About Seychelles:
President: Wavel Ramkalawan
Capital: Victoria
Currency: Seychellois rupee
Continent: Africa
3. Japan to achieve zero carbon emissions by 2050
Japanese Prime Minister Yoshihide Suga has said that the country will achieve zero carbon emissions by 2050.

Mr. Suga announced this in his policy speech at first parliamentary session since he took office last month.

The Prime Minister said, he intends to make a sustainable economy a pillar of his growth strategy and put maximum effort into achieving a green society.

Mr. Suga emphasized the need to shift away from fossil fuels to counter climate change as an opportunity rather than a burden.

As per Japan's current energy plan, 56 per cent of its energy reqirements come from fossil fuels.
Foot Notes:
About Japan:
Capital: Tokyo
Currency: Japanese yen
Prime Minister: Yoshihide Suga
4. Arjun Munda launches two Centers of Excellence for Tribal Welfare
Union Minister of Tribal Affairs Arjun Munda launched two Centers of Excellence for Tribal Welfare today. These centers were launched in collaboration between the Ministry of Tribal Affairs and Art of Living through video conference.

Addressing on the occasion, Mr. Munda informed that the one Center will be engaged in the field of training tribal farmers in Aurangabad district of Maharashtra on sustainable natural farming while the second one will be working towards strengthening Panchayati Raj Institutions in 5 districts covering 30 Gram Panchayats and 150 villages of Jharkhand.

Mr. Munda said, the Union government is fully committed to the welfare of tribal people in the country. Sri Sri Ravishankar of Art of Living, Minister of State for Tribal Affairs Renuka Singh, along with senior officials of the Tribal Affairs Ministry were also present on the occasion.
Foot Notes:
About Ministry of Tribal Affairs:
Union Minister: Arjun Munda
Minister of State:Renuka Singh
5. NATO plans to set up new space center in Germany
The North Atlantic Treaty Organization (NATO) alliance, plans to build a headquarters for space operations at its airbase in Ramstein in Germany, to counter a rising Russian and Chinese threat.

The new centre is to be a central point of contact to support NATO missions with communication and satellite images.

It will also be a place to exchange information on potential threats to satellites. Some 2,000 satellites orbit the Earth, more than half of which are operated by NATO members, allowing everything from mobile phone services to weather forecasts. Currently, at least 40 per cent of NATO's communications are via satellite.
Foot Notes:
About NATO:
Founded: 4 April 1949, Washington, D.C., United States
Headquarters: Brussels, Belgium
Abbreviation: NATO, OTAN
Chairman of the NATO Military Committee: Air Chief Marshal Stuart Peach, Royal Air Force
About Germany:
President: Frank-Walter Steinmeier
Capital: Berlin
Currency: Euro

6. Bimal Julka appointed as the Chairman of Federation of Indian Fantasy Sports
Federation of Indian Fantasy Sports (FIFS) has announced the appointment of Bimal Julka as its Chairman.

In his new role, Julka will work closely with all the stakeholders to further strengthen the operating standards of the Indian fantasy sports industry. Bimal Julka is an Indian Administrative Service (IAS) Officer of the 1979 batch belonging to the Madhya Pradesh Cadre.

Julka is taking over from John Loffhagen, who served as the Chairman of FIFS for over three years. Loffhagen will assume the role of a Strategic Advisor and support FIFS on collaborating with relevant international bodies in the industry.
7. Samsung Tops Forbes' list of World's Best Employer 2020
South Korea based electronics conglomerate, Samsung Electronics has topped the list of 'World's Best Employer 2020′ published by Forbes'.

Amazon, IBM, Microsoft and LG are among the top 5 in the list respectively.

The global list features 750 multinational and large corporations headquartered in 45 countries.

From India, HCL Technologies is the top industry in the list.

It is placed at the 30th position globally.
Foot Notes:
About Samsung:
Founder: Lee Byung-chul
Founded: 1 March 1938, Seoul, South Korea
Headquarters: Seoul, South Korea
About South Korea:
Capital: Seoul
President: Moon Jae-in
Currency: South Korean won
Prime Minister: Chung Sye-kyun
8. Mumbai Police bans use of drones, paragliders, remote controlled small aircraft & aerial missiles till Nov 28
In order to ensure a safe festive season, Mumbai Police has banned the use of drones, paragliders, remote controlled small aircraft and aerial missiles till 28th November 2020. It states that anyone found contravening this order will be liable for punishment under relevant sections of Indian Penal Code.

DCP of Mumbai Police, Chaitanya S. has said that terrorists or anti-national elements may use drones to cause law and order disturbances or make an effort to destroy public property or attack VVIPs. As a preventive and precautionary measure, no such flying activity will be permitted under the jurisdiction of Brihanmumbai Police Commissionerate.
Foot Notes:
About Maharashtra:
Governor: Bhagat Singh Koshyari
Capital: Mumbai
Chief Minister: Uddhav Thackeray

9. Under-19 World Cup-winner Tanmay Srivastava retires from cricket
Tanmay Manoj Srivastava, who was part of India's Under-19 World Cup-winning team in 2008 announced his retirement from all forms of domestic cricket.

He played 90 first-class games, scoring 4918 runs. He also played 44 List A matches and 34 T20s. He also played IPL ( Indian Premier League), where he represented Kings XI Punjab, Deccan Chargers and Kochi Tuskers Kerala.
10. Naresh Kanodia, popular Gujarati actor, passes away at 77 in Ahmedabad hospital
Gujarati film superstar and actor-turned-politician Naresh Kanodia passed away. He was 77.

He was suffering from COVID infection along with other comorbidities.

Kanodia represented Karjan Assembly seat from 2002 to 2007. He worked in more than 100 Gujarati films.

He along with his brother Mahesh Kumar- who passed away just two days ago, used to run the highly successful orchestra Mahesh-Naresh & Party.