Current Affairs 27 July - 28 July, 2019
Current Affairs 27 July - 28 July, 2019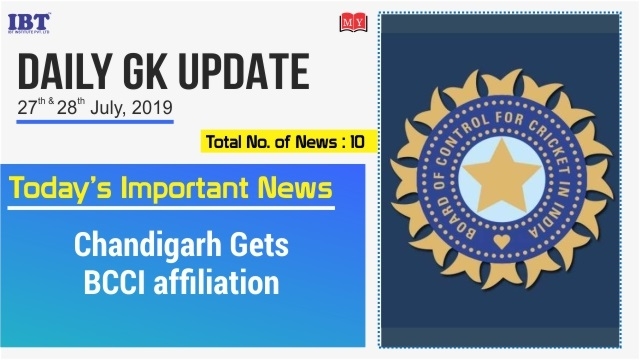 1. Arunachal CM launches tree plantation programme
Chief Minister of Arunachal Pradesh launched the statewide tree plantation programme 'Clean-Green Arunachal Campaign 2019' in Itanagar.

Under this campaign State Forest department had planted 1-lakh tree saplings in 24 hours.

This campaign is a part of Van Mahotsav celebration and has set the target of planting 1 Crore tree within the next five years.
Foot Notes:
About : Arunachal Pradesh
Chief Minister: Pema Khandu.
Governor: B. D. Mishra.
2. Chandigarh gets BCCI affiliation
Chandigarh received affiliation from the Board of Control for Cricket in India(BCCI) after nearly four decades.

After getting BCCI affiliation, Chandigarh Cricket Association-Punjab had recently decided to merge with Union Territory Cricket Association, thus paving way for the Union Territory to be recognised as a separate entity.
Foot Notes:
About BCCI
President of BCCI: C.K. Khanna
Headquarters of BCCI : Mumbai.
3. Jordan opens its first underwater military museum
Jordan, an Arab country in Western Asia, opened its first Underwater Military Museum Dive Site, off its Red Sea coast, Aqaba.

The objective of the museum is to offer a new type of museum experience combining sports, environment and exhibits for divers, snorkelers and visitors on glass-bottomed boats.Jordan opens its first underwater military museumi.

It has several tanks, an ambulance, a military crane, a troop carrier, an anti-aircraft battery, guns, Jordanian Armed Forces AH-1 Cobra Helicopter, 19 decommissioned pieces of military hardware, submerged at depths up to 28 metres (92 feet).
Foot Notes:
About Jordan:
Capital: Amman
Currency: Jordanian dinar
4. Former Finance Secretary Shri Subash Chandra Garg, takes over as the new Power Secretary of the Power Ministry
Subhash Chandra Garg, who was the former finance secretary in the Department of Economic Affairs (DEA) has now been appointed as the new Power Secretary.

He will be succeeded by Atanu Chakraborty as the new Finance Secretary in the Department of Economic Affairs.
Foot Notes:
MoS independent charge: K. Singh
Founded:2 July 1992
Headquarters: New Delhi.
5. In fresh challenge, defiant Iran tests medium-range missile
After openly breaching the terms of the nuclear deal, Iran this week also conducted a medium-range ballistic missile test in violation of Security Council resolutions, a report said late Thursday.

The country tested a Shahab-3, the New York Times reported, citing an unnamed US military official.

It was launched from southern Iran and flew some 1,100 kilometers, landing east of Tehran, the report said.The military source said the missile did not pose a threat to US or

Western assets in the region, and that US officials had closely monitored the activity that preceded the launch.
Foot Notes:
About Iran
Capital: Tehran
Currency: Iranian Rial
Supreme leader: Ali Khamenei
President: Hassan Rouhani
6. Kaiga Atomic Energy station sets a World record
Kaiga Atomic Energy station (Karnataka) sets a World Record in continuous operation of 962 days by Unit-1 of Kaiga Generating Station (KGS-1) among nuclear power plants of all technologies.

KGS-1 (220 MW) in an indigenous Pressurised Heavy Water Reactors (PHWR) fuelled by domestic fuel which started commercial operation on November 16, 2000.
7. Gujarat tops in rooftop solar installation across the country
Gujarat ranks on top in the installation of rooftop solar projects with an installed capacity of 261.97 megawatts.

Total rooftop solar installation in India currently stands at 1,700.54 MW.

Gujarat is followed by Maharashtra and Tamil Nadu with 198.52 MW and 151.62 MW.
Foot Notes:
About Gujarat
CM: Vijay Rupani
Governor: Acharya Dev Vrat.
Capital: Gandhinagar.
8. Two Defence Industrial Corridors to be set up in Uttar Pradesh and Tamil Nadu
In pursuance of the announcement made by the Finance Minister Mr Arun Jaitley in the budget speech 2018-19, the Government has decided to set up 2 Defence Industrial Corridors in Uttar Pradesh and Tamil Nadu. It will cover the needs of Micro, Small and Medium Enterprises (MSME).

The 6 nodes of Uttar Pradesh Defence Industrial Corridor are Lucknow, Kanpur, Agra, Aligarh, Chitrakoot and Jhansi.

Investments worth Rs 4,000 crore have been received and the project is expected to cost Rs 20,000 crore.

Change is proposed in the Defence Policy-2018 of the Uttar Pradesh government for the inclusion of the manufacture of arms, ammunition and explosives as an investment area for the defence corridor.
Foot Notes:
About Ministry of Defence:
Headquarters: New Delhi
Founded: August 15, 1947
Minister In-charge: Rajnath Singh
9. World Hepatitis Day 2019 observed on July 28
World Hepatitis Day (WHD) was observed on July 28, 2019. It is observed to raise awareness on the global burden of viral hepatitis. The theme of World Health Organization (WHO) for WHD 2019 is "Invest in Eliminating Hepatitis".

July 28 was chosen to celebrate WHD as it is the birthday of scientist Dr Baruch Blumberg who discovered hepatitis B virus (HBV).In 2008, World Hepatitis Alliance in association with patient groups declared May 19 as the first WHD. Later, World Health Assembly (WHA) changed it to July 28 in May 2010.

Georgia's hepatitis C elimination program, launched in 2015, was named as the world's first Centre of Excellence in Viral Hepatitis Elimination by the European Association for the Study of the Liver (EASL) International Liver Foundation.The host country for WHD 2019 was Pakistan where the global events were held in Islamabad on 27-28 July 2019.
Foot notes:
About WHO
Headquarters: Geneva, Switzerland
Founded: 7 April 1948
10. First printing press heritage gallery opened by Railway's
The Western Railway General Stores Depot (GSD) has become the first in Indian Railways to opened a heritage gallery of the printing and allied machines used in the Western Railway Printing Press since (1948) at Mahalaxmi in Mumbai.
Foot Notes:
About Railway Ministery
Union Railway Minister: Piyush Goyal.
Headquarter of Western Railway: Churchgate (Mumbai).