Current Affairs - 27 July 2021
Current Affairs - 27 July 2021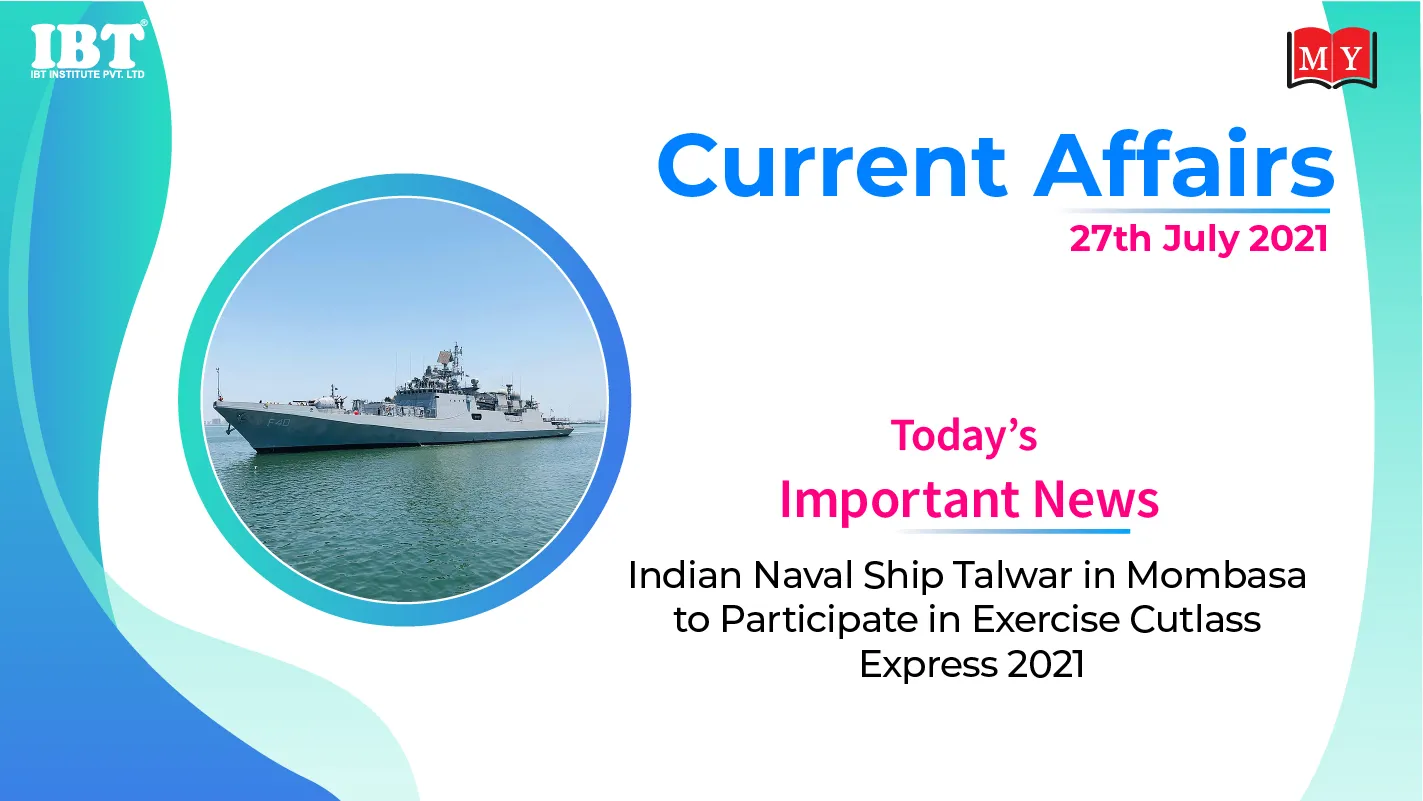 1.Indian Naval Ship Talwar in Mombasa to Participate in Exercise Cutlass Express 2021
Indian Naval Ship Talwar is participating in annual maritime exercise titled as Exercise Cutlass Express 2021, which is being conducted from 26 July to 6 August 2021 along the East Coast of Africa.

2021 edition includes 12 Eastern African countries, US, UK, India and international organisations like International Maritime Organisation, UN Office on Drugs and Crime, Interpol, European Union Naval Force, Critical Maritime Routes Indian Ocean and EUCAP Somalia.
Founded: 26 January 1950
Vice Chief of the Naval Staff (VCNS): Vice Admiral G. Ashok Kumar
Deputy Chief of the Naval Staff (DCNS): Vice Admiral Ravneet Singh
Chief of the Naval Staff (CNS): Admiral Karambir Singh
Commander-in-Chief: President Ram Nath Kovind
2.Philippines became first country to approve Golden Rice for planting
Philippines will become the first country in the world to cultivate Golden Rice to help reduce childhood malnutrition.

Golden Rice was developed by Dept of Agriculture-Philippine Rice Research Institute (DA-PhilRice) in partnership with International Rice Research Institute (IRRI) to contain additional levels of beta-carotene, which the body converts into Vitamin A.

It is genetically engineered to provide up to 50% of EAR for Vitamin A of young children.
President: Rodrigo Duterte
Capital: Manila
Currency: Philippine peso
3.I-STEM Phase II project launched
I-STEM project has entered 2nd phase and accorded extension for 5 years, until 2026.

Indian Science Technology and Engineering facilities Map (I-STEM):

It is a national web portal for sharing R&D facilities

It is an initiative of Principal Scientific Adviser office under PM Science, Technology and Innovation Advisory Council (PM-STIAC) mission.

Under Phase II, it will host indigenous technology products listed through digital catalogue.
4.Web based portal pmcaresforchildren.in launched
Ministry of Women and Child Development has launched web based portal named 'pmcaresforchildren.in' to facilitate submission of applications, identification of children eligible to receive support under 'PM CARES for Children' scheme.

This portal will be regularly updated with necessary information.

PM CARES for Children scheme: It was announced for supporting children who have lost both parents or surviving parent or legal guardian or adoptive parents due to COVID-19.
5.Govt to set up Centre for Bio-Resources & Sustainable Development
Ministry of Science and Technology will set up Centre for Bio-Resources and Sustainable Development as a Centre of Excellence in the Northeast.

It was sanctioned by Dept of Biotechnology.

Location of the project: Kimin, Papum Pare in Arunachal Pradesh.

It will facilitate the region to use organic food potential and help in exploring many vast areas and to find less-known new species.

It will improve the cultural, social and economic status of the people of North Eastern.
6.Ministry of Women and Child Development Smriti Zubin Irani to launch 24/7 helpline number
Ministry of Women and Child Development, Smriti Zubin Irani will be launching 24/7 helpline number for women affected by violence.

Aim: To provide round the clock emergency and non-emergency complaints and counselling services to women affected by violence.

This helpline will link women's with appropriate authorities such as police, hospitals, District Legal Service Authority, psychological services through a single uniform number.

It will be functional round-the-clock to facilitate help to women.
7.India placed among 10 Agricultural Produce Exporters of 2019: WTO Report
India has been placed among the top 10 list of the countries exporting agricultural produce in 2019, according to World Trade Organisation (WTO) report on trends in world agricultural trade in recent 25 years.

Last such WTO report was released in 1995, in which India was not in top 10.

India has outclassed New Zealand to be ranked at 9th spot.

Top Three Nations in the List: European Union (EU), US and Brazil
8.Govt to set-up Centre of Excellence for Animation, Visual Effects, Gaming
Govt has decided to set up National Centre of Excellence for Animation, Visual Effects, Gaming and Comics for creating a world-class talent pool in India to cater to the Indian as well as global industry.

It will be set up in collaboration with IIT, Bombay.

Satyajit Ray Film and Television Institute and Film and Television Institute of India run courses on Animation and VFX to support skilled manpower in the animation and VFX sector.
9.Kandla becomes first Green SEZ with IGBC Platinum Rating
Kandla SEZ (KASEZ) has been awarded with IGBC Platinum Rating and is the First Green SEZ to achieve IGBC Green Cities Platinum Rating for Existing Cities.

KASEZ is the oldest export zone in the country and has become the first green industrial city in India to receive a platinum rating in the industrial cities category.

KASEZ has increased to 3.5 lakh trees from 25,000 trees in 2019.

Most of these trees have been planted post 2019, using Miyawaki forestation method.
10.Priya Malik wins Gold at 2021 World Cadet Wrestling Championship
Indian junior wrestler Priya Malik has won Gold Medal at the 2021 World Cadet Wrestling Championship in 73-kg category.

Championship was held in Budapest, Hungary.

She defeated Kseniya Patapovich by 5-0.

Cadet World Championship is a tournament where the best Greco-Roman, Freestyle and Women wrestlers below the age of 17 compete.

Indian team bagged as many as 13 medals, including 5 Golds at the Championship.

Priya had won gold at Khelo India youth games in Pune in 2019.