Current Affairs 27-28 june 2020
Current Affairs 27-28 june 2020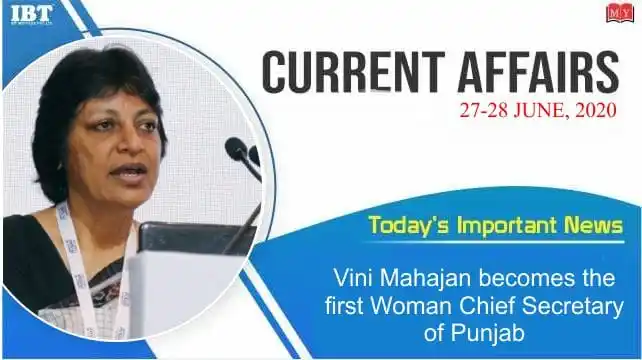 1. Money in Swiss banks: India at 77th place, accounts for just 0.06% of all foreign funds
India has moved down three places to 77th rank in terms of money parked by its citizens and enterprises with Swiss banks at the end of 2019.

The UK has retained its top position, as per the latest data from Switzerland's central bank. India was ranked 74th in the previous year.

It accounts for just about 0.06 per cent of the aggregate funds parked by all foreign clients of Switzerland-based banks. In comparison, the top-ranked UK accounted for close to 27 per cent of the total foreign funds parked with Swiss banks at the end of 2019.

The top-15 countries account for nearly 75 percent of all foreign money in Swiss banks, while the contribution of the top-30 is almost 90 per cent.
Foot Notes:
About Swiss National Bank (SNB):
Headquarters: Zurich, Switzerland
Chairman: Thomas Jordan
2. Grandmaster P. Harikrishna becomes the 1st Indian to join the USD 150,000 Chessable Masters
Grandmaster P. Harikrishna debuted the Magnus Carlsen Chess(MCC) Tour 2020 by joining the players in the USD 150,000 Chessable Masters. He is the 1st Indian in the tour. Harikrishna exited from the Chessable Masters with a final-round defeat to Alexander Grischuk

MCC Tour is a 12-player field that includes the world's top 6- Magnus Carlsen, Norway; Fabiano Caruana, United States of America (USA); Ling Diren, China; Ian Nepomniachtchi, Russia; MaximeVachier-Lagrave, France and Alexander Grishcuk, Russia. They are on the classical format ranking list.

The Magnus Carlsen Chess Tour is an online series hosted by chess24.The tour includes the following namely; USD 250,000 Magnus Carlsen Invitational(April 18 – May 3); USD 150,000 Lindores Abbey Rapid Challenge( May 19 – June 3), USD 150,000 Online Chess Masters(June 20 – July 5), USD 150,000 Legends of Chess(July 21 – August 5) and USD 300,000 Tour Final(August 9 – August 20).
3. Himachal Pradesh bags e-Panchayat Puraskar 2020
The Himachal Pradesh Panchayati Raj department has won a first prize under the E-Panchayat Puraskars-2020 to be given by the Union Ministry of Panchayati Raj.

The state has been selected for the award for effective implementation of the e-application developed by the Central government and other applications developed by the state government.

All 3,226 panchayats in the state have been provided with internet facility, now with the help of it, people can access various services online.

Various services such as family register, registration of birth, death and marriages are registered online in the panchayats.
Foot Notes:
About Himachal Pradesh:
Capitals: Shimla (Summer), Dharamshala (Winter)
Governor: Bandaru Dattatreya
Chief Minister: Jai Ram Thakur
4. Vini Mahajan becomes the first Woman Chief Secretary of Punjab
Senior IAS officer Vini Mahajan assumed charge as Punjab's first woman chief secretary. She replaced Karan Avtar Singh.

Vini Mahajan is a 1987-batch IAS officer. Mahajan is the wife of the state's director-general of police (DGP) Dinkar Gupta. Vini Mahajan will hold the additional charge of principal secretary, personnel, and vigilance.
Foot Notes:
About Punjab:
Capital: Chandigarh
Governor: Vijayendra pal Singh Badnore
Chief Minister: Amarinder Singh

5. On the call of Prime Minister, Culture Ministry to celebrate "Sankalp Parva" to plant trees from 28th June to 12 July 2020
The Union Ministry of Culture has announced on 27th June 2020 that on the call of Prime Minister Narendra Modi the Ministry has decided to celebrate a 2-week long tree plantation campaign called 'Sankalp Parva' from 28th June to 12th July 2020. This was informed by the Union Minister of State for Culture (Independent Charge) Prahlad Joshi.

During the nationwide lockdown due to the COVID-19 pandemic, the country has experienced the importance of a clean and healthy environment. Under the Sankalp Parva, the Ministry of Culture has recommended planting 5 tress: Bargad, Awla, Pepal, Ashok and Bel. These 5 trees represent the herbal heritage of the country.

Sankalp Parva will be celebrated across all the Subordinate Offices, Institutions affiliated & attached to the Ministry and academies. For the success of the campaign, the Ministry has urged Institutions to ensure that employees must take care of the sapling that they have planted until it survives and flourishes.
6. NASA headquarters to be renamed as one of its Hidden Figures , Mary W. Jackson
The US Space Agency, NASA has announced that its headquarters in Washington, D.C., will be named after Mary W. Jackson, one of its history-making engineers. The information was passed by NASA Administrator Jim Bridenstine.

In 1942, Mary W. Jackson graduated with bachelor's degrees in mathematics and physical science from Hampton University, which is a historically Black university. She was a mathematician & aerospace engineer. She started the NASA career in the segregated West Area Computing Unit of the agency's Langley Research Center in Hampton, Virginia. In the year 1951, she was recruited by the National Advisory Committee for Aeronautics, which was succeeded in 1958 by NASA, where she worked until her retirement in 1985.
Foot Notes:
About NASA:
Headquarters: Washington, D.C., United States
Founder: Dwight D. Eisenhower
Founded: 1 October 1958, United States
Administered by: Jim Bridenstine

7. RSWM joins hands with Switzerland's HeiQ to offer anti-coronavirus fabric under Mayur brand
RSWM Ltd, the flagship firm of textiles major LNJ Bhilwara Group has signed a strategic partnership with Switzerland's HeiQ to offer anti-coronavirus fabric under its Mayur brand.

It is launching anti-viral fabric range ''ViroSecure'' through the partnership with HeiQ, which has provided its antiviral ''Viroblock'' technology to formulate a protective coating on the fabric to offer 99.99 percent protection against SARS-CoV-2 in just 30 minutes.

HeiQ's "Viroblock" technology is among the first textile technologies in the world to have a proven effect against SARS-CoV-2 in the laboratory.

The ViroSecure fabric has been made by Mayur Suiting with HeiQ Viroblock technology and tested successfully by HeiQ's Switzerland laboratories.
Foot Notes:
About Switzerland:
Capital: Bern
Chancellor: Walter Thurnherr
Currency: Swiss franc
8. Arjun Munda launches tribes India products on GeM and new website of TRIFED
Union Minister of Tribal Affairs Arjun Munda launched through a video conference the tribes India products on Government e-Marketplace - GeM and a new website of TRIFED.

The TRIBES India store on Government e Marketplace can now help in facilitating purchases by the government.

The new website has all relevant details about the schemes and initiatives to benefit tribal communities.

The Team of "Trifed Warriors" will take Tribal Commerce based on forest products, handlooms and handicrafts to a new high for transforming tribal lives and livelihoods.
9. Karnataka CM lays foundation stone for 108-feet tall statue of Bengaluru founder Kempegowda
Karnataka Chief Minister B S Yediyurappa laid the foundation stone for the 108 feet tall bronze statue of Bengaluru founder Kempegowda near the state capital's international airport.

The statue will cost around 78 crore rupees and is likely to be ready in a year and a half.

On the occasion of Kempegowda's 511th Jayanti, the Chief Minister also laid the foundation stone for the development of 23 acres theme park in memory of the founder of Bengaluru.

Kempegowda founded the city on scientific lines, creating civic amenities to suit the demands of people.
Foot Notes:
About Karnataka:
Capital: Bengaluru
Governor: VajubhaiVala
10. Rahul Dravid beats Tendulkar in Wisden India's poll on greatest test batsman
Indian batting great Rahul Dravid narrowly beat his former teammate Sachin Tendulkar in Wisden India's poll for the greatest Indian Test batsman of all time.

The poll was taken on Facebook and Dravid got 52 percent of the 11,400 votes that came in from fans.

It started with a pool of 16 Indian batsmen and came down to a final four of Dravid against Sunil Gavaskar and Tendulkar against Virat Kohli.

Gavaskar managed to later beat Kohli in a closely contested third place play-off.