Current Affairs 26 September, 2019
Current Affairs 26 September, 2019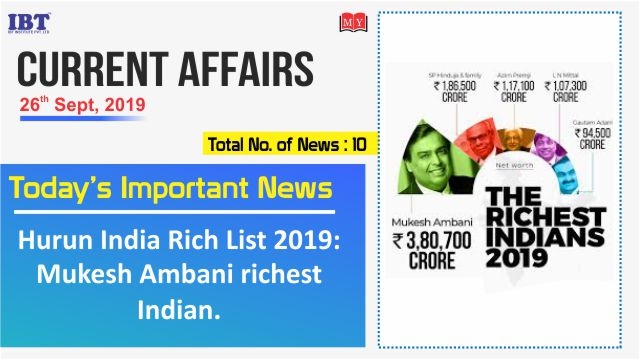 Current Affairs 26 September, 2019
1. Hurun India Rich List 2019: Mukesh Ambani richest Indian
Reliance Industries' Chairman Mukesh Ambani is India's richest man as mentioned in the IIFL Wealth-Hurun India Rich List 2019. He has topped the list of richest Indians for the 8th consecutive year. He currently has a net worth of Rs 3.8 lakh crore.

The 8th edition of report was released by Hurun Report India and IIFL Wealth Management. London-based SP Hinduja & family, with assets worth Rs.1.86 lakh crore, retained 2nd rank in the list, while Wipro founder Azim Premji secured 3rd place with a net wealth of Rs.1.17 lakh crore.

As per latest IIFL Wealth Hurun India Rich List, the number of Indians having a net worth of over Rs 1,000 crore has grown to 953 this year from 831 in 2018.
2. Single emergency helpline number 112 launched
The Delhi Police launched the single emergency helpline number '112' for immediate assistance. Now, instead of '100, 101 and 102', the Delhi residents can just use '112'.

The Emergency Response Support System (ERSS-112) was launched by Minister of State for Home Affairs G Kishan Reddy. With the implementation of the new ERSS-112 system, the police response time has reduced tremendously.

The main call centre has been set up in Shalimar Bagh in Delhi which is operating under the control of DCP (Ops and Communication).
Foot Notes:
About Delhi
Chief Minister: Arvind Kejriwal
Home Affairs Minister: G Kishan Reddy

3. Tamil Nadu, Kerala decide to form panel to resolve issues on water sharing
The southern neighbouring states of Tamil Nadu and Kerala have decided to form a panel to resolve issues on water sharing. Tamil Nadu and Kerala have decided to form a panel to resolve water sharing issues. An inter-state committee comprising five members from each side will be formed to sort the difference between the two states.

It maybe noted that the chief ministers of both the states have met after fifteen years to try to resolve amicably the inter-state water sharing issues.

It is said that the Parambikulam-Aliyar Project, Paniyaaru-Punnampuzha Project, Neyyar Dam water sharing and the interlinking of Pampa-Achchankoil rivers were discussed in meeting.
Foot Notes:
About Tamil Nadu
1. Chief Minister: Edappadi K. Palaniswami
2. Capital: Chennai
About Kerala
1. Capital: Thiruvananthapuram
2. Chief Minister: Pinarayi Vijayan
4. Arunachal yields a new frog species
Scientists have reported the discovery of a new species of frog from the northeastern State of Arunachal Pradesh, highlighting India's amphibian diversity amid rising concerns over biodiversity loss.

A team of scientists from the University of Delhi and the Zoological Survey of India discovered the new species from riparian habitats in a primary evergreen forest in the Namdapha tiger reserve, which is the easternmost protected area in the country.

It is described as the 50th member of the genus Microhyla, a group of narrow-mouthed frogs commonly known as Rice Frogs or Chorus Frogs, primarily and widely distributed in Asia.
Foot Notes:
About Arunachal Pradesh
1. Capital: Itanagar
2. Chief minister: Pema Khandu
5. Last Thursday of September celebrated as World Maritime Day (WMD), 2019 September 26, 20
Every Year, World Maritime Day (WMD) is observed on the last Thursday of September. This year, it is being observed on September 26, 2019.

This day marks date of adaptation of International Maritime Organization (IMO) Convention in 1958.

The day was first observed in 1978. It acknowledges the importance of maritime industry.
6. PT Usha conferred with IAAF Veteran Pin Award
India's former Athlete and famous as 'Payyoli Express', PT Usha has been recently awarded with IAAF Veteran Pin Prize. PT Usha shared this information on her Tweeter handle.

Usha has been conferred with the prestigious International Association of Athletics Federation (IAAF) Veteran .

"Expressing my deep gratitude towards IAAF and President Sebastian Coe for awarding me the Veteran Pin at the 52nd IAAF conference in Doha. I look forward to continually contributing to the growth of athletics in our country!" Usha tweeted .
Foot Notes:
About PT Usha
1. She is often called the "queen of Indian track and field".
Born: 27 June 1964 (age 55 years), Payyoli
Full name: Pilavullakandi Thekkeparambil Usha
Nickname: Payyoli Express
Awards: Padma Shri, Arjuna Award for Athletics.
7. A 17 year old girl who fought to abolish child marriage gets an award from Bill and Melinda Gates
Narendra Modi, the prime minister of India and Payal Jangid were honored by the Bill & Melinda Gates Foundation that "Works to help all people lead healthy, productive lives" at the annual Goalkeepers Global Goals Awards celebration held on Sept. 24 at Jazz at Lincoln Center in New York City.

Prime Minister Modi was honored at the Goalkeepers Global Goals Awards for the progress India is making in improving sanitation through the Swachh Bharat mission. Jangid, a 17-year-old girl from Rajasthan, India, has received the Changemaker Award in recognition of her campaign against child labor and child marriage.

The Gates Foundation's fourth annual Goalkeepers Global Goals Awards to celebrate outstanding work around the world is directly linked to the United Nations Sustainable Development Goals (Global Goals).
Foot Notes:
About United Nations
1. Founded: 24 October 1945, San Francisco, California, United States
2. Headquarters: New York, United States
3. Secretary General: António Guterres
8. Journalist Paolo Borrometi Won Mackler Prize For Mafia Coverage In Italy
Italian journalist coverage of mafia activity in Sicily won the Peter Mackler Award. Paolo Borrometi, 36, worked for Italian agency AGI before founding the news website La Spia in 2013, where he documented the role of organized crime in local agribusiness.

The family's home in the town of Modica targeted in an attempted arson attack.He dedicated the prize to three journalists killed while working, including Maltese investigative journalist Daphne Caruana Galizia, and Italy's Antonio Megalizzi and Giulio Regeni.

The award was established in 2008 to recognize courageous and ethical journalism. It honors the memory of longtime AFP journalist Peter Mackler, who died of a heart attack that year.
Foot Notes:
President: Sergio Mattarella
Capital: Rome
Currency: Euro
9. IMF names Kristalina Georgieva as new head
The International Monetary Fund formally selected Kristalina Georgieva of Bulgaria as the second woman ever to lead the 189-member institution. The selection guaranteed after the global crisis lender earlier this month that Georgieva, a former World Bank CEO, was the sole candidate.

She inherits the helm of an institution buffeted by the rise of populism in advanced economies and escalating trade conflicts, the largest of which has been driven by the United States, the fund's single biggest shareholder.

Georgieva championed by Paris, overcame a challenge within the divided European Union from Germany which had backed former Dutch Finance Minister Jeroen Dijsselbloem. The European led the IMF since its creation in the aftermath of World War II while the leader of the fund's sister organization, the World Bank.
10. INS Tarkash at Maputo, Mozambique
Indian Naval Ship Tarkash, which is a part of the Indian Navy's Western Fleet, arrived at Maputo, Mozambique for a three-day visit.

It is a part of Indian Navy's Overseas Deployment to Africa, Europe, and Russia. The ship would be kept open for visitors on 27 September 19.

INS Tarkash is commanded by Captain Sathish Vasudev. It is a potent frontline frigate of the Indian Navy equipped with a versatile range of weapons and sensors. It is under the Operational Command of Flag Officer Commanding-in-Chief, Western Naval Command, based at Mumbai.
1. Vice Chief of the Naval Staff (VCNS): Vice Admiral G. Ashok Kumar
2. Chief of the Naval Staff (CNS): Admiral Karambir Singh
3. Deputy Chief of the Naval Staff (DCNS): Vice Admiral M.S. Pawar