Current Affairs - 26 July 2021
Current Affairs - 26 July 2021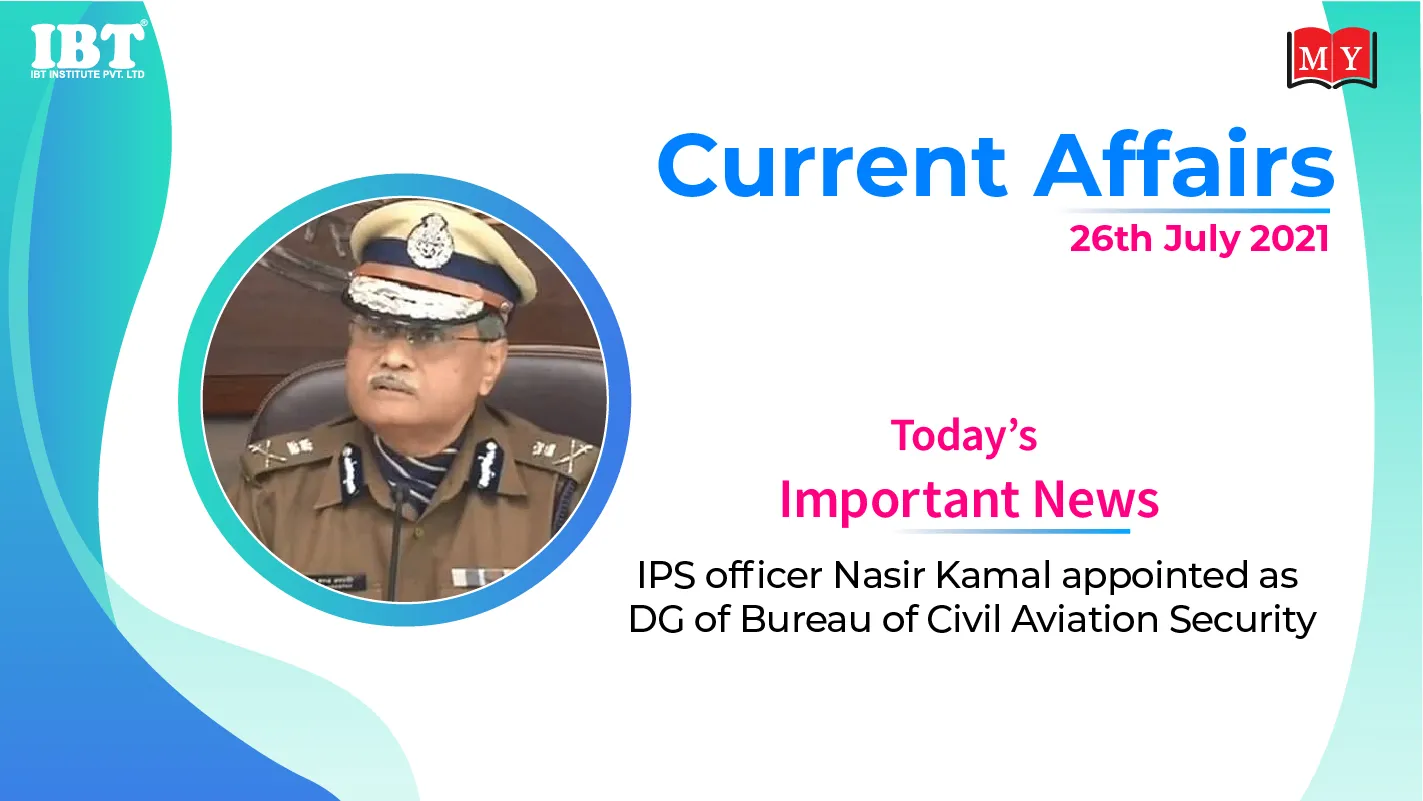 1.IPS officer Nasir Kamal appointed as DG of Bureau of Civil Aviation Security
Senior IPS officer Nasir Kamal has been appointed the Director-General of the Bureau of Civil Aviation Security (BCAS).

Kamal is a 1986-batch Indian Police Service (IPS) officer of the Uttar Pradesh cadre.

He has served in various roles before this appointment.

More recently, he was Director of the National Institute of Criminology and Forensic Science.
About Bureau of Civil Aviation Security:
Founded: January 1978, India
2.'Kargil Vijay Diwas 2021' being observed on 26th july
Kargil Vijay Diwas is celebrated on 26th July in honor of the heroes of the Kargil war of 1999.

On this day in 1999, the Indian Army announced that Pakistani forces and intruders have been driven out from all occupied territories.

To concur Kargil war 'Operation Vijay' (II) was launched.

1st Operation Vijay was launched in 1961 that led to the capture of Goa and Daman and Diu.

Indian Airforce along with Army also launched 'Operation White Sea' during the Kargil war.
3.World's Largest Floating Solar Farm Proposed for Indonesia
Sunseap Group, a solar energy system developer, owner, and operator in Singapore plans to build the world's largest floating solar farm in Indonesia.

The floating photovoltaic system is expected to have a capacity of 2.2 GW.

It will cover 1600 hectares of the Duriangkang Reservoir on Batam Island and cost about $2 billion to construct.

An agreement between Sunseap and the Batam Indonesia free zone authority to move forward with the project was signed on July 19.
Capital: Jakarta
Currency: Indonesian rupiah
4.Corteva Agriscience inks pact to promote sustainable rice production in UP
Corteva Agriscience has signed a 3-year project with the 2030 Water Resources Group (2030 WRG) hosted by the World Bank, to promote sustainable rice cultivation in UP.

The project provides a framework for Corteva, 2030 WRG, and a task force of multiple stakeholders to work towards transforming 40,000 acres of land from traditional methods of transplanting rice to the Direct Seeded Rice technique.

This practice will reduce agricultural water consumption by 35-37%.
5.Arunachal Pradesh, IIM Shillong to collaborate as knowledge partners
Arunachal Pradesh govt signed an MoU with Dr APJ Abdul Kalam Centre for Policy Research and Analysis-IIM Shillong for collaborating as a knowledge partner.

Aim: Capacity building of State Govt and to set up a satellite centre of IIM-S in the State and for necessary policy interventions.

The MoU aims at promoting mutual agreement b/w the Dr APJ Abdul Kalam Centre for Policy Research Analysis of IIM Shillong and the Finance Planning and Investment Department of the state.
Capital: Itanagar
Chief Minister: Pema Khandu
6.Nasa selects SpaceX for Jupiter moon mission
NASA selected SpaceX to launch its probe of Jupiter's moon Europa, which has liquid oceans that could harbour life.

The Europa Clipper mission, scheduled to launch in October 2024 on a Falcon Heavy rocket from the Kennedy Space Center in Florida, is worth $178 million.

Europa Clipper will conduct a detailed survey of the icy Jupiter moon Europa and use a sophisticated suite of science instruments to investigate whether the moon has conditions suitable for life.
Headquarters: Washington, D.C., United States
Founder: Dwight D. Eisenhower
Founded: 29 July 1958, United States
Founder: Elon Musk
Founded: 6 May 2002
CEO: Elon Musk
Headquarters: Hawthorne, California, United States
7.RBI to introduce digital currency in phased manner
The RBI is considering a "phased introduction" of a Central Bank Digital Currency (CBDC).

It was announced by Deputy Governor T. Rabi Sankar.

It will need legal changes to be made in the nation's foreign exchange rules and information-technology laws.

A CBDC is a legal tender that would be issued by the central bank in a digital form.

It is exchangeable one-to-one with fiat currency and it would appear as a liability on a central bank's balance sheet.
Headquarters: Mumbai
Founder: British Raj
Founded: 1 April 1935, Kolkata
Governor: Shaktikanta Das
8.Shiv Nadar stepped down as HCL Tech MD
Shiv Nadar, the founder of HCL Technologies Ltd, and its chief strategy officer has tendered his resignation as managing director, as well as a director, on completing 76 years of age. Nadar will, however, continue to guide the company in the capacity of chairman emeritus and strategic adviser to the board for five years. Vijayakumar, president and chief executive officer, has been appointed as the managing director for five years.

The Noida-based IT services company posted a net profit of ₹3,214 crores for the June quarter, up nearly 10% annually. It is slightly below consensus Bloomberg estimates of ₹3,255.5 crore.
CEO: C Vijayakumar
Founded: 11 August 1976
Headquarters: Noida
Founders: Shiv Nadar, Arjun Malhotra
9.M A Yusuff Ali appointed as Abu Dhabi Chamber's new Vice-Chairman
Lulu Group chairman M A Yusuff Ali has been appointed as the Vice-Chairman of Abu Dhabi Chamber of Commerce and Industry.

Crown Prince of Abu Dhabi Sheikh Mohamed Bin Zayed Al Nahyan issued a resolution to form a new Board of Directors for the Abu Dhabi Chamber of Commerce and Industry (ADCCI), chaired by Abdullah Mohamed Al Mazrouei and Yusuffali as the Vice-chairman.

Along with Yusuff Ali, Ali Saeed Bin Harmal Al Dhaheri has been appointed as Vice Chairman, Ahmed Rahma Al Masaood as Treasurer, Saeed Ghumran Al Remeithi as Deputy Treasurer. Yusuff Ali is the only Indian on the 29-member board, which is primarily made up of Emirati business owners and CEOs.
10.Bangladesh's folk singer Fakir Alamgir passed away at 71
Bangladesh's legendary folk singer, Fakir Alamgir has passed away due to complications from COVID-19. He was born on February 21, 1950, in Faridpur, Alamgir began his music career in 1966. The singer was a key member of cultural organisations 'Kranti Shilpi Gosthi' and 'Gana Shilpi Gosthi' and played an important role during Bangladesh's 1969 uprising. During Bangladesh's 1971 Liberation War, Alamgir joined the 'Swadhin Bangla Betar Kendra' and performed frequently to inspire freedom fighters.

Some of his popular songs include "O Sokhina Gesos Kina", "Shantahar", "Nelson Mandela", "Naam Tar Chhilo John Henry", "Banglar Comrade Bondhu", among others. He also founded the cultural organization 'Wrishiz Shilpi Gosthi' in 1976, and also served as the president of Gono Sangeet Shamanya Parishad (GSSP). Alamgir was conferred with the Ekushey Padak, the country's second-highest civilian award, in 1999.