Current Affairs 25 September, 2019
Current Affairs 25 September, 2019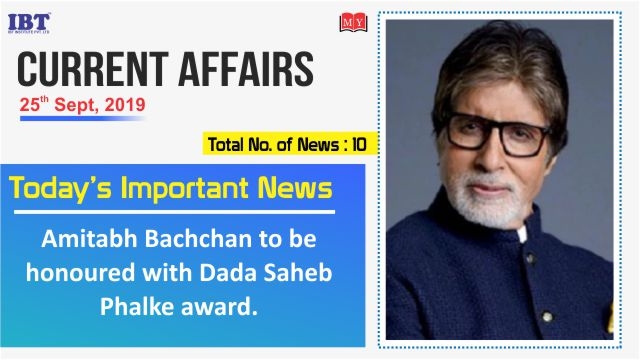 Current Affairs 25 September, 2019
1. Indian Coast Guard Ship Varaha Commissioned By Rajnath Singh
The ICGS Varaha, the fourth in the series of seven 98-m Offshore Patrol Vessels (OPV) of the Indian Coast Guard (ICG)It was commissioned y Defence Minister Rajnath Singh.

The ship-based at New Mangalore under the administrative and operational control of Commander Coast Guard Region (west). The ship will have onboard 14 officers and 89 men, says a press release from ICG.

The ship designed and built indigenously by Larsen & Toubro (L&T) at its Katupalli ship building yard in North Chennai.
Foot Notes:
About Indian Navy
Vice Chief of the Naval Staff (VCNS): Vice Admiral G. Ashok Kumar
Chief of the Naval Staff (CNS): Admiral Karambir Singh
Deputy Chief of the Naval Staff (DCNS): Vice Admiral M. S. Pawar
2. Author Neha's book Girl Power Indian Women Who Broke The Rules was released
Author Neha J Hiranandani's book titled "Girl Power: Indian Women Who Broke The Rules" was released. The new book elaborates the struggles and achievements of stories of 50 Indian women role models.

The book includes the contemporary women like Olympic medallist PV Sindhu, Actress Priyanka Chopra, Subhasini Mistry, Chandro Tomar. It also includes historical figures like queen Abbakka of Chowta dynasty.

Neha J Hiranandani is a writer from Mumbai. She worked for UNICEF and several development organizations across the world. She works in creating access to quality education for children everywhere.
About UNICEF
The United Nations Children's Fund
Headquarters: New York,United States
Head: Henrietta H. Fore
Founded: 11 December 1946, New York,United States
Founders: United Nations General Assembly
3. Scarlett Johansson tops Forbes highest-paid actresses list
For the second consecutive year, Hollywood star Scarlett Johansson has topped the Forbes' list of highest-paid female actors in the world.

Spurred by the success of her summer Marvel film Avengers: Endgame, the 34-year-old actor's earning reached USD 56 million.
Here's the list of the World's Highest-Paid Actresses Of 2019 listed by Forbes:
1. Scarlett Johansson: $56 million
2. Sofia Vergara: $44.1 million
3. Reese Witherspoon: $35 million
4. CPWD-DG Prabhakar Singh selected for 'Eminent Engineer Award 2019'
Prabhakar Singh, Director General, Central Public Works Department has been chosen for the 'Eminent Engineer Award for the Year 2019'. This award will be given by the Institution of Engineers (India) for his distinguished and exemplary service in the field of Engineering and Technology.

This Elite and Prestigious Award shall be conferred to him on the 'Engineers Day' on September 15, 2019, in New Delhi.
Foot Notes:
Minister of State (Independent Charge) Housing & Urban Affairs: Hardeep Singh Puri.
5. Amitabh Bachchan to be honoured with Dada Saheb Phalke award
Amitabh Bachchan has been selected for the highest Indian film honour- Dadasaheb Phalke award for the year 2019.

The announcement was made by Union Minister Prakash Javadekar, through a tweet, in which he said that the legendary Amitabh Bachchan, who entertained and inspired for 2 generations, has been selected unanimously for the prestigious Dadasaheb Phalke award.

Following the Union Minister's tweet, warm wishes and congratulatory messages poured in for the acting legend from all corners of the film fraternity including from the likes of Karan Johar, Anil Kapoor, Asha Bhosle and southern superstars Rajinikanth and Nagarjuna.
Awarded for:"outstanding contribution to the growth and development of Indian cinema"
Swarna Kamal (Golden Lotus)
First awarded: 1969
Last awarded: 2019
Most recent winner: Amitabh Bachchan
Total awarded: 50
First winner: Devika Rani
6. Deepti Sharma creates history, becomes 1st Indian cricketer to bowl 3 maidens in T20Is
All-rounder Deepti Sharma had an extraordinary outing in India's first T20I against South Africa in Surat. She ended with figures of 4/8 with three of the four overs to lead India to victory. If that was not enough she bowled three maidens and made her way into the record books. This is the first time that an Indian has bowled as many maidens in a T20I match.

Deepti gave away runs only off the 19th ball that she bowled in the match. Two of these overs were wicket maidens with Deepti taking two on the trot in the 9th over and a wicket in the 14th.

The Agra girl's spell helped India defend a target of 131.
7. Mega naval war game among India, US and Japan begins
In its 23rd edition this year, the trilateral maritime exercise between India, Japan and United States (US) is scheduled to be conducted from 26 September to 4 October off the coast of Japan.

Two frontline indigenously designed and built Indian naval ships, the Multipurpose Guided Missile Frigate Sahyadri and ASW Corvette Kiltan have been dispatched for the exercises, along with a P8I long-range maritime patrol aircraft.

The exercise would encompass conduct of complex maritime operations in the surface, sub-surface and air domains, and focus on Anti-Submarine Warfare, Anti-Air and Anti-Surface Firings, Maritime Interdiction Operations (MIO) including Visit Board Search and Seizure (VBSS) operations.
Foot Notes:
About Indian Navy
Vice Chief of the Naval Staff (VCNS): Vice Admiral G. Ashok Kumar
Chief of the Naval Staff (CNS): Admiral Karambir Singh
Deputy Chief of the Naval Staff (DCNS): Vice Admiral M. S. Pawar
About Japan
Capital: Tokyo
Currency: Japanese yen
Prime Minister: Shinzō Abe
About US
President: Donald Trump
Capital: Washington, D.C.
8. Centre institutes national unity award named after Sardar Patel
The Centre has instituted the highest civilian award for contribution to the unity and integrity of India, in the name of Sardar Vallabhbhai Patel.

The award seeks to recognize notable and inspiring contributions to promote the cause of national unity and integrity and to reinforce the value of a strong and united India.

The award will be announced on the occasion of the National Unity Day on the birth anniversary of Sardar Patel on 31st of October.
Foot Notes:
About Sardar Patel
Born: 31 October 1875, Nadiad
Died: 15 December 1950, Mumbai
Full name: Vallabhbhai Jhaverbhai Patel
Nicknames: Bismarck of India, Strong (Iron) Man, Sardar, Iron Man Of India
Awards: Bharat Ratna
9. ISRO initiates 'Project NETRA' to safeguard Indian space assets from debris and other harm
In the middle of its two-month Chandrayaan-2 campaign, the Indian Space Research Organisation (ISRO) last month quietly initiated 'Project NETRA' – an early warning system in space to detect debris and other hazards to Indian satellites.

The space agency says our SSA will first be for low-earth orbits or LEO which have remote-sensing spacecraft. Under NETRA, or Network for space object Tracking and Analysis, the ISRO plans to put up many observational facilities: connected radars, telescopes; data processing units and a control centre.
Foot Notes:
About ISRO
Director: Kailasavadivoo Sivan
Headquarters: Bengaluru
Founder: Vikram Sarabhai
Founded: 15 August 1969
10. India's first private train IRCTC Delhi-Lucknow Tejas Express is here.
India's first private train Delhi-Lucknow Tejas Express is all set to start its journey from the next month. It will be the first train of Indian Railways that will be entirely run by Indian Railway Catering and Tourism Corporation (IRCTC).

Starting from October 4, Delhi-Lucknow Tejas Express will run six days a week, except Thursday.

The IRCTC has not announced the ticket prices yet but it will be 50% less than the flight tickets operating in Delhi-Lucknow route, according to the media reports.
Foot Notes:
About Minister of Railways of India
Minister of Railways of India: Piyush Goyal