Current Affairs 25 November 2022
Current Affairs 25 November 2022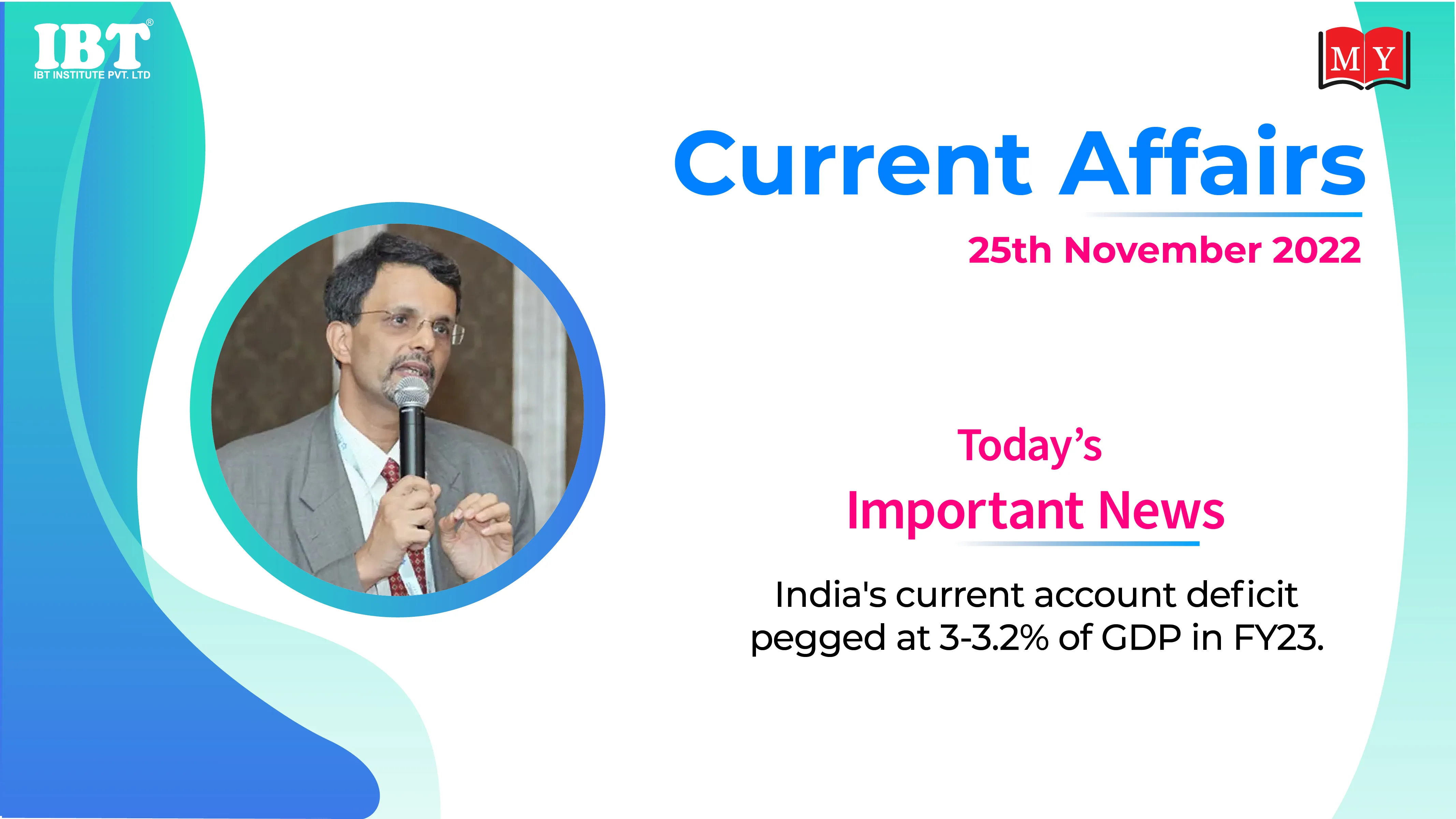 1. India's Current Account Deficit Pegged at 3-3.2% of GDP in FY23
With rising domestic economic activity and an uptick in oil import bills, India's current account deficit is expected to be 3-3.2 per cent of gross domestic product (GDP) for FY23, according to Chief Economic Advisor (CEA) V Anantha Nageswaran. But he stressed the country's external sector remains robust.

India's current account balance recorded a deficit of 1.2 per cent of GDP in 2021-22, against a surplus of 0.9 per cent in 2020-21.The Reserve Bank of India expects CAD to have widened modestly in the first half (April-September 2022) but shrink in the second half (October 2022-March 2023). Overall, CAD is expected to be under 3 per cent of GDP for FY23.
2. International Day for the Elimination of Violence Against Women is celebrated on 25th November
International Day for the Elimination of Violence Against Women 2022 is observed on the 25th of November 2022.On November 25, 1960, the Mirabal sisters of the Dominican Republic were assassinated by dictator Rafael Trujillo.

The sisters, who had been active in movements against the Trujillo regime, were beaten and strangled to death, then placed in a Jeep that was driven off a mountainous road to make their deaths appear accidental.
3. Tripura launches integrated curriculum Mission Mukul for 3-8 age group children
The Tripura government formally launched Mission Mukul, in a bid to introduce an integrated curriculum for children aged between 3 and 8 years, as part of the National Initiative for Proficiency in Reading with Understanding and Numeracy (NIPUN).

National Education Policy (NEP) 2020 has accorded the highest priority to Early Childhood Care & Education (ECCE) to achieve universal acquisition of Foundational Literacy and Numeracy (FLN) based on which NIPUN has been launched centrally.
Capital: Agartala
Governor : Satyadeo Narain Arya
Chief Minister: Manik Sarkar
4. Manipur Sangai festival 2022 begins
Union Tourism Minister Shri G Kishan Reddy inaugurated the 'Manipur Sangai Festival 2022' (Festival of Oneness) at the Sangai Ethnic Park, Moirang Khunou in Bishnupur district, Manipur.The 10-day-long festival will be held in 13 venues across six districts in the northeastern state till November 30, 2022.

'Manipur Sangai Festival 2022' marks the 11th edition of the celebration, To encourage a sense of belongingness, and pride in ownership of the land among the people.

The theme of the Manipur Sangai Festival 2022 is the 'festival of oneness'.
Governor: La. Ganesan
Chief Minister: N. Biren Singh
Capital: Imphal
5. Sarbananda Sonowal establishes India's first Green Port and Shipping Center of Excellence
Sarbananda Sonowal, Union Minister of Ports, Shipping and Waterways, announced India's first National Centre of Excellence for Green Port and Shipping (NCoEGPS), a major endeavour by the Ministry of Ports, Shipping to provide greener solutions.

The Deendayal Port Authority Kandla, Paradip Port Authority, Thoothukudi, and Cochin Shipyard Limited, Kochi have all shown their support for the establishment of this centre.The Energy and Resources Institute (TERI) is the project's knowledge and implementation partner.
6. JKRLM signs MoU with Meesho for the empowerment of 1800 SHGs members
The Jammu & Kashmir Rural Livelihoods Mission (Umeed) and India's fastest-growing internet commerce company, Meesho, signed a Memorandum of Understanding (MoU) to support the growth of 1,800 Self-Help Groups (SHGs) by providing them with an online platform to launch and grow their business and empower the rural women entrepreneurs.

The MoU was signed and exchanged in the presence of Lieutenant Governor Shri Manoj Sinha, here at Raj Bhavan, Jammu & Kashmir (J&K).
Founded: 2015
Headquarters: Bangalore, Karnataka, India
Founders: Sanjeev Barnwal, and Vidit Aatrey
7. ICICI Bank introduces deposit-linked loans and dollar bonds for NRIs
ICICI Bank Limited has launched two new products namely Loan Against Deposits (LAD) and Dollar Bonds for Non-Resident Indian (NRI) customers at its branch in Gujarat International Finance Tec-City (GIFT City), the Gujarat-based emerging global financial and IT services hub.

ICICI Bank is the first bank to offer these products in GIFT City.The loan against deposits facility is similar to a loan in foreign currency against a deposit in India and includes non-resident external fixed deposits.
CEO: Sandeep Bakhshi
Headquarters: Mumbai
Founded: 1994
8. India takes over as Council Chair of Global Partnership on AI (GPAI) From France
India assumed the Chair of the Global Partnership on Artificial Intelligence (GPAI), an international initiative to support responsible and human-centric development and use of Artificial Intelligence (AI), for 2022-23 from France.

Minister of State for Electronics and Information Technology Shri Rajeev Chandrasekhar will represent the country at the GPAI meeting in Tokyo for the symbolic takeover from

This development comes on the heels of assuming the Presidency of the G20, a league of the world's largest economies in Bali, Indonesia in Dec 2022.
Capital: Paris
Official language: French
President: Emmanuel Macron
9. South Western Command conducts Integrated Fire Power Exercise SHATRUNASH in the Thar desert of Rajasthan
South Western Command of the Indian Army conducted Integrated Fire Power Exercise, "SHATRUNASH'' at MFFR in the Thar desert of Rajasthan.The exercise witnessed the use of multifarious firing platforms in an integrated manner involving both ground & aerial maneuvers.

During the exercise, Various actions including the ion of troops, and offensive ground actions involving comprehensive coordination incorporating contemporary technologies in a multi-domain environment were conducted.
Headquarters: New Delhi, Delhi
Chief of Defence Staff: General Anil Chauhan
Chief of the Army Staff: General Manoj Pande
10. Former India football captain Babu Mani passes away
Former India football captain Babu Mani passed away at the age of 59.He made his international debut against Argentina in the 1984 Nehru Cup in Kolkata.He represented India in 55 international matches.

He was a part of the first Indian team that qualified for the Asian Football Confederation (AFC) Asian Cup inHe was a member of the Indian team which won gold medals at the 1985 and 1987 editions of the South Asian Games. He was also part of the Bengal Team which won the Santosh Trophy in 1986 and 1988.