Current Affairs 25 July - 26 July, 2019
Current Affairs 25 July - 26 July, 2019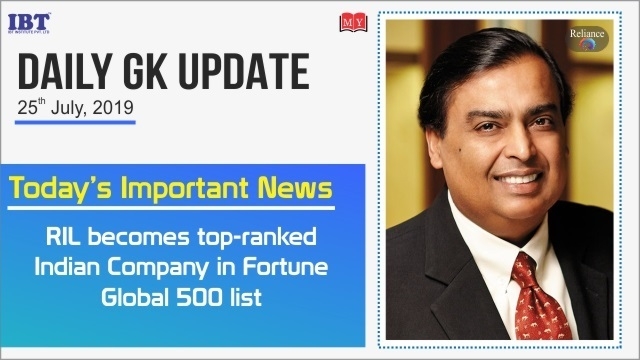 1. India's first dragon blood-oozing tree
Researchers discover Dracaena cambodiana, a dragon tree species in the Dongka Sarpo area of West Karbi Anglong district in Assam.

This is for the first time that a dragon tree species has been reported from India.

Dragon tree species whose sap turns bright red after coming in contact with air.
Foot Notes:
About Assam
Capital of Assam: Dispur
CM of Assam: Sarbananda Sonowal
Governor of Assam: Jagdish Mukhi.
2. Priti Patel Appointed UK's First Indian-Origin Home Secretary
Priti Patel, an ardent Brexiteer who was among the most vocal critics of Theresa May's Brexit strategy, took charge as Britain's first Indian-origin Home Secretary in the newly-unveiled Boris Johnson Cabinet.

Priti Patel had been a prominent member of the "Back Boris" campaign for the Conservative Party leadership and was widely tipped for the plum post in his frontline team.

Priti Patel had been a prominent member of the "Back Boris" campaign for the Conservative Party leadership and was widely tipped for the plum post in his frontline team.
Foot Notes:
Prime minister: Boris Johnson Trending
Capital: London
Currency: Pound sterling
3. Reliance Industries overtakes Indian Oil on Fortune Global 500 list
Reliance Industries (RIL) is now the highest-ranking Indian firm on the Fortune Global 500 list. The Mukesh Ambani led oil-to-telecom conglomerate jumped 42 places to rank 106 on this year's list, finally leaving Indian Oil Corp (IOC) in the dust.

The country's largest state-owned refiner had hitherto been the top ranked desi entity on the list. In fact, it had steadfastly topped the Fortune India 500 list, too, since it was first compiled in 2010.

According to Fortune, while RIL's revenue soared 32.1 per cent from $62.3 billion in 2018 to $82.3 billion in 2019, IOC lags behind, clocking a 17.7 per cent growth in revenue from $65.9 billion to $77.6 billion in the same period.
Foot Notes:
About Reliance Industries
CEO: Mukesh Ambani
Owner: Mukesh Ambani
Founder: Dhirubhai Ambani
Founded: 8 May 1973, Maharashtra
4. PM Modi releases book on former PM Chandra Shekhar
The Prime Minister, Shri Narendra Modi, released the book "Chandra Shekhar - The Last Icon of Ideological Politics."

The book has been written by Shri Harivansh, Deputy Chairman, Rajya Sabha; and Shri Ravi Dutt Bajpai. The book release event was held at the Balayogi Auditorium, Parliament Library Building.

The Prime Minister presented the first copy of the book to the Vice President of India, Shri Venkaiah Naidu. Prime Minister also announced a museum for all former Prime Ministers of India, and invited their families to share aspects of their lives.
5.'Blade Runner' actor Rutger Hauer passes away
Dutch film actor Rutger Hauer, who specialized in menacing roles including a memorable turn as a murderous android in 'Blade Runner', passed away.

He won a supporting actor Golden Globe award in 1988 for 'Escape from Sobibor.' He was from Netherland.
6. Ajay Bhalla appointed as Home Secretary
Ajay Kumar Bhalla has been appointed Officer on Special Duty (OSD) to the Ministry of Home Affairs.

Bhalla will take over as Home Secretary from incumbent Rajive Gauba. Bhalla is currently serving as Power Secretary.
Foot Notes:
Union Minister of Home Affairs: Amit Shah.
7. POCSO (Amendment) Bill, 2019 with provision of death penalty passed by Rajya Sabha
Rajya Sabha passed the Protection of Children from Sexual Offences (POCSO) (Amendment) Bill, 2019 which provides for death penalty to the culprits in the cases of sexual assault and stringent punishments for other crimes against children.

It provides for the levy of fines and imprisonment up to 5 years to curb child pornography. In the event of a second or subsequent conviction, the punishment would be up to seven years and fine.

According to the amendment bill, those committing penetrative sexual assaults on a child below 16 years of age would be punished with imprisonment up to 20 years, which might extend to life imprisonment as well as fine.
Foot Notes:
About POCSO Act 2012
It was established to protect the children against offences like sexual abuse, sexual harassment and pornography. It was formed to provide a child-friendly system for trial underneath which the perpetrators could be punished. The Act defines a child as any person below eighteen years of age. It also makes provisions for avoiding the re-victimisation of the child at the hands of the judicial system. Protection of Children from Sexual Offences Act, 2012 received the President's assent on June 19, 2012. It was notified in the Gazette of India on June 20, 2012.
8. MoHUA proposes light urban rail 'Metrolite' for smaller cities
The Union Ministry of Housing and Urban Affairs (MoHUA) has proposed light urban rail transit system – 'Metrolite' in small cities and towns which have lower projection of ridership.

Each train will have 3 coaches with the capacity of carrying 300 passengers and it will have a restricted speed of 25 kmph. It will act as a feeder system to high capacity Metro and will be developed on surface and elevated stretches.

MoHUA has issued standard specifications of the 'Metrolite' system.Financial assistance will be provided to the states by the Centre to implement the project.It will have a dedicated path separating the road traffic with it.The maximum operational speed of the Metrolite is 60 kmph.
About MoHUA:
Headquarters: New Delhi
Founded: 1952
Minister In-charge: Hardeep Singh Puri (MOS independent charge)
9. China launches first private rocket capable of carrying satellites
Beijing-based startup "Interstellar Glory Space Technology" also known as iSpace successfully launched the china's first commercial rocket.

The 20 m (66-foot) rocket designed by iSpace named Hyperbola-1 reached an altitude of 300 kilometres (186 miles).

The rocket is capable of carrying satellites into orbit.
Foot Notes:
About China
Capital of China: Beijing

Currency: Renminbi.
10. Lok Sabha passed the 2019 Muslim Women (Protection of Rights on Marriage) Bill
Lok Sabha passed the Muslim Women (Protection of Rights on Marriage) Bill, 2019 on 25 July. The Bill was introduced by the Law Minister Ravi Shankar Prasad. The bill is for the justice, respect and dignity of women.
Provisions of the Bill:
The Bill criminalises instant triple talaq among Muslims. It also approves a jail term of three years for the husband.

The bill will replace the ordinance passed by the previous government in February. It should be noted that around 20 Muslim countries in the world, including Pakistan and Malaysia, have banned the triple talaq.
Opposition:
The Bill was opposed by BJP ally Janata Dal (United). The party said that it will create distrust among a particular community.
Read More :
Global Innovation Index 2019: India Makes Major Gains
20th Kargil Vijay Diwas: Preparations in full swing at Dras War Memorial
Governors in India 2019 – Check Updated List of Current Governors of India