Current Affairs 24 September 2022
Current Affairs 24 September 2022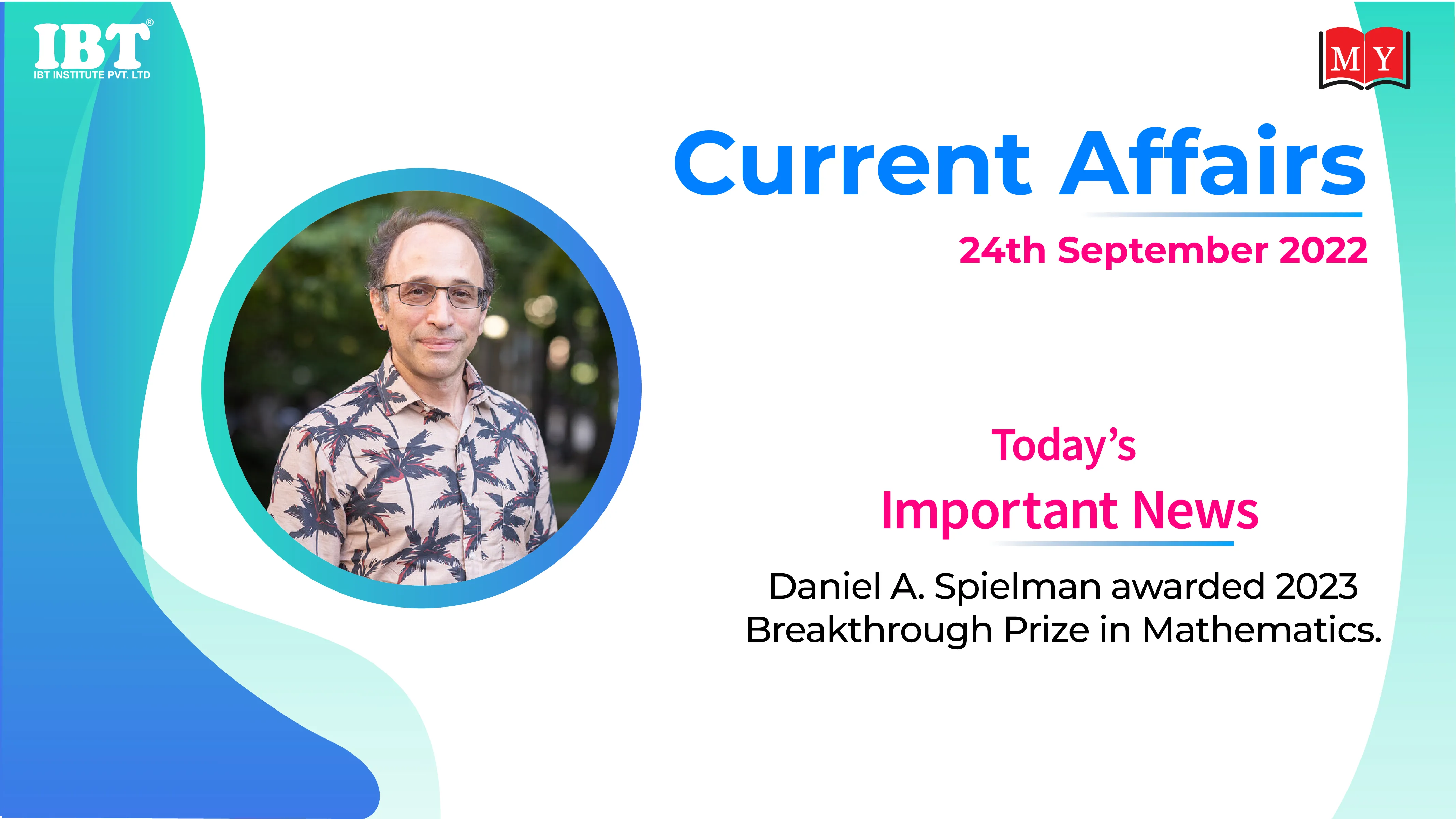 1. Daniel A. Spielman awarded 2023 Breakthrough Prize in Mathematics
Daniel A. Spielman has been honoured with the 2023 Breakthrough Prize in Mathematics for multiple discoveries in theoretical computer science and mathematics.
In Fundamental Physics:
Charles H. Bennett, Gilles Brassard, David Deutsch and Peter Shor

Reason: Discovering the fundamental physics that underlie quantum computation.
Life Sciences:
Clifford Brangwynne and Anthony Hyman

Demis Hassabis and John Jumper

Emmanuel Mignot and Masashi Yanagisawa
2. Gates Foundation provides $1.27 billion aid for poverty, social inequality
The Bill and Melinda Gates Foundation has announced to provide financial assistance of USD 1.27 billion to address poverty and social inequalities.

A per the annual Goalkeepers report, that every indicator of the UN SDGs are off track for achieving them by 2030.
2022 Goalkeepers awards:
Global Goalkeeper Award: Ursula von der Leyen (Germany)

Campaign Award: Vanessa Nakate (Uganda)

Changemaker Award: Zahra Joya (Afghanistan)

Progress Award: Dr. Radhika Batra (India)
3. EAM Dr. S Jaishankar hosts G-4 meeting of Foreign Ministers
External Affairs Minister of India, Dr. S Jaishankar has hosted the G-4 meeting of Foreign Ministers.

The summit was attended by Foreign Ministers

Carlos França (Brazil)

Yoshimasa Hayashi (Japanese)

Annalena Baerbock (German)

He is on visit USA from 18-28 September 2022.

He led India delegation for the High Level Week at the 77th Session of UNGA.

77th UNGA theme: Watershed Moment: Transformative Solutions to Interlocking Challenges
4. RBI cancels license of Maharashtra-based Laxmi Cooperative Bank
RBI has cancelled the licence of Maharashtra-based the Laxmi Co-operative Bank.

Reason: Lack of adequate capital

Claim: Every depositor would be entitled to receive a deposit insurance claim amount upto 5 lakh rupees.

The Commissioner for Cooperation and Registrar of Cooperative Societies (Maharashtra) has also been asked wind up the business and appoint a liquidator for the bank.

As per the data, 99% of the depositors are entitled to receive the full amount of DICGC.
Founded: 1 April 1935, Kolkata
Governor: Shaktikanta Das
Headquarters: Mumbai
5.Sarbananda Sonowal inaugurates conference on consciousness
Ayush Minister, Sarbananda Sonowal has inaugurated the international conference on Consciousness at NIMHANS, Bengaluru.

Theme 2022: Exploring Consciousness- From Non- Locality to Non- Duality: The Man- Machine Debate

The conference was organized by India Foundation and NIMHANS and supported by Ministry of Ayush.

He has also inaugurated the Centre of Excellence project in the Department of Integrative Medicine at NIMHANS, Bengaluru as part of Ayurswasthya Yojana.
6. NCC, UNEP sign MoU to tackle the issue of plastic pollution
National Cadet Corps (NCC) has signed an MoU with and United Nations Environment Programme (UNEP).

Aim: To tackle the issue of plastic pollution and achieve the universal goal of clean water bodies through Puneet Sagar Abhiyan and Tide Turners Plastic Challenge programme.

The MoU was signed in the presence of Defence Minister Rajnath Singh.

Puneet Sagar Abhiyan, was launched by the NCC on 1st December 2021.

National Cadet Corps DG: Lt. Gen. Gurbirpal Singh
Headquarters: New Delhi
Founded: 16 April 1948
Founder: H. N. Kunzru
Director General: Lt. Gen. Gurbirpal Singh
7. SC appoints former Judge L Nageswara Rao for amending IOA's Constitution
The bench of SC, headed by Justice D Y Chandrachud, has appointed former apex court judge Justice L Nageswara Rao for amending constitution of Indian Olympic Association.

Responsibility: To prepare a road map for amending the constitution and holding elections by December 15, 2022.

Background: IOC had issued a final warning to IOA to resolve its governance issues and hold elections by December.

Impact: If failed to do so, then the world sports body will ban India.
8. 3rd edition of Lok Manthan programme inaugurates by VP Jagdeep Dhankhar
VP, Jagdeep Dhankhar has inaugurated 3rd edition of the Lok Manthan programme at Srimanta Sankardeva Kalakshetra in Guwahati.

Theme of 2022 biennale is Lokparampara (Lok traditions).

Kerala Governor, Arif Muhammad Khan will be the Chief Guest at the concluding session (24th September).

Lokmanthan: It is an occasion where artists, intellectuals, and academicians are come from different parts of the country converge and brainstorm on the questions that haunt the society.
9. Japan's MUFG Bank injects ₹3,000 crore in India biz
MUFG Bank (Japan) has boosted the capital of its branches within India by ₹3,000 crore ($380m).

Reason: As the bank looks to expand its India business

Impact: It will strengthen its financial base in India and better respond to the diverse financing needs of its clients

With this capital injection, the total capital of MUFG Bank in India will rise to ₹5,207 crore.

The bank has already expanded its presence by opening a branch at Gujarat International Finance TecCity.
Currency: Japanese yen
Capital: Tokyo
Prime Minister: Fumio Kishida
10. Max Life ropes Rohit Sharma and Ritika Sajdeh as brand ambassadors
Max Life Insurance has appointed Indian men's cricket team captain, Rohit Sharma and his wife, Ritika Sajdeh as their new brand ambassadors for two years.

The core message of Max Life Insurance is to be prepared mentally, physically, and financially for emerging challenges.

Aim: To promote the Max Life brand ethos of valuing the 'self' to determine the right financial value to protect themselves and their family.
CEO: Prashant Tripathy
Founder: Analjit Singh
Founded: 2001