Current Affairs 24 June 2022
Current Affairs 24 June 2022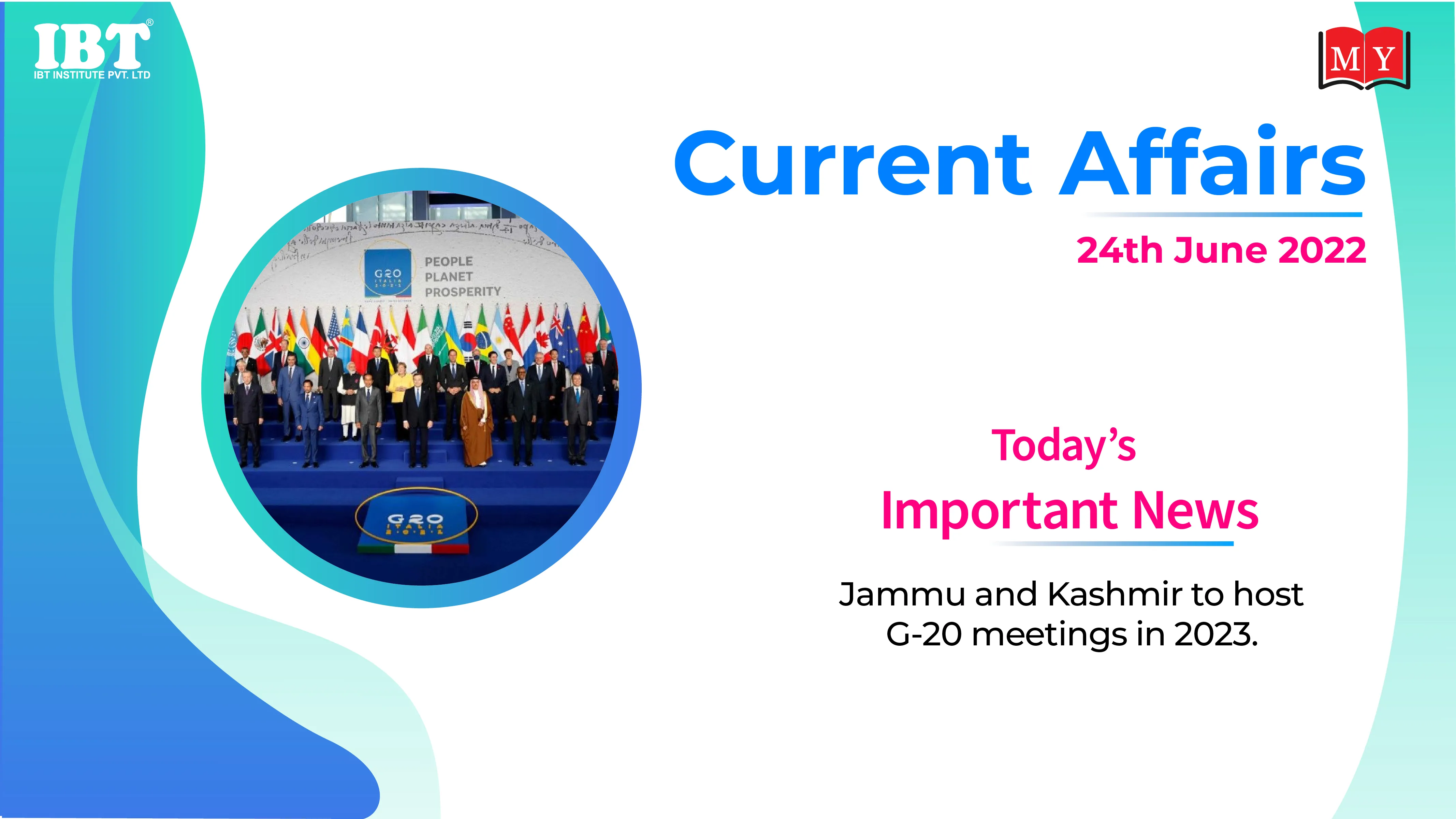 1. Jammu and Kashmir to host G-20 meetings in 2023
Jammu and Kashmir has been selected to host the G-20 meetings in 2023.

The UT government has also set up a five-member high-level committee for the coordination of G20 summit.

Piyush Goyal (Commerce and Industry Minister) was appointed as India's Sherpa for the G20 in September 2021.

India will take the G-20 presidency from December 1, 2022.

India has been represented by PM Modi since 2014 in G20 summit.

G20, 2024: Brazil

G20, 2025: South Africa
Capital: Srinagar (May–October) Jammu (Nov-April)
Lieutenant Governor: Manoj Sinha
2. India recognized as 'country of the year' by Europe's Vivatech
The Europe's biggest start-up conference, Vivatech 2020 has recognized India as the "country of the year."

The country has been recognised with this honour, due to the global contribution of Indian start-ups.

The start-up ecosystem of India is growing rapidly and has over 100 unicorns.

India has participated in Vivatech is to showcase Indian start-ups are solving global problems and innovating for the world.
3. Gujarat CM launches 17th 'Shala Praveshotsav'
Gujarat CM, Bhupendra Patel has launched the 17th 'Shala Praveshotsav'.

Aim: To increases the enrollment of students in primary schools in the state.

This is a three-day enrollment drive, starts from Memadpur primary school in Vadgam taluka (Banaskantha district).

This drive helps to reduce the dropout rate of students.

The drop out rate has been reduced to 3.07% from 37.22 % in 2002.
Governor: Acharya Devvrat
Capital: Gandhinagar
Chief minister: Bhupendrabhai Patel
4. Adani pledges ₹60,000 crore for social causes
Asia's richest person, Gautam Adani and his family have pledged to donate ₹60,000 crore to a range of social causes to celebrate the 60th birthday of Gautam Adani on June 24.

This will be administered by the Adani Foundation, it is also to mark the birth centenary year of his father Shantilal Adani.

As per the Bloomberg Billionaires Index, the net worth of Adani is almost $92 billion.

The Forbes real-time billionaires has placed him at 6th rank ($95 billion).
5. Ranjit Bajaj Made Chairman of Advisory Panel Formed by CoA to Oversee AIFF Functioning
The former owner of I-League side Minerva Punjab FC, Ranjit Bajaj, has been appointed as the chairperson of the 12-member committee formed by the Committee of Administrators (CoA).

The CoA took charge of the AIFF, after the Supreme Court removed the Praful Patel led office bearers for not holding elections on time.

Aim: To look the day-to-day matters of various departments of the All India Football Federation (AIFF).
President: Praful Patel
Headquarters location: New Delhi
Founded: 23 June 1937
6. Rumeli Dhar announces retirement from international cricket
The India seam-bowling all rounder, Rumeli Dhar has announced her retirement from international cricket at 38.

She has played her last international match in the tri-nation women's T20I series between India, Australia and England at Brabourne (2018).

She has been featured in four Tests, 78 ODIs, and 18 T20Is.

She has scored 1328 runs and took 84 wickets across formats.

She was also the part of the 2005 World Cup final, South Africa, India lost to Australia by 98 runs.
7. NDB appoints ex-bureaucrat Dr D J Pandian to head its India Regional Office in GIFT City
Former bureaucrat, Dr D J Pandian has been appointed as the Director-General of New Development Bank (NDB), India Regional Office in Gujarat International Finance Tec-City (GIFT City).

In May 2022, the NDB had announced to set up IRO in the Gift city.

The NDB has also approved 20 projects in India worth of USD 7.2. billion.

The IRO will support the effective and efficient implementation of these projects and work closely with Project Implementation Agencies.
Headquarters location: Shanghai, China
President: Marcos Prado Troyjo
Founder: BRICS
Founded: 15 July 2014
8. Indian Oil unveils indoor solar cooking stove 'Surya Nutan'
Indian Oil Corporation (IOC) has unveiled a stationary, rechargeable cooking stove named Surya Nutan.

It is a kitchen-connected cooking stove that uses the sun's energy to cook food.

This was developed by IOC's research and development division at Faridabad.

It captures solar energy through a PV panel that placed outdoor or on the roof.

The cost of base model is ₹12,000, while the top model will cost ₹23,000.
About Indian Oil Corporation:
Chairperson: Shrikant Madhav Vaidya
Headquarters: New Delhi
Founded: 30 June 1959
9. AU Small Finance Bank launches customisable credit card, LIT
AU Small Finance Bank has launched customised Credit Card product named AU Bank LIT (Live-It-Today).

This credit card offers a unique value proposition to cardholders.

Cardholders can choose the features and time period according to their wish.

Through the AU0101 app, cardholders can track their saving/earnings daily to maximize their benefits.

Cardholders can get the best of both Cashbacks and Reward Points by using the features.
About AU Small Finance Bank:
Headquarters: Jaipur
Founder: Sanjay Agarwal
Founded: 1996
10. Karnataka Bank launches video-based customer identification process for account opening
Karnataka Bank has launched 'Video-based Customer Identification Process (V-CIP)'.

It is an online savings bank (SB) account opening facility.

This facility will enable in the corporate website of the bank, strengthen the prospective customers to open an SB account through online process and complete KYC verification through a video call.

This is a end-to-end paperless digital process.

It also reduces the turnaround time of account opening.
Headquarters: Mangaluru
CEO: Mahabaleshwara M. S
Founded: 18 February 1924