Current Affairs - 24 July 2021
Current Affairs - 24 July 2021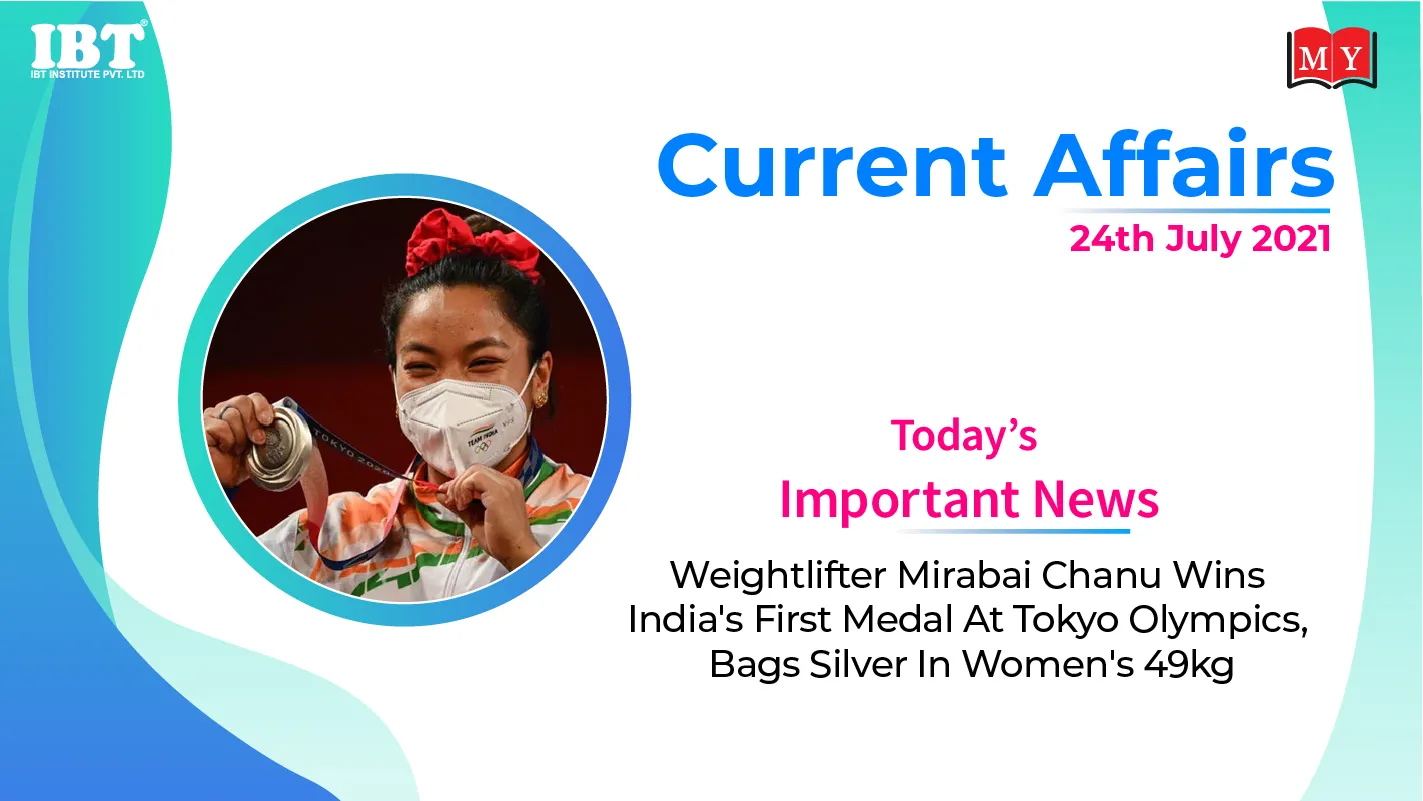 1.Weightlifter Mirabai Chanu Wins India's First Medal At Tokyo Olympics, Bags Silver In Women's 49kg
Indian weightlifter Saikhom Mirabai Chanu has won the first medal for India at the Tokyo Olympics 2020 as she bagged silver after lifting 202kg (87kgs in snatch + 115 kgs in clean and jerk) in Weightlifting Women's 49kg category on Saturday (July 24). China's HOU Zhihu, who lifted total of 210kg, clinched the gold medal, on the other hand, Aisah Windy Cantika of Indonesia won the bronze medal.

It was a historic feat for Chanu as her win came two decades after Indian trailblazer Karnam Malleswari became the first Indian woman to win an Olympic medal (Bronze) while competing at the 2000 Sydney Games in the women's 69kg weight category.

Chanu lifted 84kg and 87kg successfully. She began with a 84kg lift in her first attempt in the snatch segment and went on to improve with an 87kg lift. However, she failed to lift 89kg as she was placed in the second spot. China's HOU Zhihu created an Olympic record as she lifted 94kg.
2.Aaykar Diwas (Income Tax Day) celebrated by CBDT on July 24
The Central Board of Direct Taxes (CBDT) observed the 161st Income Tax Day (also known as Aaykar Diwas) on 24 July, 2021.

In India, the Income Tax Day is celebrated every year on July 24, as it was on 24 July 1980 that Income Tax was introduced for the first time in India by Sir James Wilson.

The purpose of this tax was to compensate for the losses incurred by the British regime during the first war of independence against British Rule in 1857.

July 24 was first celebrated as the Income Tax day in 2010.
3.UNESCO removes Liverpool from world heritage list
The UNESCO World Heritage Committee has voted to remove Liverpool Maritime Mercantile City from its world heritage list.

The United Kingdom's Liverpool City waterfront has been stripped off as a historic heritage site by the committee because of "irreversible loss of attributes conveying the outstanding universal value of the property".

The committee took the decision citing concerns about the ongoing overdevelopment and plans for a new football stadium in the city.

India score 90.32% in United Nation's Global Survey on Digital and Sustainable Trade Facilitation.
Headquarters: Paris, France
Head: Director-General; Audrey Azoulay
Founded: 16 November 1945
4.India has scored 90.32 percent in 2021 UN Global Survey on Digital and Sustainable Trade Facilitation.
India's score was 78.49 percent in 2019.

The survey reveals that India has made significant improvement in the scores on all 5 key indicators, as follows:

Transparency: 100% in 2021 (93.33% in 2019),

Formalities: 95.83% in 2021 (87.5% in 2019),

Institutional Arrangement and Cooperation: 88.89% in 2021 (66.67% in 2019),

Paperless Trade: 96.3% in 2021 (81.48% in 2019) and

Cross-Border Paperless Trade: 66.67% in 2021 (55.56% in 2019)
5.Environment Minister Bhupender Yadav Participates in G20 Environment Ministerial Meeting 2021
The G20 Environment Ministerial Meeting 2021 was organised on July 22, 2021, at Naples, in Italy.

From India, Union Environment Minister Bhupender Yadav participated in the two-day meeting virtually, along with Minister of State for Environment Ashwini Choubey and senior officials.

The meeting was held as part of the 16th G20 Leaders Summit, scheduled to be held in October 2021, under the Presidency of Italy, with primary theme of "People, Planet' and Prosperity".
6.Max Bupa Health Insurance rebrands itself as Niva Bupa
The standalone health insurer Max Bupa Health Insurance, has rebranded itself as 'Niva Bupa Health Insurance'.

This development comes after the company's promoter, Max India, which owned 51 percent in the insurer sold its stake to True North in February 2019 for Rs 510 crore.

With the entry of private equity firm True North, it was decided that the use of the "Max" brand will be phased out over a period of two years and replaced with a suitable name, to create a new brand identity.

Niva Bupa targets to become a Rs 2,500 crore company by FY 2021-22
7.Former RBI Governor Duvvuri Subbarao Unveils Book titled 'Bank With A Soul: Equitas', by Dr. C K Garyali
The former Governor of RBI, Shri. Duvvuri Subbarao, released a book titled 'Bank with a Soul: Equitas', on July 17, 2021.

The book has been written by retired IAS officer Dr. C K Garyali, founder trustee of EDIT (Equitas Development Initiative Trust).

The book chronicles the journey of Equitas SFB and EDIT in transforming the lives of women with frequent social reform initiatives helping them setup micro-enterprises and pioneering financial inclusivity right from its inception.
Governor: Shaktikanta Das
Headquarters: Mumbai
Founder: British Raj
Founded: 1 April 1935, Kolkata
8.Sandesh Jhingan and Bala Devi Named as AIFF Players of the Year for 2020-21
Indian national football team (Blue Tigers) and ATK Mohun Bagan's senior defender Sandesh Jhingan has been named as the AIFF Men's Footballer of the Year for the season 2020-21.

Apart from Jhingan, midfielder Suresh Singh Wangjam has been named as the Emerging Player of the Year.

In Women's category, Indian women's team forward Bala Devi, was named AIFF Women's Footballer of the Year. This is the third time that Bala Devi has claimed the title.

At the same time, Manisha Kalyan won the Women's Emerging Player of the year awards.
9.Rubina Francis of Madhya Pradesh sets world record; bags Olympics quota
Indian para shooter Rubina Francis won gold in the 10-metre air pistol para event for women, at the Para World Cup Shooting in Lima, Peru.

The 21-year-old Rubina, who hails from Jabalpur in Madhya Pradesh, scored 238.1 points to set a new world record, beating the earlier world record set by Aysegul Pehlivanlar of Turkey

With this, Rubina has also secured the quota for India at the Tokyo Summer Paralympics.
10.Noted Carnatic Classical Violinist Sikkil R Bhaskaran passes away at 85
Noted violinist in Carnatic Classical music and Tamil Isai, Sikkil R Bhaskaran, has passed away. He was 85.

Bhaskaran started learning the Violin at the age of 11.

During his 5 decades of Musical Career, Bhaskaran has been bestowed with many laurels, Awards & Honours, including Kalaimamani title by Tamil Nadu government and Sangeetha Nataka Academy award by the Central Government.