Current Affairs 24 July, 2019
Current Affairs 24 July, 2019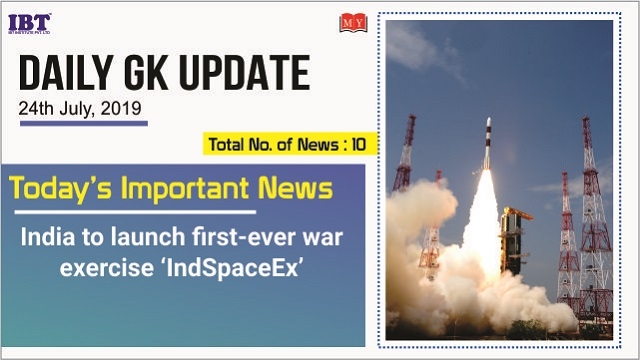 1. India to launch first-ever space war exercise 'IndSpaceEx'
The Indian armed forces are all set to conduct the country's first-ever simulated space warfare exercise "IndSpaceEx".

This excercise will lead to an assessment of the "imminent threats" in the expanse beyond earth and the drafting of a joint space doctrine for futuristic battles.

Ministry of Defence will organize exercise with all three forces together.
Foot Notes:
Minister of Defence: Raj Nath Singh.
2. BP Kanungo to run monetary policy after the resignation of Viral Acharya
India's Central Bank, Reserve Bank of India (RBI) has assigned Deputy Governor BP Kanungo to run the monetary policy portfolio after the resignation of fellow Deputy Governor Viral V. Acharya.

The monetary policy department, including forecasting and modeling unit, was earlier looked after by Acharya, who quit his role as Deputy Governor on June 2019.

Kanungo will retain his currency management portfolio would become the 6th member of the RBI's Monetary Policy Committee, which will next meet on August 5-7,2019.Now the three deputy governors N S Vishwanathan, B P Kanungo and M K Jain will be responsible for 12 departments each.
Foot Notes:
About RBI:
Governor: Shaktikanta Das
Headquarters: Mumbai
Founded: 1 April 1935
3. Nigeria set to host 2020 FIFA women U-20 World cup
India and South Korea presented their bids for the 2020 U20 Women's World Cup but India named the 2020 U17 Women's World Cup host.The last FIFA event held in Nigeria. The 2009 FIFA U-17 World Cup won by Switzerland.

It is an international association football tournament.It is organized by FIFA (Federation Internationale de Football Association), for national teams of women under the age of 20. The tournament is held in even-numbered years.It was first conducted in 2002 in Canada.

France hosted the 2018 FIFA U-20 Women's World Cup (9th edition).Japan emerged as a champion.
About Nigeria
Capital: Abuja
Currency: Nigerian naira
President: Muhammadu Buhari
4. Former Chinese premier Li Peng passes away
Former Chinese premier and chairman of the National People's Congress Standing Committee, Li Peng passed away. He was also known as the "Butcher of Beijing" for his role in the Tiananmen Square crackdown.
Foot Notes:
About China
China Capital: Beijing
Currency: Renminbi.
5. JATAN: Virtual Museum software for Digitization of Archaeological Museum
JATAN: Virtual Museum software has been developed by Human Centres Design and Computing Group, C-DAC, Pune, Maharashtra for the Digitization of Archaeological Museum.

JATAN is used for creating digital collections in various museums and digital archival tools that are used in background for managing National Portal.
Foot Notes
Director General of ASI: Usha Sharma.
6. Chetak helicopters by HAL delivered to the Indian Navy ahead of schedule.
The Hindustan Aeronautics Limited (HAL) delivered one Chetak helicopter to the Indian Navy ahead of its scheduled month of august. The documents of the Chopper were handed over to Commodore Vikram Menon.

The HAL entered into a contract with the Indian Navy in the year 2017 to supply 8 Chetak helicopters by August 2020, with the first two by August 2019.The remaining seven helicopters will be delivered by August 2020.

Latest communication and navigation systems indigenously developed by HAL are fitted in this helicopter.
Foot Notes:
About HAL
Headquarters- Bengaluru
CMD- R Madhavan
CEO- Shri Shekar Shrivastava.
i. The HAL till date has produced over 350 Chetak helicopters and delivered about 80 to the Navy.
ii. The Chetak helicopters are produced by HAL under the licence from Eurocopter, France.
iii. The first Chetak helicopter was delivered to the Indian Navy in February 1966
iv. Currently there are 51 Chetak helicopters in operation by the Indian Navy
7. ISRO to launch India's 1st solar mission Aditya-L1 in the first half of 2020
The Indian Space Research Organisation (ISRO) has announced that it will launch its first solar mission Aditya-L1 in the first half of 2020. It will be the first dedicated scientific mission to study Sun's corona.
Aim: It aims to put Aditya-L1 satellite(800-kg) into a halo orbit around Lagrangian point L1 of Sun and Earth system. The L1 point is situated at a distance of about 1.5 million km from earth.
Aditya L1: It will be India's 1st solar probe to study the magnetic field of the sun's corona. The satellite will carry 7 payloads including the main payload Visible Emission Line Coronagraph (VLEC). It will study the dynamic nature of the sun's outer most layers, corona, and chromosphere and collect data about Coronal Mass Ejections (CME).
Foot Notes:
About ISRO:
Director: Kailasavadivoo Sivan
Headquarters: Bengaluru
Founded: 15 August 1969
8. Bangladesh develops an alternative for plastic from jute- "Sonali"
A team of scientists working for Bangladesh Jute Mills Corporation (BJMC) have developed a method to convert Jute fibre into low cost Biodegradable cellulose sheets. It is named as "Sonali" – the Bengali word for "golden" bags. It is biodegradable after three months buried in soil and can also be recycled. Jute is called as the "golden fibre".

The leader of the team that developed 'Sonali' was Mubarak Ahmad Khan. Commercial production of alternative plastic-like bags made from jute will begin by December 2019.

India is the biggest producer of jute in the world, followed by Bangladesh.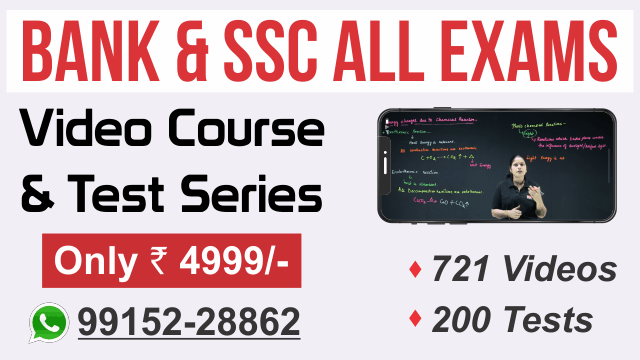 9. Dejan Papic appointed as India's table tennis head coach
The Table Tennis Federation of India (TTFI) appointed Dejan Papicas of Canada as the head coach of the Indian table tennis team. He has signed a one-year contract which was offered by the Sports Authority of India (SAI).

He will be in charge through the 2020 Tokyo Olympics.He will be paid $7000 per month and his contract will be up for renewal after the Olympics.
10. ICC Test Rankings: Virat Kohli holds on to No 1 spot
In the latest International Cricket Council (ICC) Test Batsmen's Rankings, India skipper Virat Kohli retained his number one position with 922 points. New Zealand's Kane Williamson (913) stood at the second position and India's Cheteshwar Pujara (881) held third position in the rankings.
Team Rankings: India remained in the first place followed by New Zealand (2), South Africa (3), England (4) and Australia (5).
Bowlers' Rankings: Australian pacer Pat Cummins was ranked first with 878 points followed by England's James Anderson with 862 points. Indian bowlers Ravindra Jadeja and Ravichandran Ashwin held the 6th and 10th position respectively.
All-rounders list: Jadeja was the best-ranked Indian at third spot behind Jason Holder of West Indies and Shakib Al Hasan of Bangladesh.
Foot Notes:
About ICC:
Motto: Cricket for good
Headquarters: Dubai, United Arab Emirates
Chairman: Shashank Manohar
CEO: Manu Sawhney