Current Affairs 23 September 2022
Current Affairs 23 September 2022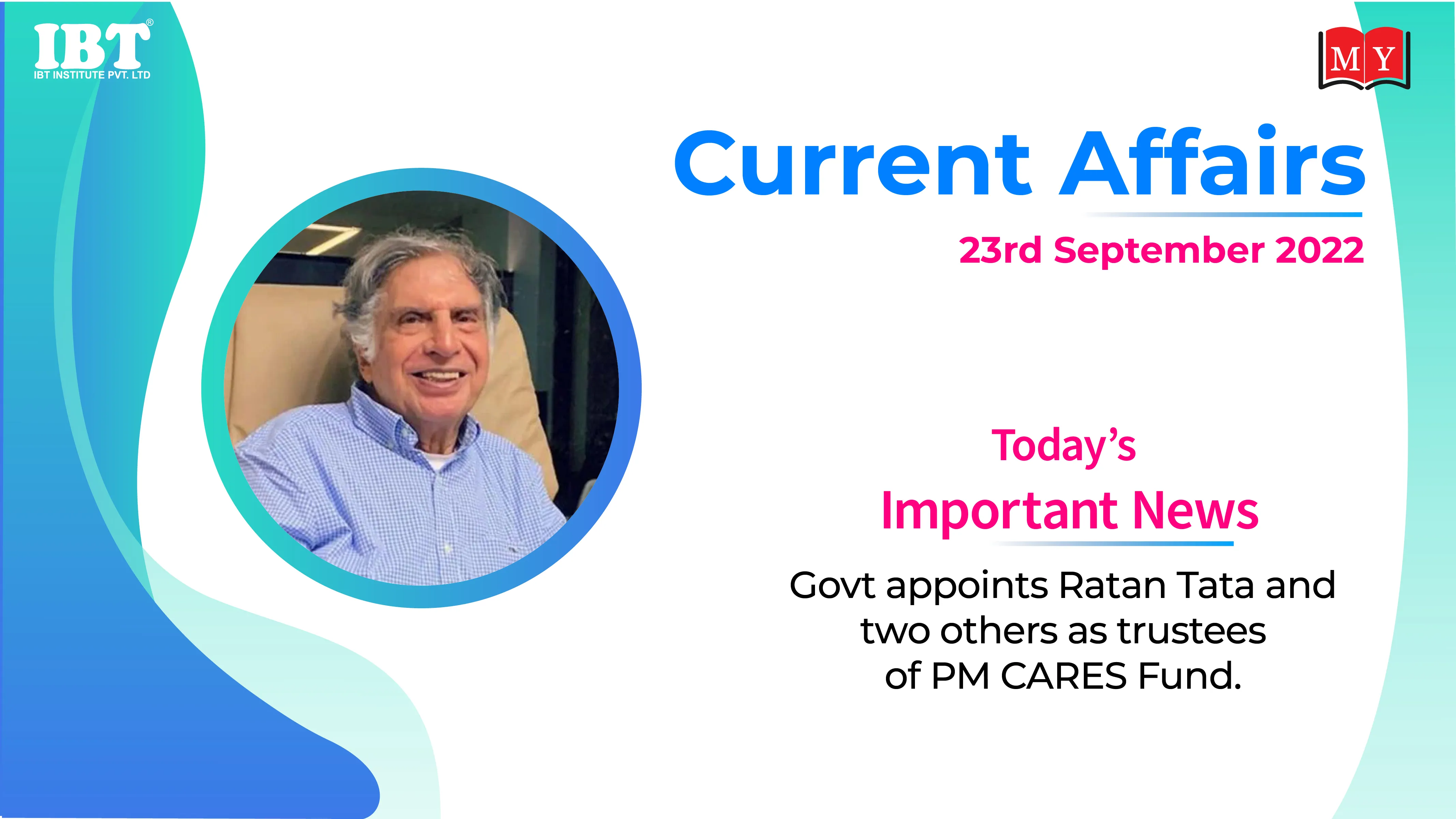 1. Govt appoints Ratan Tata and two others as trustees of PM CARES Fund
The government has appointed Ratan Tata (Tata Sons chairman), KT Thomas (former SC judge) and Kariya Munda (former Deputy Speaker) as the trustees of the PM CARES Fund.

The Trust further decided to nominate other eminent persons for the constitution of Advisory Board to the PM CARES Fund.

Advisory Board: Rajiv Mehrishi, Sudha Murthy, and Anand Shah (Former CEO of Piramal Foundation).

Aim: To provide wider perspectives on the functioning of the PM CARES Fund.
Headquarters: Mumbai
Founder: Jamsetji Tata
Founded: 1868, Mumbai
2. International Day of Sign Languages 2022: 23 September
The International Day of Sign Languages (IDSL) is celebrated annually across the world on 23 September. The day is a unique opportunity to support and protect the linguistic identity and cultural diversity of all deaf people and other sign language users. Sign language gives people, who are hard of hearing, a medium to converse. As the name suggests, this day aims to spread awareness regarding the importance of sign language in the realisation of the human rights of people who are deaf.
Theme
The theme for the 2022 International Day of Sign languages is "Sign Languages Unite Us!".
Significance
Sign languages are visual languages that pass your message through the use of gestures or symbols.
History
The proposal for the Day came from the World Federation of the Deaf (WFD), a federation of 135 national associations of deaf people, representing approximately 70 million deaf people's human rights worldwide.
3. ADB cuts GDP growth forecast of India for FY23 to 7%
The Asian Development Bank (ADB) has reduced the economic growth projection of India for 2022-23 to 7% from 7.2%.

Reason: Higher inflation and monetary tightening.

The economy of India has been grew 13.5% year-on-year (Y-o-Y) in the first quarter of 2022-23, that shows strong growth in services.

Report: Second supplement to Asian Development Outlook Report 2022.

The ADO also expects that the Chinese economy to expand by 3.3% in 2022 rather than 5% forecast.
Headquarters: Mandaluyong, Philippines
Founded: 19 December 1966
President: Masatsugu Asakawa
4. Defence Ministry signs MoU with BoB, HDFC under SPARSH
The Defence Ministry has signed an MoU with Bank of Baroda and HDFC Bank under the SPARSH (System for Pension Administration).

Aim: To cover pension of seventeen lakh defence pensioners across the country

The Defence Secretary, Dr Ajay Kumar has announced that the average time in pension settlement has come down significantly to about 16 days

Till now, the SPARSH initiative has crossed one million pensioners onboard mark and disbursed 11,600 crore rupees in the 2021-22
5. PM to inaugurate National Conference of Environment Ministers in Gujarat
PM Narendra Modi will inaugurate the National Conference of Environment Ministers in Gujarat through video conferencing on 23rd September.

Agenda: To create synergy amongst the Central and State govt in formulating better policies

The two-day Conference will have six thematic sessions: (1) LiFE, (2) Combating Climate Change, (3) PARIVESH, (4) Forestry Management, (5) Prevention and Control of Pollution, (6) Wildlife Management and Plastics and Waste Management.
Governor: Acharya Devvrat
Capital: Gandhinagar
Chief Minister: Bhupendrabhai Patel
6. PM Modi receives Braille version of Assamese Dictionary Hemkosh
PM Narendra Modi has received a copy of the Braille version of Assamese Dictionary Hemkosh from Jayanta Baruah in New Delhi.

The Braille version of 'Hemkosh' has been conceptualized and published by the Editor of Asomiya Pratidin, Jayanta Baruah.

Hemkosh is South-East Asia's first Braille dictionary in Assamese.

It was also the first Assamese dictionary which was edited by Hemchandra Baruah in the 19th century.

This edition of 'Hemkosh' comprises of appro 10,000 pages,
7. India receives UN award for its Hypertension Control Initiative under NHM
The India Hypertension Control Initiative (IHCI) has won the '2022 UN Interagency Task Force and WHO Special Programme on Primary Health Care Award' at the UN General Assembly, held at New York in USA.

Reason: For its initiative to control and prevent hypertension under the government's National Health Mission.

This initiative was launched in 2017 and expanded in a phased manner to cover more than 130 districts across 23 states.

Health Minister: Dr. Mansukh Mandaviya
8. MoFPI launches Convergence Portal to support Food Processing Enterprises
The government has launched a joint convergence portal for different schemes run by Food Processing and Agriculture ministries.

Schemes include: Agriculture Infrastructure Fund (AIF), Pradhan Mantri Formalisation of Micro Food Processing Enterprises (PMFME) scheme and Pradhan Mantri Kisan Sampada Yojana (PMKSY).

The portal was launched in the presence of Union Agriculture Minister, Narendra Singh Tomar and Minister of State for Agriculture Kailash Choudhary.
9. Book titled, She Is - Women in STEAM released, to honour 75 women
The book titled, She Is–Women in STEAM, has been unveiled by Prof. Ajay Sood (Principal Scientific Adviser to GoI) and Alex Ellis (British High Commissioner).

The book has honoured 75 women in STEAM (fields of Science, Technology, Engineering, Arts, and Mathematics) celebrating gender, leadership, and sustainable development in the fields of STEAM.

The book has been compiled by ElsaMarie D'Silva and illustrated by Supreet K Singh.
10. Indian, United States Coast Guard hold joint exercise Abhyas
An Indo-US coast guard joint exercise called Abhyas-01/22 held was conducted off Chennai coast.

Aim: Search and rescue, anti-piracy operation and coordinated joint boarding of vessels

Anti-piracy demonstration: A scenario of pirates hijacking a ship was created and the coast guard personnel of both the countries carried out a coordinated interdiction of the vessel.

Search and rescue operation involves activities and external fire-fighting to salvage burning ships.
Speaker: Nancy Pelosi
Capital: Washington, D.C.
President: Joe Biden
Currency: United States Dollar