Current Affairs 23 june 2020
Current Affairs 23 june 2020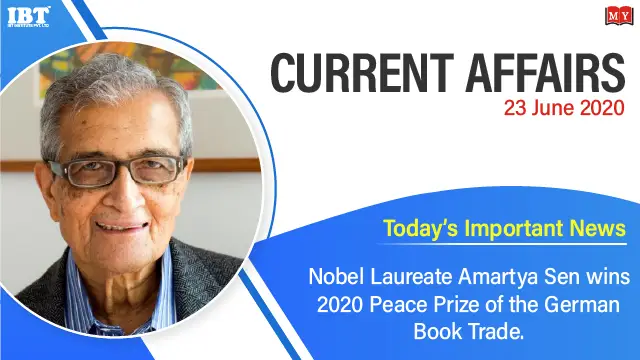 1. Saudi Arabia to hold 'very limited' Hajj due to pandemic in 2020
Saudi Arabia announced that it will hold a "very limited" Hajj this year due to the COVID-19 pandemic. Only those people already living in the kingdom will be allowed to take part in the pilgrimage that begins in late July.

The decision comes in the wake of rising COVID-19 cases around the world, the lack of a vaccine and difficulty in maintaining social distancing among large numbers of pilgrims coming from overseas.

Over two million people perform the annual Hajj pilgrimage in the holy city of Mecca every year, including many pilgrims from abroad. The Hajj is considered a must for Muslims at least once in their lifetime.

The Union Minister for Minority Affairs Mukhtar Abbas Naqvi informed on June 23 that India has honoured Saudi Arabia's decision to ban international pilgrims to perform Haj. The Minister stated that the Muslims from India will not go to Saudi Arabia to perform Haj.
Foot Notes:
About Saudi Arabia
Capital: Riyadh
Prime Minister: Salman of Saudi Arabia
Currency: Saudi riyal
2. Patanjali launches Ayurvedic medicine to treat COVID-19, claims 100 pc recovery within 3-7 days
Patanjali on June 23, 2020 launched 'Coronil and Swasari', its Ayurvedic medicine, which it claims can treat COVID-19. There is no official confirmation on the same by any scientific or government authority.

Patanjali stated that the medicines showed 100 percent favourable results during clinical trials on the confirmed coronavirus patients. Two clinical trials were conducted, the first clinical controlled study that took place in Delhi and Ahmedabad and many other cities.

Around 280 COVID patients were included in the trial and as per Patanjali, 100 percent of those recovered.

However, the efficacy of Patanjali's medicines has not received any backing from any medical body as yet. The World Health Organization (WHO) had recently said that though many drug trials are going on, there is currently no proof that any drug can cure or prevent COVID-19.
3. Rajasthan Government to launch "Indira Rasoi Yojna" to provide meals at very low rates
To provide pure and nutritious food to the economically weaker sections of the society, the Chief Minister of Rajasthan, Ashok Gehlot on 22nd June 2020 announced 'Indira Rasoi Yojna (Indira Kitchen Scheme).

Under the scheme, food will be available at a concessional rate twice a day to make sure no one sleeps hungry in state. For the successful implementation of the scheme, the state government will rope in local Non-Government Organizations (NGOs) in every district of the state. For monitoring and evaluating the progress of the scheme, Information Technology will be used. In every district, a committee headed by the district collector will also be set up for monitoring the scheme.

For the scheme, Rs 100 crore will be spent every year by the state government. The rate for the meals under the Indira Rasoi Yojna has not been finalized yet.
Foot Notes:
About Rajasthan
Capital: Jaipur
Governor: Kalraj Mishra
Chief Minister: Ashok Gehlot
4. China successfully launches its Last Satellite of BeiDou Satellite System 3 (BDS-3)
In an effort to compete with the United States Government's NAVSTAR Global Positioning System (GPS), Russia's GLONASS, and the Galileo Systems of the European Union, China completed the launch of its final satellite on 23rd June 2020. The satellite was launched as a carrier with Long March 3 rocket from the Xichang Satellite Launch Centre. BeiDou means 'Big Dipper' in Mandarin.

The satellite launched is a part of the third generation of the BeiDou Navigation Satellite System (BDS-3) and was the 55th satellite of the Beidou system.
Foot Notes:
About China
Capital: Beijing
President: Xi Jinping
Currency: Chinese Yuan
5. Golden Globe awards postponed to February 2021 due to coronavirus
The Golden Globes on Monday (June 22) postponed its 2021 ceremony for film and television, after a two-month delay to the Oscars, in Hollywood's latest awards calendar shuffle caused by the coronavirus epidemic.

The Golden Globes ceremony, which kicks off Hollywood's awards season, will take place on Feb 28 instead of its usual slot on the first Sunday in January, the Hollywood Foreign Press Association (HFPA), which hands out the trophies, said in a statement.

Last week the Oscars, the highest honours in the film industry, were postponed to April 25 from Feb 28.
6. Nobel Laureate AmartyaSen wins 2020 Peace Prize of the German Book Trade
Indian economist, philosopher and Nobel Laureate Amartya Kumar Sen (86) has been selected for 2020 Peace Prize by the Board of Trustees of the Peace Prize of the German Book Trade for his decades-long work around issues of global justice.

He will be presented with the award by German Publishers' and Booksellers' Association, Borsenverein in a ceremony that will take place on October 18, 2020, in Paulskirche (Germany) & will be broadcast live on German public television.
Foot Notes:
About Germany:
Capital: Berlin
Currency: Euro
Chancellor: Angela Merkel

7. International Olympic Day: 23 June
International Olympic Day is celebrated across the world on June 23 every year.

The Olympic Day was celebrated for the first time ever on 23 June 1948.

The day is observed every year to mark the importance of games and sports in our lives and to promote participation in games and sports across the world, irrespective of age, gender, cast or religion.
8. Yes Bank partners with Affordplan to launch Co-Branded Healthcare Card Called "Swasth Card"
Yes Bank Limited, an Indian public bank, has joined hands with Delhi-based fintech startup Affordplan, to launch co-branded healthcare card called 'Swasth Card' under Swasth program with the aim to enable families plan and manage their finances for their healthcare needs.

Besides, Yes bank's wallet has also been integrated on Affordplan Swasth to pave the way for wallet QR (Quick Response) scan for making payments to merchant partners enlisted on the AffordplanSwasth app.
Foot Notes:
About Yes Bank Limited:
Headquarters: Mumbai, Maharashtra
MD & CEO: Prashant Kumar
Tagline: Experience our Expertise.
About Affordplan:
Location: New Delhi
CEO: Tejbir Singh
9. Maj Gen Lachhman Singh Lehl, renowned veteran of 1948, 1971 wars, dies at 97
Major General (Retd) Lachhman Singh Lehl, who commanded the 20 Mountain Division of the Army that exhibited massive courage and valour during the 1971 Indo-Pak war, has died aged 97 in Delhi.

Major General (Retd) Lehl had assumed command of the 20 Mountain Division on November 13, 1970.

The famous battles of "Hilli" and "Bogra" were fought in 1971 operations, which were decisive battles in the Eastern Theatre," the official said.

The Instrument of Surrender taken by the officer against Pakistan's 16 Infantry Division speaks of the valour of the 20 Mountain Division on the eastern front under his command.
10. Mansukh Mandaviya inaugurates India's one of largest & first Virtual Healthcare & Hygiene EXPO 2020
Union State Minister for Chemicals and Fertilizers Mansukh Mandaviya inaugurated one of India's largest and first Virtual Healthcare and Hygiene EXPO 2020.

The unique exhibition which aims to give a boost to such health and hygiene endeavours has been organised by FICCI.

This unique exhibition aims to give a boost to such health and hygiene endeavours. This is the first-ever largest virtual exhibition in India making a new beginning.