Current Affairs - 23 July 2021
Current Affairs - 23 July 2021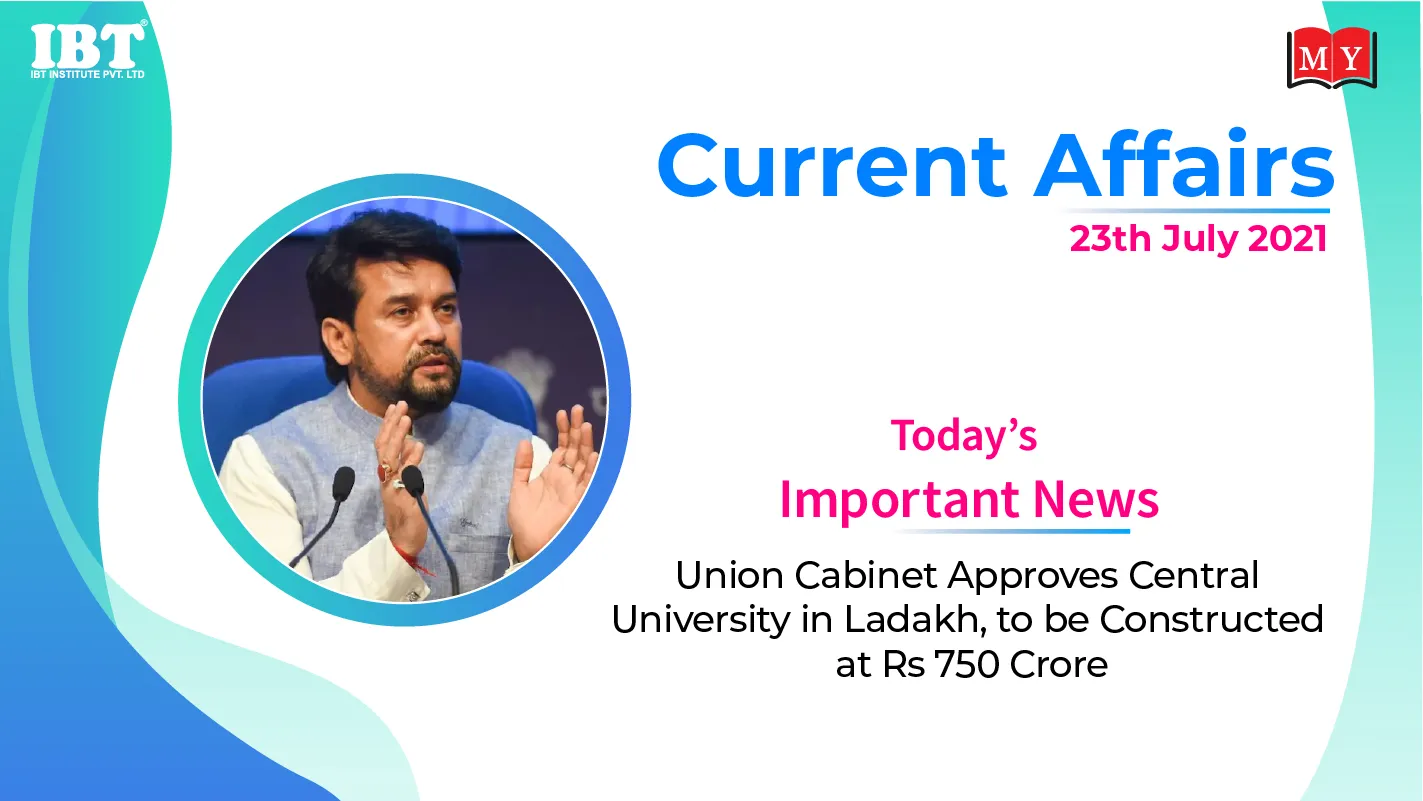 1.Union Cabinet Approves Central University in Ladakh, to be Constructed at Rs 750 Crore
The Union Cabinet has approved the establishment of a Central University in the Union Territory of Ladakh, Information and Broadcasting Minister Anurag Thakur announced on 22nd July.

Two important decisions for Ladakh have been taken. The Cabinet has approved a Central University in Ladakh at a cost of Rs 750 crore and an integrated, multi-purpose corporation will be set up in Ladakh.

A long-pending demand, the Central University in Ladakh, will address regional imbalances in higher education level and promote overall growth and development of the UT.

On establishing the Ladakh Integrated Infrastructure Development Corporation Limited (LIIDCO), the Union minister said the body will look at the development of industries and tourism in the region.
Capitals: Leh, Kargil
2.National Broadcasting Day 2021: 23rd July
National Broadcasting Day is observed every year on July 23 across the country

On this day in 1927, Indian Broadcasting Company (IBC) started organising radio broadcasting from Bombay station.

On 8th June 1936, Indian State Broadcasting Service became All India Radio (AIR).

AIR is one of the largest broadcasting organisations in the world in terms of the number of languages of broadcast, the spectrum of socio-economic and cultural diversity it serves.
3.Pedro Castillo declared as President-elect of Peru
Pedro Castillo (51 years) has been declared as the President-elect of Peru, after winning 2021 Presidential election of the country

He will take oath as the President of Peru on 28 July.

He secured 50.1% of the votes to win the 2021 election.

He is a Peruvian school teacher, union leader and politician, who attained prominence as a leading figure in 2017 teacher strike and ran in the election as the candidate of the left-wing Free Peru party.
Capital: Lima
Currency: Sol
4.UNESCO's 'Historic Urban Landscape' project for Gwalior, Orchha launched
Gwalior and Orchha cities of Madhya Pradesh have been selected by UNESCO under 'Historic Urban Landscape Project'

This project was introduced in 2011 for the inclusive and well-planned development of fast-growing historical cities while preserving culture and heritage

Development and management plan of these cities will be under UNESCO, Govt of India and Madhya Pradesh

Six cities of South Asia, including Ajmer and Varanasi in India are already involved in this project.
Headquarters: Paris, France
Head: Audrey Azoulay
Founded: 16 November 1945
5.SBI selects Paisalo Digital as National Corporate Business Correspondent
SBI has selected Paisalo Digital as its National Corporate Business Correspondent to boost financial inclusion drive with the help of kiosk-based banking services.

Under this, Paisalo Digital shall extend its services and its reach to the general public including its existing and new customers.

Paisalo: Systemically Important Non-Deposit taking NBFC registered with RBI.

It was incorporated in 1992 as a Private Company and converted in Public Ltd Company in 1995.
Chairperson: Dinesh Kumar Khara
Headquarters: Mumbai
Founded: 1 July 1955
6.Union Cabinet approves PLI Scheme for Specialty Steel
Union Cabinet has approved Production Linked Incentive (PLI) Scheme for specialty steel with budgetary outlay of ₹6322 crores

Duration of the scheme: 5 years from 2023-24 to 2027-28

It is expected to bring in investment of approximately ₹40,000 crores and capacity addition of 25 MT for speciality steel.

It will give direct and indirect employment to 5,25,000 people.

Export of specialty steel will become around 5.5 million tonnes, getting FOREX of Rs 33,000 crore.
7.World's first 3D-printed stainless-steel bridge opens in Amsterdam
World's first 3D-printed stainless steel bridge has been inaugurated in Amsterdam, The Netherlands for pedestrians and cyclist over the Oudezijds Achterburgwal canal

It is 12-metre long and is designed by Joris Laarman Lab and built by Dutch robotics company MX3D

It is fabricated from stainless steel rods by 6-axis robotic arms equipped with welding gear

It is fitted with a network of sensors that allows the bridge to monitor strain, movement, vibration and temperature: 23rd July
8.Hockey India launches 'Heroes Connect' web platform
Hockey India has launched its own player-oriented web-based engagement 'Heroes Connect'.

It has been designed to encourage former and current Indian hockey players to initiate constructive discussions around the sport.

All the former and current hockey players who have played for India can register their profiles (name, matches played, career duration, photographs, awards, memorable moment, etc) on the platform verified by the national federation.
9.Rakeysh Omprakash Mehra to release 'The Stranger In The Mirror'
Rakeysh Omprakash Mehra is coming up with his autobiography titled as 'The Stranger In The Mirror'

It is published by Rupa Publications and will hit the stands on July 27.

It features first-person accounts of noted personalities from cinema and advertising world like A R Rahman, Bajpayee, Abhishek Bachchan, etc

He is known for helming movies like Rang De Basanti, Delhi-6, Bhaag Milkha Bhaag and Toofan

He has co-written the book with noted author Reeta Ramamurthy Gupta.
10.APEDA collaborates with Ladakh officials for agricultural produce
APEDA has collaborated with officials of horticulture, agriculture, commerce and industry departments of Ladakh and Defence Institute of High-Altitude Research (DIHAR) to frame a comprehensive plan for giving boost to exports of agricultural produce from Ladakh

The plan will enhance farmers' as well as entrepreneurs' income by enhancing production of fruits with medicinal values and introduction of the traceability system.