Current Affairs - 22 September 2021
Current Affairs - 22 September 2021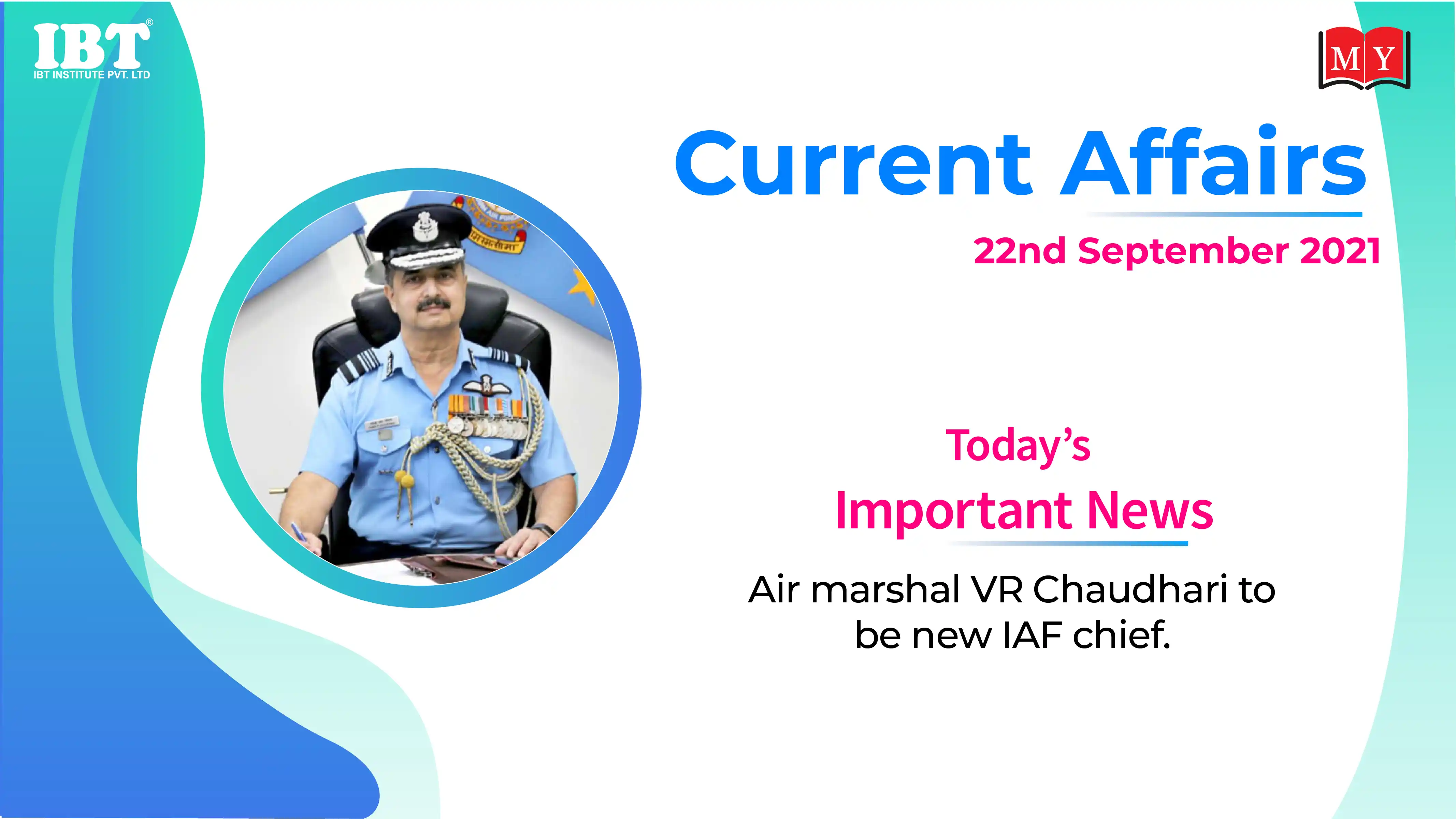 1. Air marshal VR Chaudhari to be new IAF chief
Air Marshal Vivek Ram Chaudhari has been appointed as the next Chief of the Air Staff (CoAS), with effect from 1st October 2021.

Presently, he is serving as the Vice Chief of Air Staff.

He will succeed incumbent Air Chief Marshal RKS Bhadauria, whose tenure will come to end on September 30, 2021.

He was the chief of Western Air Command from August 1, 2020.

He also flew several Air Defence missions during 1999 Kargil war with Pakistan.
Headquarters: New Delhi
Founded: 8 October 1932
Commander-in-Chief: President Ram Nath Kovind
2. World Rhino Day 2021: 22nd September
World Rhino Day is observed on 22nd September every year to celebrates and raise awareness of the need to protect all the five existing species of Rhinoceros.
Rhino species :
3. Greater one-horned Rhino
The day was first announced by World Wildlife Fund-South Africa in 2010.

It is being observed internationally for the first time in 2011.
3. FSSAI releases 3rd edition of State Food Safety Index 2020-21
Union Health Minister Mansukh Mandaviya has released the third State Food Safety Index (SFSI) of Food Safety and Standards Authority of India (FSSAI) for evaluating food safety across all States/UTs in 2020-21.

Top state in larger states category: Gujarat, followed by Kerala and Tamil Nadu.

Top states in smaller states category: Goa, Meghalaya and Manipur.

Top UT: Jammu & Kashmir, Andaman & Nicobar Islands and New Delhi.

He also flagged off 19 Mobile Food Testing Vans.
Founded: August 2011
Headquarters: New Delhi
4. Iran becomes 9th member of Shanghai Cooperation Organization
Shanghai Cooperation Organisation (SCO) leaders have agreed to change the membership of the Islamic Republic of Iran from an observer state to a full member state.

After this, Iran becomes the 9th main member of SCO.

Iran was holding observer status for the past 15 years.

The technical and legal process could take up to two years to conclude.

Full member of SCO: China, Kazakhstan, Kyrgyzstan, Russia, Tajikistan, Uzbekistan, India and Pakistan.
Headquarters: Beijing, China
Secretary-General: Vladimir Norov
Founded: 15 June 2001
5. Third India-Indonesia bilateral maritime exercise 'Samudra Shakti' begins
Third edition of India and Indonesia bilateral maritime exercise titled as 'Samudra Shakti' began on September 20, 2021 in Sunda Strait, Indonesia.

It is a 3-day exercise and will culminate on 22 Sep 2021.

Sunda Strait lies between the Indonesian islands of Java and Sumatra.

Indian Navy has deployed its 2 frontline warships Shivalik and Kadmatt.

It will strengthen bilateral relationship, enhance mutual understanding and interoperability in maritime operations between 2 navies.
President: Joko Widodo
Capital: Jakarta
Currency: Indonesian rupiah
6. Kovalam and Eden beaches get Blue Flag Certification
Kovalam in Tamil Nadu and Eden in Puducherry beaches has been globally recognized and coveted International eco-label 'Blue Flag Certification'.

Foundation for Environment Education in Denmark (FEE) has also given re-certification for 8 nominated beaches Shivrajpur-Gujarat, Ghoghla-Diu, Kasarkod and Padubidri-Karnataka, Kappad-Kerala, Rushikonda- Andhra Pradesh, Golden-Odisha and Radhanagar- A&N.

Blue Flag is indication of 100% compliance to 33 stringent criteria.
7. ECI organizes National Conference on Accessible Elections
Election Commission of India has organized a virtual National Conference on Accessible Elections 2021 to assess present accessibility policies and discuss strategies for addressing barriers to enhance participation in electoral process.

During the conference, crossing Barriers- Accessibility Initiatives 2021 was also launched.

Braille Language versions of Voter Guide, Letter to new voter and Booklet of 50 motivational songs on voter awareness was also launched.
Formed: 25 January 1950
Headquarters: New Delhi
First executive: Sukumar Sen
CEC of India: Sushil Chandra
8. Telecom Department initiates new reforms with simplifying KYC process
Dept of Telecommunications (DoT) has started implementation of new telecom reforms by simplifying the KYC (Know Your Customer) process.

DoT implemented three fresh ways:

Aadhaar-based e-KYC: It has been re-introduced for new mobile phone connections.

Self-KYC: Issuance of mobile connection is done via an app/portal-based online process.

OTP based conversion of connection: It enables a subscriber to convert his mobile connection from prepaid to postpaid and vice-versa.
9. Ministry of Education forms National Steering Committee for Curriculum
Ministry of Education has formed National Steering Committee for development of National Curriculum Frameworks under K Kasturirangan chairmanship.

Other members: Mahesh Pant, Govind Prasad Sharma, Najma Akhtar, TV Kattimani, Michel Danino, Milind Kamble, Jagbir Singh, Manjul Bhargava, M K Sridhar, Dhir Jhingran. Shankar Maruwada.

Committee will develop National Curriculum Frameworks for School Education, Early Childhood Education, Teacher Education, Adult Education.
10. Uttar Pradesh Government to set up 'Electronic Park' near Noida
Uttar Pradesh govt has cleared proposal to develop 'Electronic Park', along Yamuna Expressway Industrial Development Authority area, near Noida to promote electronics industry.

Park is proposed to be developed in 250 acres near Jewar Airport.

It will be built at an investment of around Rs 50,000 crore as well as generate employment for thousands of local youths.

Companies manufacturing mobile phones, TVs, electronic devices will establish their units in the park.
Governor: Anandiben Patel
Capital: Lucknow
Chief Minister: Yogi Adityanath