Current Affairs - 22 October 2020
Current Affairs - 22 October 2020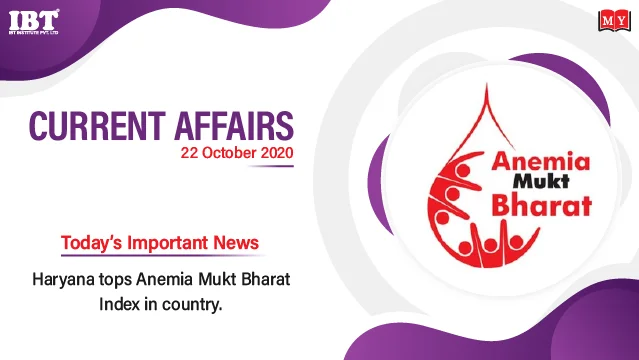 1. International Stuttering Awareness Day is observed 22 October
International Stuttering Awareness Day is observed globally on 22nd October every year.

The day is intended to raise public awareness of the millions of people who have a speech disorder of stuttering or stammering.

Stuttering is a speech disorder that involves frequent and significant problems with normal fluency and flow of speech. People who stutter know what they want to say, but have difficulty saying it.

2020 theme "Journey of Words – Resilience and Bouncing Back".
2. PM Modi to inaugurate three key projects in Gujarat on 24th October
Prime Minister Shri Narenda Modi will inaugurate three key projects in Gujarat on 24th October, via video conferencing. Prime Minister will launch the 'Kisan Suryodaya Yojana' for the farmers of Gujarat. He will inaugurate the Paediatric Heart Hospital attached with U.N Mehta Institute of Cardiology and Research Centre and a Mobile Application for tele-cardiology at the Ahmedabad Civil Hospital in Ahmedabad. He will also inaugurate the Ropeway at Girnar on the occasion.

To provide day-time power supply for irrigation, the Gujarat Government under Chief Minister Shri Vijay Rupani had recently announced the 'Kisan Suryodaya Yojana'. Under this scheme, farmers will be able to avail power supply from 5 AM to 9 PM. The state government has allocated a budget of Rs.3500 crore for installing transmission infrastructure under this scheme by 2023.

Prime Minister will also inaugurate Paediatric Heart Hospital attached with the U.N Mehta Institute of Cardiology and Research Centre and a Mobile Application for tele-cardiology at the Ahmedabad Civil Hospital in Ahmedabad.

Gujarat will once again be highlighted on the global tourism map as the Prime Minister will inaugurate the Ropeway at Girnar on 24th October, 2020. Initially, there will be 25-30 cabins, with a capacity of 8 people per cabin. A distance of 2.3 kms will now be covered in just 7.5 minutes through the ropeway. In addition to this, the ropeway will also provide a scenic view of the lush green beauty surrounding the Girnar mountain.
Foot Notes:
About Gujarat:
Capital: Gandhinagar
Governor: Acharya Devvrat
Chief Minister: Vijay Rupani

3. Indian Navy Operationalizes First Batch of Women Pilots
The first batch of women pilots of Indian Navy have been operationalized on Dornier Aircraft by the Southern Naval Command (SNC) at Kochi. The three women pilots were part of the six pilots of the 27th Dornier Operational Flying Training (DOFT) Course, who graduated as 'Fully operational Maritime Reconnaissance (MR) Pilots' at a passing out ceremony held at INS Garuda, Kochi on 22 Oct 20.

Rear Admiral Antony George, VSM, NM, Chief Staff Officer (Training) of SNC was the chief guest of the event and presented awards to the pilots who are now fully qualified on Dornier aircraft for all operational missions. The three women pilots of first batch are Lieutenant Divya Sharma (from Malviya Nagar, New Delhi), Lieutenant Shubhangi Swaroop (fromTilhar, Uttar Pradesh) and Lieutenant Shivangi (from Muzaffarpur, Bihar). These officers had initially undergone basic flying training partly with Indian Air Force and partly with the Navy prior to DOFT course. Amongst the three women pilots operationalized for MR flying, Lt Shivangi was the first to qualify as a naval pilot on 02 Dec 2019.
Foot Notes:
About Indian Navy:
Chief: Admiral Karambir Singh
Commander-in-chief: President Ram Nath Kovind
4. Haryana tops Anemia Mukt Bharat Index in country
The Anemia Mukt Bharat, an initiative of the Ministry of Health and Family Welfare and UNICEF, has been launched to reduce the prevalence of Anemia all over India.

In a recently released scorecard of the Anemia Mukt Bharat (AMB) Index by the Ministry of Health and Family Welfare, Haryana was ranked at the top slot with an AMB Index of 46.7

.
Foot Notes:
About Haryana:
Capital: Chandigarh
Governor: Satyadev Narayan Arya
Chief Minister: Manohar Lal Khattar
5. India participates in 18th meeting of Prosecutors General of SCO via video conference
India today participated in 18th meeting of Prosecutors General of SCO via video conference.

Representing India, Solicitor General Tushar Mehta said India has zero tolerance to corruption and black money.

He also highlighted government's flagship Pradhan Mantri Jan Dhan Yojna, saying it has expanded India's financial architecture.

Today's meeting of Prosecutors, agreed to strengthen cooperation in preventing and combating corruption, mutual legal assistance and exchange of regulatory legal acts.

India will host the next meeting of Prosecutors General in 2021. SCO Law ministers met last week and SCO Trade Ministers will meet next week.
Foot Notes:
About SCO(Shanghai Cooperation Organisation):
Headquarters: Beijing, China
Founded: 15 June 2001
Deputy Secretaries General: Sabyr Imandosov; Wang Kaiwen; Aziz Nosirov; Vladimir Potapenko
Secretary General: Vladimir Norov

6. IIT Kharagpur's cheapest Covid-19 Test Kit 'COVIRAP' gets ICMR Certification
The Indian Council of Medical Research (ICMR) has validated the efficacy of 'COVIRAP', a diagnostic machine developed by IIT Kharagpur researchers to detect coronavirus. With ICMR's approval, several business houses have approached the institute for technology licensing.

After rigorous testing with patient samples in one of their authorised laboratories and following strict guidelines, the ICMR granted the certification for 'COVIRAP COVID-19 Diagnostic Test Kit'. It is affordable, easy to use and can produce results in a custom-developed mobile phone application within an hour.

Union Minister of Education Ramesh Pokhriyal at a virtual press conference said, "This will impact the lives of many in rural India as the device is portable and can be operated on a very low-energy supply. Minimally trained rural youth can operate this device."
Foot Notes:
About IIT Kharagpur:
Director: Prof. VK Tewari

7. Sushil Kumar Singhal accredited as next High Commissioner of India to Solomon Islands
Sushil Kumar Singhal, a 2000-batch Indian Foreign Service officer, has been concurrently accredited as the next High Commissioner of India to the Solomon Islands.

Mr Singhal will be residing in Port Moresby.

He is presently serving as the High Commissioner of India to the Independent State of Papua New Guinea.
Foot Notes:
About Solomon Islands:
Capital: Honiara
Currency: Solomon Islands dollar
Continent: Oceania
Prime Minister: Manasseh Sogavare

8. India to host third India-US 22 Ministerial Dialogue on Oct 27
India will be hosting the Third India-US 22 Ministerial Dialogue on 27th of October in New Delhi.

United States Secretary of State Mike Pompeo and Secretary of Defence Mark T. Esper will be visiting India to participate in the dialogue.

From the Indian side, Defence Minister Rajnath Singh and External Affairs Minister Dr. S. Jaishankar will lead the delegation.

The first 22 Ministerial Dialogue was held in New Delhi in September 2018 and followed by the second in Washington DC in 2019.

The agenda for the third dialogue will cover all bilateral, regional and global issues of mutual interest.
Foot Notes:
About US:
President: Donald Trump
Capital: Washington, D.C.
Currency: United States dollar

9. Brazil's President Bolsonaro rejects purchase of coronavirus vaccine from China
Brazil's President Jair Bolsonaro has decided on Wednesday to cancel the purchase of Coronavac, a COVID-19 vaccine in phase-3 clinical trials by Chinese firm Sinovac.

A day before, on Tuesday, Health Minister Eduardo Pazuello had confirmed that Brazil would buy the vaccine developed by Sinovac to include it in the immunization program, in addition to one developed by the UK-based AstraZeneca and Oxford University.

Bolsonaro said on social media, For sure, we will not buy the Chinese vaccine, because it is unjustifiable to pay billions for a vaccine that has not been through its testing phase.
Foot Notes:
About Brazil:
President: Jair Bolsonaro
Capital: Brasilia
Currency: Brazilian real
About china:
President: Xi Jinping
Capital: Beijing
Currency: Renminbi

10. Parle agro ropes in Priyanka Chopra Jonas as brand ambassador
Parle Agro has roped in Priyanka Chopra Jonas as the national brand ambassador to maximise reach and awareness of its fruits plus fizz portfolio 'B-Fizz'.

The campaign will be aggressively promoted across IPL on Hotstar and YouTube. B-Fizz is a unique and refreshing apple juice-based malt flavoured carbonated drink that is set to revolutionize the taste experience of consumers across age groups.
Foot Notes:
About Parle agro:
CEO: Schauna Chauhan.
HQs: Mumbai, Maharashtra