Current Affairs - 22 July 2021
Current Affairs - 22 July 2021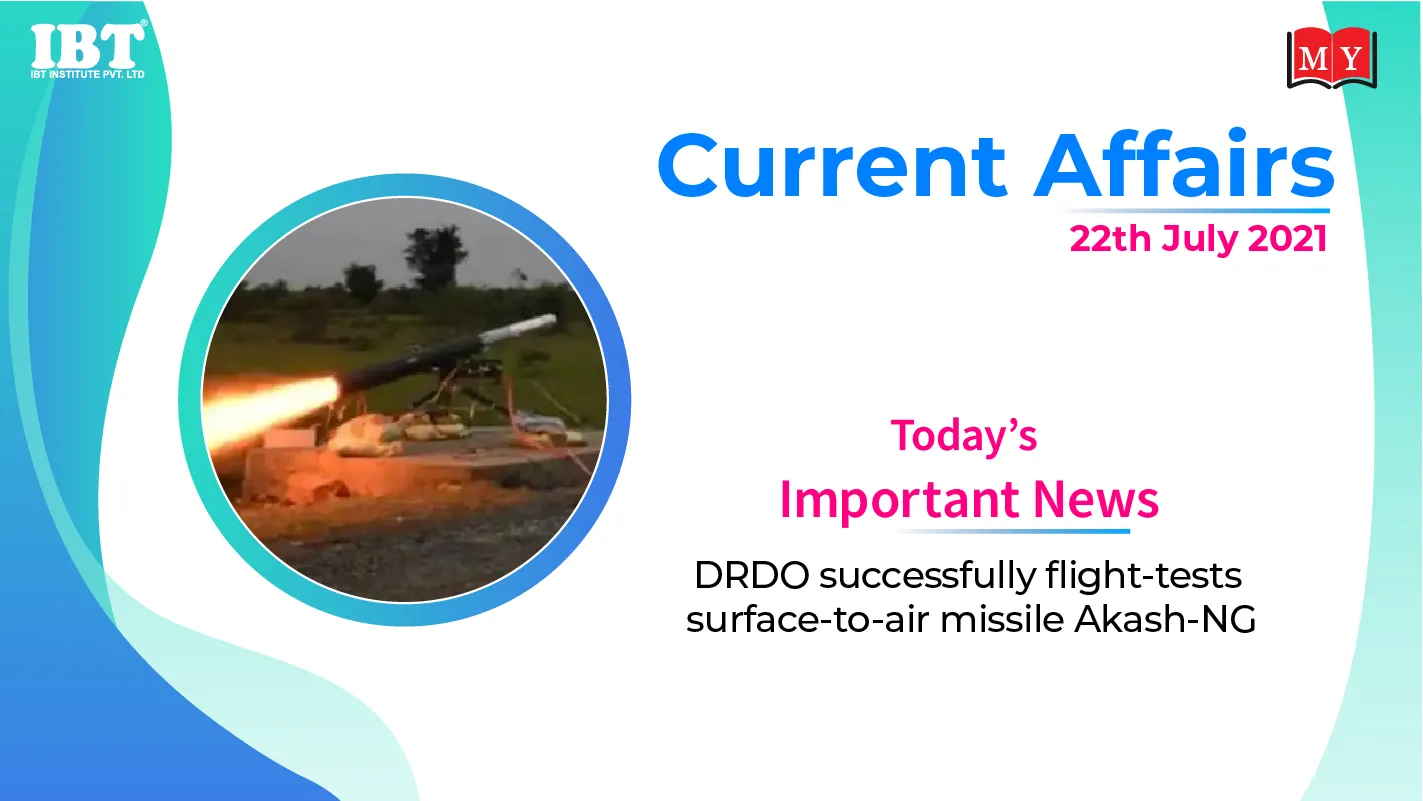 1.DRDO successfully flight-tests surface-to-air missile Akash-NG
DRDO has successfully tested New Generation Akash Missile (Akash-NG) from Integrated Test Range (ITR) off the coast of Odisha.

Akash-NG weapon system: It is a surface-to-air Missile that can strike targets at around 60 km and fly at a speed of up to Mach 2.5.

It has been developed by Defence Research & Development Laboratory (DRDL), Hyderabad in collaboration with other DRDO laboratories.
Founded: 1958
Headquarters: New Delhi
2.Ariel Henry sworn-in as new Prime Minister of Haiti
Ariel Henry has been sworn in as the Prime Minister of Haiti, after the country's President Jovenel Moïse was assassinated

He could not take over the post immediately as he was locked in a political tussle with Claude Joseph, the country's interim PM at the time of the attack.

Haiti: Island of Hispaniola in Greater Antilles archipelago of the Caribbean Sea, to east of Cuba and Jamaica and south of Bahamas and Turks and Caicos Islands.
Capital: Port-au-Prince
Currency: Haitian gourde
3.Mukhtar Abbas Naqvi appointed as Deputy Leader of Rajya Sabha
Union minister for minority affairs, Mukhtar Abbas Naqvi has been appointed as the Deputy Leader of the House in Rajya Sabha.

He succeeded Piyush Goyal, who has been appointed as the Leader of the House in the Upper House (Rajya Sabha).

Rajya Sabha or Council of States: Upper house of the bicameral Parliament of India. It has a maximum membership of 245, of which 233 are elected by the legislatures of the states and UTs while President can appoint 12 members.
4.Vice President Venkaiah Naidu addresses World Universities Summit 2021
Vice President Venkaiah Naidu addressed 'World Universities Summit 2021', organised by O.P. Jindal Global University

Theme of World Universities Summit 2021: Universities of the Future: Building Institutional Resilience, Social Responsibility and Community Impact.

The summit witness 150+ thought leaders from 6 continents and 25+ Countries including Australia, Brazil, Canada, China, Columbia, Ecuador, France, Germany, etc

Jindal partnered with 6 Global Education Networks.
5.Uttar Pradesh to set up panchayat secretariat in all panchayats of the state
Uttar Pradesh Cabinet has announced to set up Panchayat Secretariat in all panchayats of the state for the first time to strengthen the rural democracy and providing employment to the rural youth.

There are currently 58,189 gram panchayats in UP.

UP govt will also provide free healthcare to all Antyodaya card holders who are not covered under any healthcare scheme, benefitting around 40 lakh families.

Panchayat assistant will be given Rs 6,000 as remuneration.
Governor: Anandiben Patel
Capital: Lucknow
Chief Minister: Yogi Adityanath
6.MyGov platform hosts Online Competition for Young Writers
MyGov platform is hosting Online Competition under PM's Mentorship Scheme for Young Writers, seeking participation of young and aspiring Indian writers from across the globe.

Online competition was launched on 4th June till 31st of this month.

Winners will be announced on 15 August this year.

75 authors will be selected through the All-India Contest being conducted through nbtindia.gov.in and MyGov.in.
7.Byju's acquires US-based digital reading platform Epic
Byju's has acquired US-based digital reading platform 'Epic' for $500 million, strengthening its position in the education technology sector.

This acquisition will help Byju's expand its US footprint by providing access to the more than two million teachers and 50 million kids in Epic's existing global user base, which more than doubled over the last year

Epic model for inspiring the next generation through interactive reading.
8.Australia's Brisbane to host 2032 Summer Olympic Games
International Olympic Committee (IOC) announced that Australian city of Brisbane will be the host city for 2032 Summer Olympics and Paralympic Games.

Brisbane will be the third Australian city to host the Olympic Games after Melbourne in 1956 and Sydney in 2000.

With this, Australia will also become second country in the world, after US, to stage summer Olympic Games in three different cities.
Capital: Canberra
Currency: Australian dollar
Prime Minister: Scott Morrison
Headquarters of IOC: Lausanne, Switzerland
9.Russia to conduct military drills with Uzbekistan, Tajikistan near Afghan border
Russia will conduct military drills with Tajikistan and Uzbekistan near the border with Afghanistan,

Joint drills will take place from 5th to 10th August at the Kharbmaidon training ground in Tajikistan near the Afghan border.

The troops will run drills to defeat illegal armed units that invaded the territory of an allied country.

Troops from a Russian military base in Tajikistan and the Central Military District will take part in the games.
Capital: Moscow Trending
President: Vladimir Putin
Currency: Russian ruble
10.LIC launches new health insurance plan called Arogya Rakshak
Life Insurance Corporation (LIC) has launched new health insurance plan titled as Arogya Rakshak

It is a non-linked, non-participating, regular premium and individual health insurance plan

It provides fixed health insurance cover against certain specified health risks and provides timely support in case of medical emergencies.

It will be available for principal insurers, spouses and parents up to 80 years and for children up to 25 years.
Chairperson: M R Kumar
Founder: Government of India
Founded: 1 September 1956
Headquarters: Mumbai