Current Affairs 22 July, 2019
Current Affairs 22 July, 2019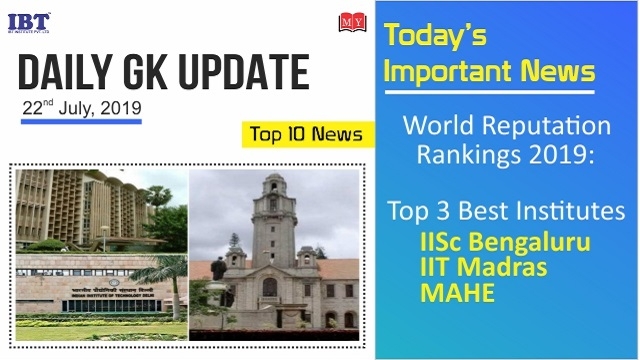 1. India - The first recipient of AIIB local currency funding
India will be the first recipient of local currency financing by the Asian Infrastructure and Investment Bank (AIIB). The objective of the local currency financing is to provide more options to borrowers.

India is the second largest shareholder of AIIB with a 7.5% stake. It has received about $2-billion funding for various projects so far.

China holds 20.06% and Russia holds 5.92%.
About AIIB
The Asian Infrastructure Investment Bank

Headquarters: Beijing, China

President: Jin Liqun
2. Standard Chartered to be the first foreign bank to launch operations at GIFT IFSC
UK- based Standard Chartered will be the first foreign bank to launch operations at International Financial Service Centre (IFSC).Standard Charteredi. The bank has received in-principle regulatory approvals to set up its IFSC Banking Unit (IBU) in Gujarat International Finance Tec-city (GIFT city).

Tapan Ray, MD & CEO of GIFT City said that with the presence of Standard Chartered, the IFSC ecosystem will be formidable.

GIFT City
i. Gift city was one of the dream projects of Shri. Narendra Modi when he was the Chief Minister of Gujarat.
ii. It has been set up by the Gujarat government in joint partnership with Infrastructure Leasing and Financial Services (IL&FS)
iii. The recent budget has laid special emphasis on aircraft financing and leasing which would make GIFT City, help build hub for aircraft financing and leasing with the help of Standard Chartered and other organizations in the future.
3. Indian bodybuilder Ravinder Malik clinches Mr South Asia title
Indian Body builder Ravinder Malik won Mr South Asia Title.There are around 91 bodybuilders participated in the championship.

The competition is organised by South Asian Bodybuilding and Physique Sports The Federation under the auspices of Nepal Bodybuilding and Fitness Association.He won the overall champion of the 12th Asian Bodybuilding and Physique Sports Championship in Kathmandu.

He won this title under 80 kg categoryHe was one among the nine people who the title among the same 80 kg Category.
Foot Notes:
Countries and their medal list
Afghanistan won total 15 medals.

The medals consists of six gold, four silver and five bronze.

Nepal won three gold, seven silver and six bronze medals

India won four gold, five silver and one bronze medal.

Maldives won three gold and two bronze medals.

Pakistan bagged one gold, two silver and two bronze.

Bhutan finished the championship game last with a bronze medal.
4. Author Sunil Mishra's book 'Who Stole My Job enters second print Run'
Srishti Publishers and Distributors, India's leading publishing house today announced the second print run of 'Who Stole My Job' by nationally acclaimed author Sunil Mishra.

The book was first released in April 2019 and has received a very positive response from readers across the globe. The book is available across all leading online platforms and offline stores.

'Who Stole My Job' is a work of business fiction that relates to new technological disruptions in the age of artificial intelligence and their impact on daily and work lives. The book has been widely acclaimed and has received accolades from Prof Debashis Chatterjee, Mohandas Pai and Vivek Wadhwa.
Foot Notes:
About the book
"Who Stole My Job" is a work of business fiction that relates to new technological disruptions in the age of Artificial Intelligence and their impact on daily and work lives.
About Sunil Mishra
The author, Sunil Mishra has over two decades of experience with leading business consulting and technology organizations like McKinsey and Co., Accenture, Infosys and Oracle. He currently leads a team in Finacle, Infosys that works with the start-up ecosystem and product incubation.
5. LJP MP Ram Chandra Paswan passes away
Lok Janshakti Party MP from Bihar's Samastipur Ram Chandra Paswan passed away.

He was the younger brother of Union minister and LJP chief Ram Vilas Paswan.

Ramchandra, a four-time MP was first elected to the Lok Sabha in 1999 from Bihar's Rosera (SC) constituency.
Foot Notes:
About Bihar
Governor: Fagu Chauhan
Chief minister: Nitish Kumar
Capital: Patna
6. International Atomic Energy Agency (IAEA) chief Yukiya Amano passed away
5th Director General of the International Atomic Energy Agency, Yukiya Amano aged 72 passed away. He was born in Yugawara, Japan.Yukiya Amanoi. He was serving the International Atomic Energy Agency from 2009 to till date.

Earlier, he served as an international civil servant for the United Nations and its subdivisions. In 2005, he served as the ambassador from Japan to the IAEA. From September 2005 to September 2006, he served as the Chairman of the IAEA Board of Governors.
Book he authored:
i. "A Japanese View on Nuclear Disarmament", The Non-Proliferation Review, 2002
ii. "The Significance of the NPT Extension", Future Restraints on Arms Proliferation, 1996 iii"La Non-Prolifération Nucléaire en Extrême-Orient", Proliferation et Non-Proliferation Nucleaire, 1995
iii. "Sea Dumping of Liquid Radioactive Waste by Russia", Gaiko Jiho, 1994
Foot Notes:
About International Atomic Energy Agency
Headquarters: Vienna, Austria
Head: Yukiya Amano
Director:Yukiya Amano
7. First Indian boxer to win gold at President's Cup
Shiva Thapa became India's first gold-medallist at the President's Cup boxing tournament after getting a walkover in the finals in Astana, Kazakhstan.

Making his international debut in the newly-introduced Olympic category of 63kg.

Thapa was to fight Kazakhstan's Zakir Safiullin in the summit clash.
Foot Notes:
About Kazakhstan
PM of Kazakhstan : Askar Mamin
Capital of Kazakhstan: Nur-Sultan.
Currency of Kazakhstan: Kazakhstani Tenge.
8.India's track and field legend PT Usha nominated for IAAF's 'Veteran Pin'
The International Association of Athletics Federation's (IAAF) Chief Executive Officer (CEO) Jon Ridgeon informed that India's track and field legend PT Usha, aged 55, has been nominated for the IAAF's 'Veteran Pin' for her outstanding service to the sport.

She is called as the "queen of track and field". She has been invited to participate in the award ceremony which will be held during the opening ceremony of the 52nd IAAF Congress at the Qatar National Convention Centre in Doha on the eve of September 24, 2019.

She had won five gold medals in 100m, 200m, 400m, 400m hurdles and the 4x400m relay and a bronze medal in the 1985 Asian Athletic Championships which were held in Jakarta, Indonesia.In the 1984 Los Angeles Olympics, she became the first Indian to reach the finals of the 400m hurdles, but lost the bronze by one-hundredth of a second.
Foot Notes:
About IAAF
Formation: July 17, 1912
Headquarters: Monaco
9. Kalraj Mishra sworn in as the new Governor of Himachal Pradesh
On July 22, 2019 Janata Party (BJP) leader Kalraj Mishra, aged 78, was sworn in as the 26th governor of Himachal Pradesh replacing Acharya Devvrat, who has been transferred and appointed as the Governor of Gujarat.

He had resigned as the Minister for Micro, Small and Medium Enterprises in 2017 after he crossed the age of 75 beyond which BJP leaders are barred from occupying official posts and cannot contest elections.

He was elected as a Member of Parliament (MP) in 2014 Lok Sabha elections from Deoria in Uttar Pradesh.
Foot Notes:
About Himachal Pradesh
Capital: Shimla
Chief Minister: Jai Ram Thakur
National Parks: Great Himalayan National Park, Pin Valley National Park, Inderkilla National Park, Khirganga National Park, Simbalbara National Park
Wildlife Sanctuaries: Bandli WLS, Churdhar WLS, Daranghati WLS, Gamgul Siyabehi WLS, Kais WLS, Kugti WLS, Lippa Asrang WLS, Majathal WLS, Pong Dam Lake WLS, Sainj WLS, Tirthan WLS etc
10. World Reputation Rankings 2019: Top 3 Best Institutes in India are IISc Bengaluru, IIT Madras and MAHE
In the World Reputation Rankings 2019 released by the Times Higher Education, among the Indian Institutes, Indian Institute of Science (IISc) Bengaluru, Indian Institute of Technology (IIT) Madras and Manipal Academy of Higher Education (MAHE), Manipal were awarded the top 3 positions.

The 2019 rankings are based on a survey carried out between November 2018 and February 2019. It received a total of 11,554 responses from 135 countries.It ranked institutions for their reputation in research and teaching.

MAHE was ranked 419 from 704 of 2018 rankings. It topped the list among the private institutions in India with 414 rank in Teaching and 458 in Research.
Foot Notes:
About MAHE
Location: Manipal, Udupi, Karnataka
Motto: Inspired by Life
Chancellor: Ramdas Madhav Paia