Current Affairs - 21 July 2021
Current Affairs - 21 July 2021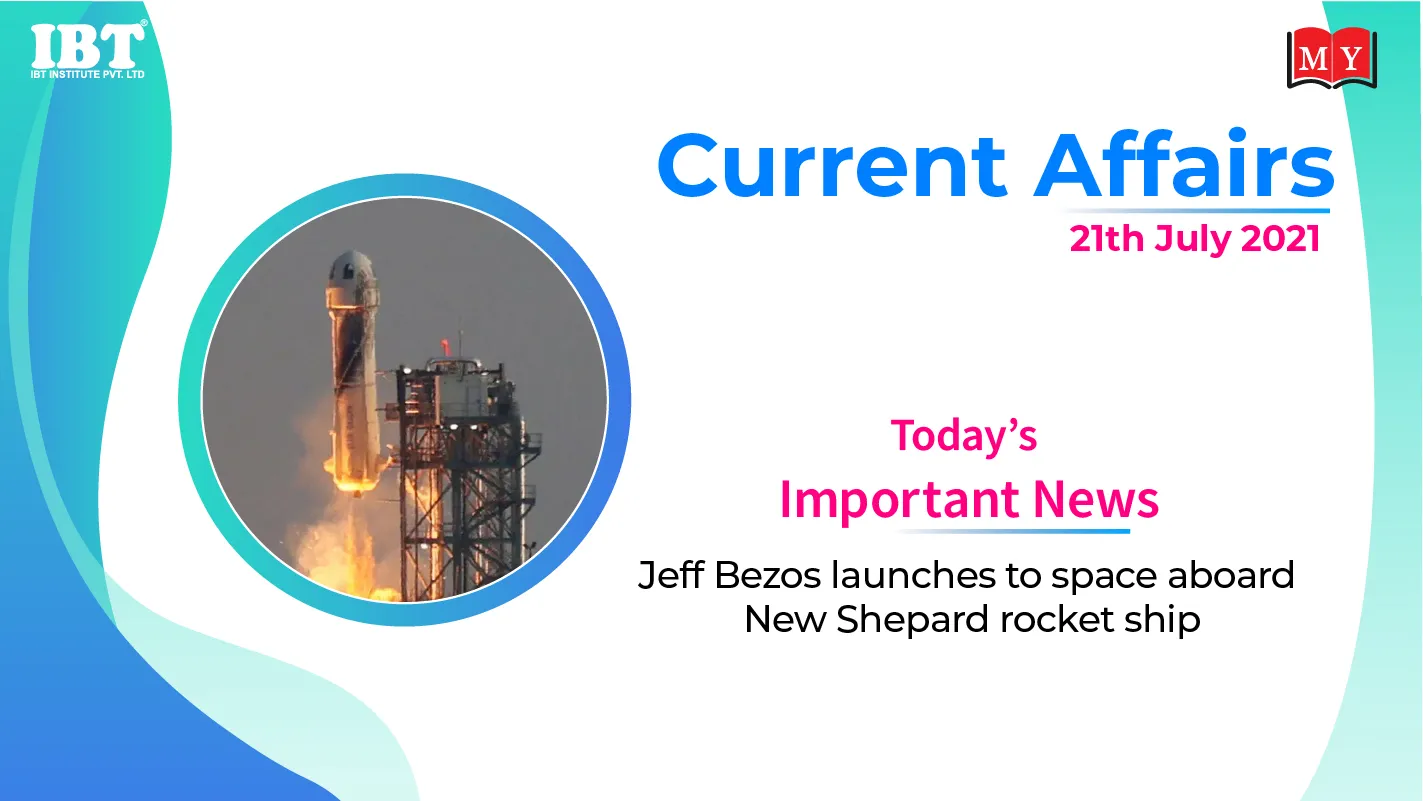 1.Jeff Bezos launches to space aboard New Shepard rocket ship
Jeff Bezos successfully soared into space Tuesday aboard his New Shepard rocket — and thanked Amazon's customers for funding it.

The billionaire was one of four people on his Blue Origin aerospace company's first human flight as it launched from a West Texas desert at 9:12 a.m. EDT and traveled to an altitude of about 66 miles before returning to Earth.

Blue Origin aerospace commemorated the feat as a "truly historic day" after Bezos' capsule touched down.
2.Russia successfully test-fires S-500 missile system
Russia has successfully test-fired new S-500 air defence missile systems from southern training range, Kapustin Yar.

It hit a high-speed ballistic target as planned during test-firing.

S-500 is also known as Prometey or 55R6M Triumfator-M and is a Russian surface-to-air missile/anti-ballistic missile system which is the most advanced anti-missile system in the world.

It has been developed by Almaz-Antey Air Defence Concern.

It has a maximum firing range of 600 kilometres.
Capital: Moscow Trending
President: Vladimir Putin
Currency: Russian ruble
3.Centre extends 'Stand Up India Scheme' up to 2025
The Government of India has extended the duration of 'Stand Up India Scheme' up to the year 2025.

The scheme was launched by the Prime Minister on 05 April, 2016 to facilitate loans to Scheduled Caste, Scheduled Tribe and women borrowers, to promotes entrepreneurship among them.

The scheme offers bank loans to women and SC & ST communities for to encourage them in setting up a green field enterprise, outside of the farm sector, that is in manufacturing, services or trading sector.

A total of 1,16,266 loans amounting to Rs. 26204.49 crore has been extended under the Scheme since its inception.

The loan under Stand Up India Scheme are extended by Scheduled Commercial Banks (SCBs) between Rs. 10 lakh and Rs.1 Crore.
4.Maharashtra to issue educational documents using blockchain technology
Maharashtra Govt will become the first state to issue educational documents to students of educational institutions using blockchain technology.

Currently only Singapore, Malta and Bahrain are the only other countries using this technology.

For this, Maharashtra government has partnered with LegitDoc.

Each student will receive a 'certficate_LegitDoc.zip' digital file containing the original PDF diploma certificate and corresponding blockchain proof file.
Governor: Bhagat Singh Koshyari
Capital: Mumbai
Chief Minister: Uddhav Thackeray
5.First elections of Balika Panchayat successfully held at Kunariya village
First-ever elections of Balika Panchayat has been successfully held at Kunariya village, Kutch, Gujarat.

Young females aged between 10 to 21 years contested elections for this unique Panchayat.

It will take up issues pertaining to adolescent girls and women in the village.

It was inspired by TV show, Balika Vadhu to develop leadership qualities in the girls for Future Panchayat polls.

This Panchayat will be run by girls and for girls.

Sarpanch of Kunariya: Suresh Chhanga.
6.Prasar Bharati partners with IIT-Kanpur on NextGen broadcasting technology
Prasar Bharati has signed MoU with IIT Kanpur to establish Centre of Excellence for Media and Broadcasting Technologies.

Areas that will be covered under Center of Excellence are:

Next Generation Broadcast Technology Trial (Direct to Mobile Broadcasting, Convergence with 5G).

Automatic Speech Recognition for Speech Subtitling (Making Broadcast Content in Indian Languages Accessible).

Archival Content Retrieval through Audio, Text Query.
CEO: Shashi Shekhar Vempati
Founded: 23 November 1997, New Delhi
Headquarters: New Delhi
7.ADB lowers India's economic growth forecast for this fiscal to 10%
Asian Development Bank (ADB) in its Asian Development Outlook (ADO) has downgraded India's economic growth forecast for the current financial year to 10% from 11% projected in April due to adverse impact of the coronavirus pandemic.

India's GDP growth recovered to 1.6% in the last quarter of fiscal year that ended on March 2021.

GDP for FY2022 (ending in March 2023) is upgraded from 7% to 7.5%.

GDP growth forecast for South Asia in 2021 is downgraded to 8.9%.
Headquarters: Mandaluyong, Philippines
Founded: 19 December 1966
Leader: Masatsugu Asakawa
8.IOC to set up first 'green hydrogen' plant at Mathura
Indian Oil Corporation (IOC) will build first 'green hydrogen' plant of India at its Mathura refinery to meet the growing demand for both oil and cleaner forms of energy.

IOC will make use of 250 MW of electricity which it produces from renewable sources like solar power to produce absolutely green hydrogen through electrolysis for this.

Green hydrogen production is the ultimate clean hydrogen resource and uses renewable energy to create hydrogen fuel.
Chairperson: Shrikant Madhav Vaidya
Headquarters: Mumbai
Founded: 30 June 1959
9.Mithali Raj bagged top position in ICC Women's ODI Player Rankings
Indian skipper Mithali Raj has reclaimed her spot as the number one batting player on the MRF Tyres ICC Women's ODI Player Rankings.

This is the ninth time that Mithali has reached the number one spot among batting players since first occupying the spot more than 16 years ago.

She is followed by Lizelle Lee (South Africa), Alyssa Healy (Australia), Tamsin Beaumont (England) and Stafanie Taylor (West Indies).

Shafali Verma is the top batting player in T20 category.
Headquarters: Dubai, United Arab Emirates
Founded: 15 June 1909
Deputy Chairman: Imran Khwaja
Chairman: Greg Barclay
CEO: Geoff Allardice
10.Mongolia, Tajikistan and Switzerland inducted as new Associate Members of ICC
The International Cricket Council (ICC) has inducted Mongolia, Tajikistan and Switzerland as its newest member countries on July 18, 2021 at the ICC's 78th Annual General Meeting, which was held virtually.

With this, ICC now comprise of total 106 Members including 94 Associates. The three newly inducted countries are now among ICC's 94 Associate Members.

Region-wise, Mongolia and Tajikistan have been inducted as the 22nd and 23rd Members from the Asia region while Switzerland is 35th Member from Europe region.
Capital: Ulaanbaatar
President: Ukhnaagiin Khürelsükh
Currency: Mongolian tögrög
Capital: Dushanbe
Currency: Tajikistani somoni
President: Emomali Rahmon
Currency: Swiss franc