Current Affairs 19 July, 2019
Current Affairs 19 July, 2019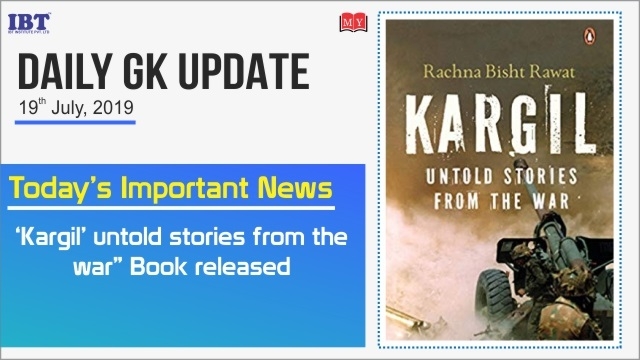 1. New book to tell untold stories from Kargil War
"Kargil: Untold stories from the War", the book published by Penguin Random House, is authored by Rachna Bisht Rawat.

On the 20th anniversary of the Kargil War,this new book will revisit the freezing battle grounds of the 1999 conflict through untold stories of its bravest soldiers.

The book that is based on Rawat's interviews with war survivors and martyrs' families, will take the readers to the treacherous Himalayan mountains where some of the Indian Army's bloodiest battles were fought.
Foot Notes:
About Kargil War
Date:3 May–26 July 1999(2 months, 3 weeks and 2 days)
Location:Kargil district, Jammu and Kashmir
Result:Decisive Indian victory
2. Sri Lanka signs agreement with India to upgrade railway lines
Sri Lanka has signed an agreement with India to upgrade tracks in a key railway segment connecting the north and south at a cost of $ 91.26 million.

This is the first time in 100 years that the 130 km-long-tracks, running from Maho town in the North Western Province to Omanthai in the Northern Province, are being upgraded.

The contract agreement for concessional financing was signed in Colombo between the Government of Sri Lanka and IRCON International Ltd (India).
Foot Notes:
Chairman & Managing Director, IRCON: Sunil Kumar Chaudhary.
3. Sachin Tendulkar 6th Indian to be inducted into ICC Hall of Fame
International Cricket Council has inducted India's batting icon Sachin Tendulkar, South African pace legend Allan Donald and two-times World Cup-winning Australian woman cricketer Cathryn Fitzpatrick into the ICC's Hall of Fame.

Other Indians on the list are Bishan Singh Bedi, Sunil Gavaskar, Kapil Dev, Anil Kumble, Rahul Dravid.

Sachin Tendulkar has 34,357 runs across formats and is the only batsman to have 100 internationals hundreds under his belt.

Static/Current Takeaways Important For SBI Clerk Mains:
Foot Notes:
About ICC
ICC Chairman: Shashank Manohar

Headquarters: Dubai, United Arab Emirates.
4. Prime Minister Narendra Modi to share his thoughts in Mann Ki Baat on July 28
Prime Minister Narendra Modi shares his thoughts with the people in the country and in his 'Mann Ki Baat' programme on All India Radio.The second edition of the programme after Mr Modi for the second term.

Prime Minister invited the people to share their ideas. They can share their views in MyGov Open Forum

The toll-free number 1800-11-7800 to record a message for the Prime Minister.Prime Minister Narendra Modi explained about the important issues through the monthly programme.

The awareness campaign should focus on water-related problems.He planned to start a mass movement for water conservation and resolve to save every drop of water scarcity in several parts of the country.

He called for an awareness campaign which should focus on water-related problems and also propagate ways to save water.
5. Andra Bank rolls-out Al chatbot "ABHi" in Telangana
A medium-sized public sector bank in India, Andra Bank launched its AI(Artificial Intelligence) interactive assistant called "ABHi" at a function in Hyderabad, Telangana.Al chatbot "ABHi"Key points:
ABHi: It uses new-age technologies include to understand the customer query and fetch the relevant information from possible knowledge base in a matter of milliseconds.
Creation: ABHi is powered by AI startup Floatbot.ai (Bangalore) in partnership with IT(Information Technology) company Netxcell Limited(Hyderabad).
Benefits: Customers will be able to get the information instantaneously 24×7, anytime by using ABHi & can also connect and know details from ABHi through (www.andhrabank.in) over Mobile/Desktop browser, Facebook Messenger and over voice using Google Assistant .it would also converse with customers on Whatsapp.
Queries: Andra bank customers can ask details on digital banking, loans, banking services, govt. schemes, insurance, senior citizen, RuPay Offers, Aadhaar services, payment mode, lodge a customer complaint, know nearest Branch / ATM on Google map, recharge prepaid mobile, etc., on chat anytime.

ABHi would also enable banking services such as balance check, ordering a cheque book, view mini statement, recent transactions in future.
About Andra Bank:
Headquarters: Hyderabad
Founded: 20 November 1923
MD & CEO: J Packirisamy
Tagline: Where India Banks
6. P Rajagopal, Saravana Bhavan founder passed away in Chennai
Founder of popular South Indian food chain Saravana Bhavan, P Rajagopal, who convicted in a murder case passed away due to a Heart attack in Chennai, Tamil Nadu. He was 72.

He was born in Punnaiyadi, Tuticorin District of Tamil Nadu.He had surrendered before a local court to serve a life sentence in a murder case and had been shifted to Vijaya Hospital after the Madras High Court passed an interim order.

For murdering an employee in October 2001, he had surrendered along with another accused earlier to serve life term after the Supreme Court rejected his plea seeking more time on grounds of ill-health.
7. Archer Deepika Kumari won silver in Tokyo Olympic test event
Indian archer Deepika Kumari won silver at the Ready Steady Tokyo test event for the 2020 Olympic Games held in Tokyo, Japan. She lost to Korean An San in straight sets 6-0. She was ranked 4th in the qualification round.
Foot Notes:
Schedule: 24 July- 9 August 2020
Host: Tokyo, Japan
8. Bimal Jalan panel report on surplus RBI reserves 'finalised'
Bimal Jalan led six-member panel on Economic Capital Framework (ECF), formed by RBI has finalised its report on surplus RBI reserves.

The panel has recommended that surplus reserves held by the central bank should be transferred to the government in tranches over three to five years.
Foot Notes:
About RBI
RBI Governor: Shaktikant Das
Headquarters: Mumbai
Founded: 1 April 1935, Kolkata.
9. Tamil Nadu to get two new districts
The total number of districts in the state will be raised to 35.Tenkasi District would be carved out of Tirunelveli and Chengalpet District would be established by splitting Kanchipuram district.

Tirunelveli and Kanchipuram remain vast in area and splitting them would be beneficial for better administration. Revenue Minister R.B.Udhayakumar created a few more districts by splitting bigger revenue units is being considered.

A new district with Kumbakonam as its headquarters are announced.
Foot Notes:
About Tamil Nadu
Chief minister: Edappadi K. Palaniswami
Capital: Chennai
Governor: Banwarilal Purohit
10. Asia has 60% of hungry people in the world
Asia is known for beaches and landmarks including 1644 colonial Fort St. George. Asia they are 820 million people enough to eat in 2018, up from 811 million in the previous year.

It is the third year of increase in a row. This underscores the immense challenge of achieving the Sustainable Development Goal of Zero Hunger by 2030

The edition of the annual 'The State of Food Security and Nutrition in the World'.The 'immense challenge' to reach the target of zero hunger more than 820 million people worldwide.There are about 820 million people to eat in 2018, up from 811 million in the previous year.This underscores the immense challenge of achieving the Sustainable Development Goal of Zero Hunger by 2030.