Current Affairs 18 May 2022
Current Affairs 18 May 2022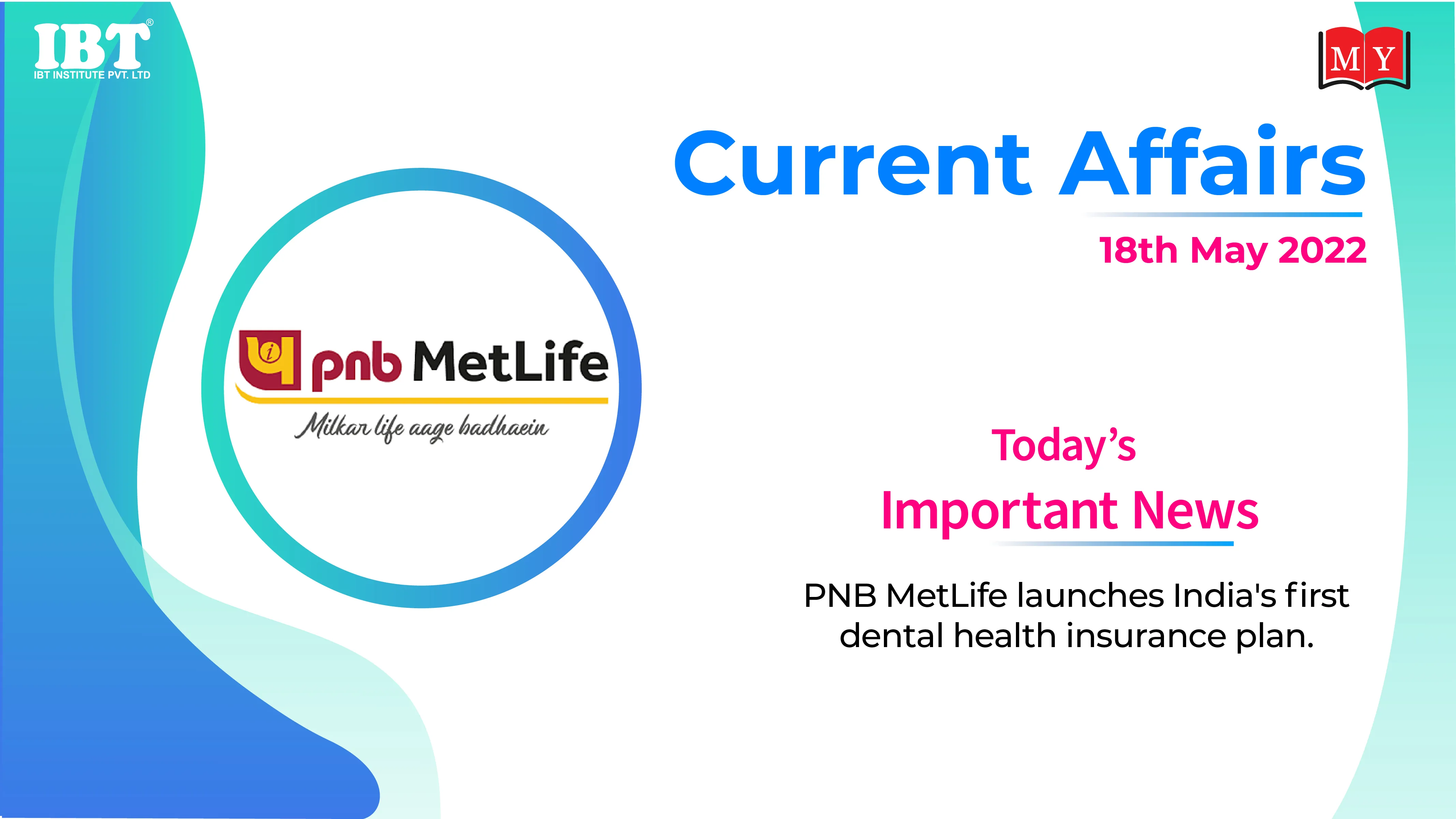 1. PNB MetLife launches India's first dental health insurance plan
PNB MetLife India Insurance Company has launched a dental health insurance plan.

A dental health insurance plan is the first insurance plan in India that covers fixed-benefit outpatient expenses and provides financial assistance with costs related to overall dental health.

PNB MetLife has tied up with more than 340 dental clinics to help customers to manage their dental health.

PNB MetLife MD & CEO: Ashish Kumar Srivastava
Headquarters: New Delhi
CEO: Atul Kumar Goel (1 Feb 2022–)
Founder: Dyal Singh Majithia
Founded: 19 May 1894
2. International Museum Day 2022: 18 May
International Museum Day is observed annually on May 18, it is coordinated by the International Council of Museums.

The 2022 theme of International Museum Day is "Power of Museums".

The International Council of Museums has been organizing International Museum Day every year since 1977 for the museum community.

The National Gallery of Modern Art has also organised special activities and programs to mark the celebration of Museum Day from May 16-20.
3. Former RBI deputy governor S.S.Mundra appointed as Chairman of BSE
Bombay Stock Exchange (BSE) has approved the appointment of former Reserve Bank of India (RBI) governor SS Mundra (Public Interest Director) as the Chairman of the board of directors of the company.

He replaced Justice Vikramajit Sen who is the current chairman.

Mundra was appointed as Public Interest Director at BSE in January 2018.

He retired as Deputy Governor of the RBI on July 30, 2017, and also served as Chairman and Managing Director of the Bank of Baroda.
Headquarters: Mumbai
Founded: 1 April 1935
Governor: Shaktikanta Das
Founded: 9 July 1875
Chairman: S.S.Mundra
MD & CEO: Ashish Chauhan
4. Naveen Srivastava appointed as new ambassador to Nepal
Naveen Srivastava, presently working as an additional secretary in the external affairs ministry has been appointed as the next ambassador to Nepal.

He succeeded Vinay Kwatra, who has recently become the foreign secretary.

He has played a key role in diplomatic and military talks with China to tackle the military standoff on the Line of Actual Control (LAC).

During the recent visit of PM Modi to Nepal, both countries have signed six agreements to strengthen ties.
Capital: Kathmandu
Currency: Nepalese rupee
Prime Minister: Sher Bahadur Deuba
President: Bidhya Devi Bhandari
5. India overtakes Germany to become 4th largest vehicle market
According to the Organisation Internationale des Constructeurs d'Automobiles (OICA), India has sold 3,759,398 vehicles in 2021 as compared to 2,973,319 vehicles in Germany. This shows a difference of almost 26%.

The most number of vehicles were sold in China (sales remained almost stagnant), followed by the US (reported growth of 4%) and Japan (market shrunk compared to both 2020 and 2019.
Headquarters: Paris, France
Founded: 1919
Capital: Berlin
Currency: Euro
President: Frank-Walter Steinmeier
Chancellor: Olaf Scholz
6. PSBs frauds decline by 51% to Rs 40,295 crore
According to the Reserve Bank of India (RBI), the Public sector banks have reported over a 51% dip in the amount involved in frauds to Rs 40,295.25 crore during the financial year ended March 2022.

The 12 PSBs had reported frauds worth Rs 81,921.54 crore in the preceding fiscal 2020-21.

But, the number of fraud cases has fallen slightly as a total of 7,940 frauds were reported by the PSBs in 2021-22, against 9,933 incidents reported in FY21.
7. World bank sanctions USD 350 billion to Gujarat' SRESTHA-G project
The World Bank has approved USD 350 million as financial aid for the Systems Reform Endeavors for Transformed Health Achievement in Gujarat -SRESTHA-G project.

The project will include transforming key health delivery systems in the state.

Focus area: Improve the quality, equity, and comprehensiveness of primary healthcare, services for adolescent girls and the capacity of disease surveillance systems.
Governor: Acharya Devvra
Chief Minister: Bhupendra Rajnikant Patel
Headquarters: Washington, D.C., United States
President: David Malpass
Founded: July 1944
8. SEBI notifies rules to strengthen the regulatory framework for CIS
Securities and Exchange Board of India (SEBI) has enhanced the net worth criteria and track record requirements with an aim to strengthen the regulatory framework for collective investment schemes.

The SEBI has mandated a minimum of 20 investors and a subscription amount of at least Rs 20 crore for each Collective Investment Scheme (CIS).

SEBI has put a cap on cross-shareholding in Collective Investment Management Company (CIMC) to 10% to avoid conflict of interest.
Founded: 12 April 1992
Headquarters: Mumbai
Chairperson: Madhabi Puri Buch
9. Punjab CM launches 'Lok Milni' for redressal of public grievances
Punjab CM, Bhagwant Mann has launched the first-of-its-kind public interaction programme Lok Milni to hear the grievances of people and issued directions for their redressal.

Aim: Providing a single-window platform to the people for redressal of their complaints.

Previously, the Lok Milni program was named 'janta darbar'.

This event helps to facilitate the people for resolving their long-pending administrative issues
Chief Minister: Bhagwant Mann
Capital: Chandigarh
Governor: Banwarilal Purohit
10. India won eight gold in the 2021 Deaflympics
India has won 16 medals (including eight golds, one silver and seven bronze) at the Deaflympics 2021 in Caxias do Sul, Brazil.

India has finished in the ninth position in the medal tally.

India won three gold in shooting, three in Badminton, and each in Golf and Tennis.

Shooting: Dhanush Srikanth, Abhinav Deshwal, Dhanush Srikanth/Priyesha Deshmukh, Shourya Saini, Vedika Sharma
Badminton: Jerlin Jayaratchagan, Abhinav Sharma
Tennis: Prithvi Sekhar/Dhananjay Dubey
Capital: Brasília
Currency: Brazilian real
President: Jair Bolsonaro