Current Affairs - 18 June 2021
Current Affairs - 18 June 2021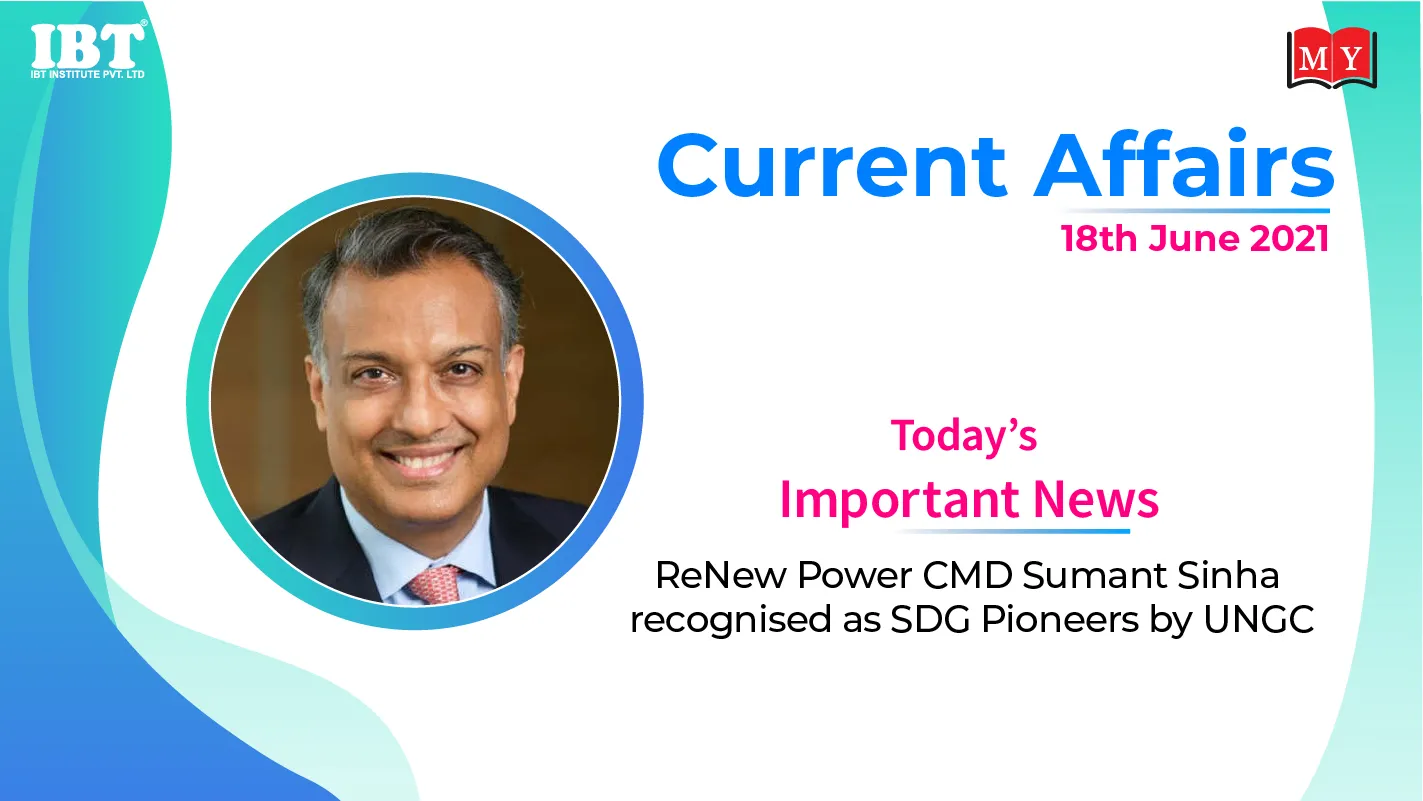 1.ReNew Power CMD Sumant Sinha recognised as SDG Pioneers by UNGC
United Nations Global Compact has recognized Sumant Sinha as one of the ten SDG Pioneers 2021, for his work to advance access to clean and affordable energy.

He is the CMD of ReNew Power.

SDG Pioneers are business leaders selected by the UNGC for doing an exceptional job to advance the SDGs through the implementation of the UNGC Ten Principles on human rights, environment, labor, and anti-corruption.

ReNew Power has been a participant in the UNGC since 2016.
Founded: 26 July 2000
Head: Sanda Ojiambo
2.Autistic Pride Day 2021: 18th June
Autistic Pride Day is observed every year on 18th June to raise awareness about people diagnosed with Autism Spectrum Disorder.

This day gives us an opportunity to view people with autism not as disadvantaged but as equal individuals.

Autistic Pride Day was first celebrated in Brazil in 2005, at the initiative of an organization named Aspies for Freedom.

According to World Health Organization (WHO), one in 160 children has an Autism Spectrum Disorder (ASD).
3.India maintains 43rd rank on IMD's World Competitiveness Index 2021
India maintained 43rd rank in the annual World Competitiveness Index 2021.

The report was compiled by the Institute for Management Development (IMD).

Top three nation in the 64-nation list are: 1. Switzerland; 2. Sweden; 3. Denmark.

BRICS Nations rank order is China, India, Russia, Brazil and South Africa.

The top-performing Asian economies are, in order, Singapore (fifth), Hong Kong (seventh), Taiwan (eighth) and China (16th).
4.Institute for Economics and Peace released Global Peace Index (GPI) 2021 released
The 15th edition of the Global Peace Index (GPI) 2021 was released by the Institute for Economics and Peace (IEP), Sydney.
Indian ranked 135th most peaceful country in the world.

Iceland remains the most peaceful country while Afghanistan is the least peaceful country in the world for the fourth consecutive year.

Bhutan ranked as the most peaceful nation in South Asia.

New Zealand, Denmark, Portugal ranked 3rd, 4th, and 5th resp.
5.Montek Ahluwalia named member of WB-IMF High-Level Advisory Group
Montek Singh Ahluwalia was named as a member of a High-Level Advisory Group formed by the World Bank and IMF.

He was formerly Deputy Chairman of the Planning Commission.

The group will be jointly led by Mari Pangestu, MD for Development Policy and Partnerships, WB; Ceyla Pazarbasioglu, Director, Strategy, Policy and Review Department, IMF; and Lord Nicholas Stern.

It will also include Gita Gopinath, Economic Counsellor and Director of the Research Department at the IMF.
6.Govt. appoints Aashish Chandorkar as Director at India's WTO mission
The Govt has appointed Aashish Chandorkar as Counsellor in India's Permanent Mission in the WTO.

For the first time, a private person has been appointed at the Mission.

Chandorkar is director of Bengaluru-based policy think tank Smahi Foundation of Policy and Research.

The WTO is a 164-member multi-lateral body, which deals with global trade.

India is a member since 1995.
Headquarters: Geneva, Switzerland
Founded: 1 January 1995
WTO Director-General: Ngozi Okonjo-Iweala
7.British lawyer Karim Khan sworn in as ICC's chief prosecutor
British lawyer Karim Khan was sworn in as the new chief prosecutor for the International Criminal Court.

He has years of experience as an international lawyer as a prosecutor, investigator, and defense attorney.

He takes over from Fatou Bensouda of Gambia.

Most recently, Khan led a United Nations team investigating atrocities in Iraq.
Headquarters: The Hague
No. of Member states: 123
8.Centre opens 14 disability early intervention centres
The Union Social Justice and Empowerment Ministry launched 14 cross-disability early intervention centres across the country.

The Centres will provide screening and identification, rehabilitation, counselling, therapeutic services among others for different disabilities.

The Govt has implemented the Rights of Persons with Disabilities Act, 2016, in line with the UN Convention on the Rights of Persons with Disabilities.
9.PUMA signs Yuvraj Singh as brand ambassador of PUMA Motorsport in India
Global sports brand PUMA has extended its decade-long partnership with Yuvraj Singh.

PUMA signed him as the face of PUMA Motorsport in India.

He will showcase his passion for fast cars and sports-inspired fashion.

He also joins the brand's global league of legends like Thierry Henry, Boris Becker, and Usain Bolt.

Globally, PUMA is associated with Scuderia Ferrari, Mercedes-AMG Petronas Formula One Team, Aston Martin Red Bull Racing, BMW M Motorsport, and Porche Motorsport.
10.Mahavir Chakra recipient Brig Raghubir Singh Rajawat passes away
Mahavir Chakra recipient, Brigadier Raghubir Singh Rajawat passed away recently.

He was from 18 Rajputana Rifles and had also received a sword from Maharaja Sawai Man Singh as a token of honour.

He served as the Provost Marshal in the Military police, during the 1971 Indo-Pak war.

He also participated in the Burma war in 1944 and went to Japan to fight.

During the 1958-59 Israel – Egypt war, he was part of the United Nations Emergency Force.