Current Affairs 18 July, 2019
Current Affairs 18 July, 2019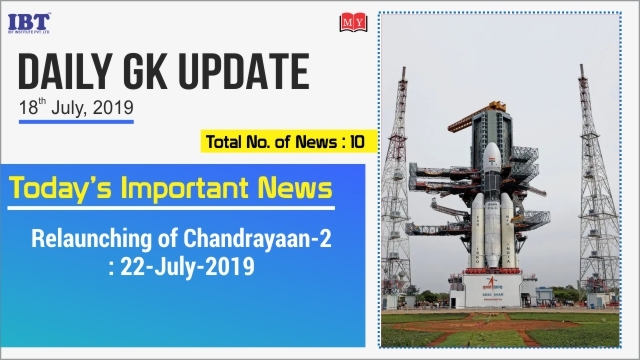 1.WHO declares Ebola outbreak in Congo a global health emergency
The World Health Organization (WHO) declared Ebola outbreak in Congo a global health emergency and demanded that the world redouble its efforts to control it.

This decision came after 2,512 cases of Ebola surfaced in Congo and 1,672 people died since August 1, 2018. The emergency committee also "expressed disappointment about delays in funding which have constrained the response".

The July 17 declaration is the fifth such public health emergency since 2005 after H1N1 influenza virus pandemic (2009), resurgence of wild poliovirus (2014), west Africa Ebola virus outbreak (2014) and Zika virus outbreak (2018).
Foot Notes:
About WHO
Director-General : Dr. Tedros Adhanom Ghebreyesus
Headquarters: Geneva, Switzerland
Head: Tedros Adhanom
Founded: 7 April 1948
2. Palau Becomes 76th Country to Join ISA
Palau, an archipelago of over 500 islands in Oceania, became the 76th signatory country to join the International Solar Alliance.

The International Solar Alliance is a group of 121 solar resource-rich countries with headquarters in Gurugram, India.

The organisation aims to deploy over 1,000 gigawatts of solar energy and mobilise more than USD 1,000 billion into solar power by 2030, according to the United Nations Framework Convention on Climate Change (UNFCCC).
Foot Notes
About Palau
Capital of Palau: Ngerulmud

Currency of Palau: U.S. Dollar.
3. L&T Infotech acquires AI firm Lymbyc for Rs 38 crore
Larsen & Toubro Infotech Ltd acquires AI firm Lymbyc for Rs 38 crore.

Lymbyc's expertise in data discovery, agile analytics and ability to process large data sets, will enhance LTI's Mosaic platform to provide differentiated analytics solutions.

Lymbyc is a Bengaluru-headquartered company known for its capabilities in analytics and data sciences space.
Foot Notes:
CEO of Larsen & Toubro Infotech Ltd: Sanjay Jalona.
CEO of Lymbyc: Satyakam Mohanty.
4. Uttarakhand to host first ever Himalayan states conclave
Uttarakhand will host the first ever Himalayan states conclave here on July 28 where the prime focus will be on sustainable development.

The conclave will host the Chief Ministers of the Himalayan states - Uttarakhand, Jammu and Kashmir, Himachal Pradesh, Sikkim, Assam, Arunachal Pradesh, Meghalaya, Nagaland, Tripura, Mizoram and Nagaland, along with administrators and specialists.
Foot Notes:
About Uttarakhand
CM of Uttarakhand: Trivendra Singh Rawat.
Governor of Uttarakhand: Baby Rani Maurya.
Capital of Uttarakhand: Dehradun.
5. Indian Space Research Organisation (ISRO) has given a new date for the re-launch of Chandrayaan 2.
The rescheduled take-off of India's ambitious Lunar Mission will now take place on July 22 at 2.43 PM from Satish Dhawan Space Centre, SHAR, Sriharikota. Earlier, Chandrayaan 2's launch on July 15 was called off in the final hour of the countdown.

ISRO informed that there was a technical snag that developed in the launch vehicle system and a "measure of abundant precaution" it called off that day. Revealing Chandrayaan 2′ new launch date and time, ISRO tweeted: "Chandrayaan-2 launch, which was earlier called off due to a technical snag on July 15, 2019, is now rescheduled at 2:43 pm IST on Monday, July 22, 2019. " This was not the first time when a mission involving India's powerful GSLV was postponed by ISRO.

GSLV has a dozen successful missions to its credit out of 16 so far, four missions failed as well
Foot Notes:
About ISRO
Headquarters: Bengaluru
Founder: Vikram Sarabhai
Founded: 15 August 1969
Director: Kailasavadivoo Sivan
6. 12 beaches in India selected for Blue Flag certification
The Union Ministry of Environment, Forests and Climate Change (MoEFCC) has selected 12 beaches in India for 'Blue Flag' certification.12 beaches in India selected for Blue Flag certification.

The 12 beaches : It includes Bhogave (Maharashtra), Shivrajpur (Gujarat), Ghoghla (Diu), Miramar (Goa), Kappad (Kerala), Eden (Puducherry), Kasarkod and Padubidri (Karnataka), Mamallapuram (Tamil Nadu), Golden (Odisha), Rushikonda (Andhra Pradesh) and Radhanagar (Andaman & Nicobar Islands).
Foot Notes:
About Blue Flag Program:
Launch: It was launched in December 2017 for beach clean-up and development.
Prime objective: Its purpose is to enhance standards of cleanliness, upkeep and basic amenities at beaches.
Installation: Structures such container toilet blocks, change rooms, shower panels, mini greywater treatment plants in an enclosed structure, mini solid waste recycling plants and off-grid solar photovoltaic panels are installed under the program & they are a minimum 10 meters from the high tide line.
Nomination & Assistance: Under the project, each state or union territory has been asked to nominate a beach which is being funded through the ongoing Integrated Coastal Management Programme(ICMP).
About Blue Flag certification
It is international recognition for beaches and marinas that meet certain criteria of cleanliness and environmental propriety. It is run by the Foundation for Environmental Education (FEE), a Copenhagen based international, non-governmental, non-profit organization.

Ranking: Spain has the highest number of Blue Flag beaches (566), followed by, Greece(515) and France(395). Japan and South Korea are the only countries in Asia to have Blue Flag beaches.
Criteria: There are 33 criteria that must be met to qualify for Blue Flag certification. Few of them include water meeting certain standards such as waste disposal facilities, first aid equipment, disabled-friendly facilities and no access to pets in the main areas of the beach. Some criteria are voluntary and some compulsory.
Review: Once approved, beaches are given qualification for a year and must apply annually to continue meriting the right to fly the flag at their locations.
7. "Find the Incredible You" campaign of the Tourism Ministry wins PATA Gold Award 2019
The Ministry of Tourism's campaign, "Find the Incredible you" has won the Pacific Asia Travel Association (PATA) Gold Award 2019 under the "Marketing – Primary Government Destination" category.
Aim: The campaign which focuses on digital and social media and the promotion of niche tourism products of the country won the award among 198 entries from 78 organizations and individuals worldwide.
Find the Incredible You: It was launched as part of 'Incredible India 2.0' Campaign. Series of transformative experiences of foreign through unique storytelling in the format of autobiographies with the tagline "Find the Incredible You were launched under the campaign, which had shifted strategy focus from external experience of tourist destinations to internal experience of travelers themselves.
PATA Gold Award: These awards are given by PATA to tourism industry organizations and individuals making an outstanding contribution towards the promotion of the travel industry throughout the Asia Pacific Region.
Incredible India 2.0: It was launched in September 2017 to take campaigns to the next level. It had shifted from generic promotions undertaken across the world to market-specific promotional plans and content creation.
As part of the 2.0 Campaign, 5 new television commercials were produced by Tourism Ministry, which was aired on the television and social media globally. These were:
Yoga: "The Yogi of the Racetrack"
Wellness: "The Reincarnation of Mr. and Mrs. Jones".
Luxury: "The Maharani of Manhattan".
Cuisine: "The Masala MasterChef".
Wildlife: "The Sanctuary in Paris".
Annual release: The Ministry of Tourism, as part of its promotional initiatives annually releases Global Media Campaigns under the 'Incredible India' brand-line in the Television, Print, Digital, and Social Media, in key and potential source markets overseas.
8. Saudi Arabia intercepts drone launched by Yemeni rebels
Saudi military intercepted a drone launched at the kingdom's southern border by Iranian-backed rebels in Yemen.

The drone launched by the Houthi rebels from Yemen's Governorate of Sanaa toward the Saudi city of Jizan.

A Saudi-led coalition allied with Yemen's Government has been at war with the Houthis since 2015.

The fighting killed tens of thousands of Yemenis, with Saudi-led airstrikes blamed for many civilian deaths.

Al-Maliki announced the interception of three other Houthi drones launched at Saudi cities near Yemen's border.

Bomb-laden drones launched by the Houthis

He killed a civilian and wounded others in Saudi Arabia.
Foot Notes:
About Saudi Arabia
Currency: Saudi riyal Trending
Capital: Riyadh
9. Lok Sabha passed the National Investigation Agency (Amendment) Bill, 2019
Lok Sabha passed the National Investigation Agency (Amendment) Bill, 2019. This bill aims to allow NIA to probe terrorist acts against Indians and Indian interests abroad. The Bill seeks to give more power to the National Investigation Agency (NIA).
Aim:
The Bill also aims to create Special Courts for trial of scheduled offences under Acts like Atomic Energy Act (AEA), 1962, and Unlawful Activities Prevention Act (UAPA), 1967.

Bill also seeks cyber-terrorism and offences related to counterfeit currency or bank notes, offences under Explosive Substances Act (1908), manufacture or sale prohibited arms and human trafficking.

The amendments will allow NIA to probe cybercrimes and cases of human trafficking. In every state there is only one NIA designated court and these courts would only take NIA cases and not others.
10. ADB cuts India's GDP growth rate from 7.2% to 7% for FY20
Asian Development Bank lowered India's GDP growth rate from 7.2% to 7% for the current fiscal year.

India is expected to grow by 7% in 2019 and 7.2% in 2020, slightly slower than projected in April, ADB said in its supplement to the Asian Development Outlook 2019.
Foot Notes:
About ADB
President of ADB Bank: Takehiko Naka
HQ of ADB Bank: Manila, Philippines.