Current Affairs 17 May 2022
Current Affairs 17 May 2022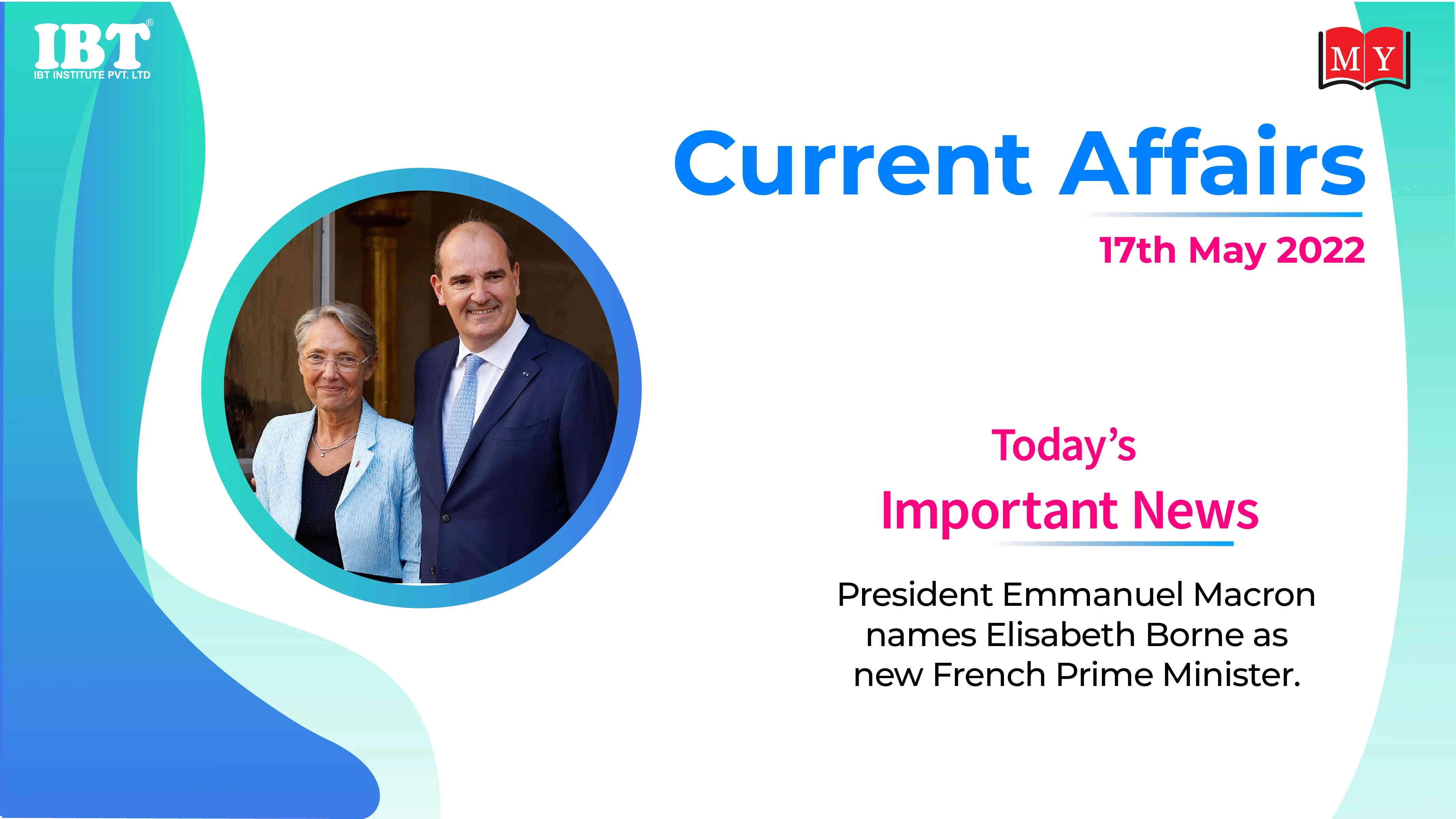 1. President Emmanuel Macron names Elisabeth Borne as new French Prime Minister
President of France, Emmanuel Macron has appointed Elisabeth Borne as the nation's new Prime Minister.

She becomes the second woman to hold this position after Edith Cresson (1991-1992) under President Francois Mitterrand.

She joined Macron's centrist party in 2017.

She is a former Transport, Ecology and Labour minister.

She has succeeded Jean Castex, who had led the French cabinet since July 2020 and resigned recently.
Prime minister: Élisabeth Borne
Capital: Paris
Currency: French franc
President: Emmanuel Macron
2. World Hypertension Day 2022: May 17
World Hypertension Day is observed on May 17 every year to raise awareness about the symptoms of hypertension.

The theme of WHD for 2022 is Measure Your Blood Pressure Accurately, Control It, Live Longer.

Hypertension or high blood pressure occurs when the blood pressure rises to an unhealthy level of 140/90.

Hypertension is a major cause of cardiovascular disease and premature death worldwide.

World Hypertension Day was first observed in May 2005.
3. Adani become India's second-biggest cement maker company
Adani Group has acquired a controlling stake in Swiss-based Holcim AG's cement businesses in India in a $10.5 billion deal.

The Group has acquired 63.19% of Ambuja Cements Ltd and its subsidiary ACC in the bidding with companies.

With this deal, Adani becomes the second biggest cement producer in the country after the Aditya Birla Group-owned UltraTech Cement.

The divestment of India businesses by Holcim is to reduce its reliance on carbon-intensive cement production.
4. Hassan Sheikh Mohamud elected as new president of Somalia
The former leader of Somalia, Hassan Sheikh Mohamud has been elected as the new president of the country for four years, after defeating the current president, Mohamed

Abdullahi

Farmajo.

Out of 328 MPs, Mohamud has received 214 votes and Farmajo won 110 votes only.

Hassan Sheikh Mohamud, also served as Somalia's president between 2012 and 2017.
Capital: Mogadishu
Currency: Somali shilling
President: Hassan Sheikh Mohamud
Prime Minister: Mohamed Hussein Roble
5. Rajnath Singh inducts two indigenously built warships into Indian Navy
Defence Minister Rajnath Singh launched the two frontline warships of the Indian Navy at Mazgaon Docks Limited, Mumbai which will mark a significant milestone in their construction.

The first ship is Surat, which is the fourth and last of the stealth destroyers under the 'Project 15B' programme.

The second ship is Udaygiri, part of the 'Project 17A' frigate programme. It is the third ship of Project 17A frigates.
Founded: 26 January 1950
Commander-in-Chief: President Ram Nath Kovind
Headquarters: New Delhi
6. RBI imposes Rs 59 lakh penalty on KEB Hana Bank
RBI has imposed a penalty of Rs 59 lakh on KEB Hana Bank for non-compliance with certain norms related to the interest rates on deposits.

The bank has been penalised under the "Reserve Bank of India (Interest Rate on Deposits) Directions, 2016".

The RBI has conducted a statutory inspection for supervisory evaluation of KEB Hana Bank with reference to its financial position as of March 31, 2020.
Headquarters: Seoul, South Korea
Headquarters: Mumbai, India
Founded: 1 April 1935, Kolkata
Governor: Shaktikanta Das
7. WPI inflation at record high of 15.08% in April on price rise across all items
Wholesale price-based inflation has risen to 15.08% in April on rising prices across segments from food to commodities.

The WPI-based inflation was 14.55% in March 2022 and 10.74% in April 2021.

Reason: due to the rise in prices of mineral oils, basic metals, crude petroleum & natural gas, food articles, non-food articles, food products etc.

The WPI inflation has remained double-digit for the 13th consecutive month since April 2021.
8. RBI appoints Sitikantha Pattanaik and Rajiv Ranjan as executive directors
The Reserve Bank of India (RBI) has appointed Sitikantha Pattanaik and Rajiv Ranjan as executive directors with effect from May 1.

Ranjan will serve as an ex-officio member of the Monetary Policy Committee (MPC) while Pattanaik will serve as the Department of Economic and Policy Research (DEPR).

Prior to being promoted, Pattanaik was an Adviser in the DEPR and Ranjan served as Adviser-in-Charge of Monetary Policy Department and Secretary to the MPC.
9. Drake wins Billboard Music Awards 2022 in Top Artist category
Drake has won the Billboard Music Awards 2022 in the top artist, male artist, rap artist, rap male artist and rap album (for Certified Lover Boy) category.

BTS has also won three awards in the Top Duo/Group, Top Selling Song, and Top Song Sales Artist categories.

Top New Artist: Olivia Rodrigo
Top Female Artist: Olivia Rodrigo
Top Billboard 200 Artist: Taylor Swift
Top Radio Songs Artist: Olivia Rodrigo
Top Billboard Global 2022 Artist (New): Olivia Rodrigo
10. Sift Kaur Samra clinched Gold at ISSF Junior World Cup in Germany
India's Sift Kaur Samra won the individual women's 50m rifle 3 positions (3P) like Prone, the Standing and the Kneeling positions, event to take India's gold medal tally to 10 at the ISSF Junior World Cup 2022 in Suhl, Germany.

She beat Julie Johannessen (Norway) by 17-9 in the final.

India's Ashi Chouksey has also won bronze in the same event.

Presently, India leads the tally with 25 medals which include 10 gold, 12 silver and 3 bronze.
Capital: Berlin
President: Frank-Walter Steinmeier
Chancellor: Olaf Scholz