Current Affairs 17 June 2020
Current Affairs 17 June 2020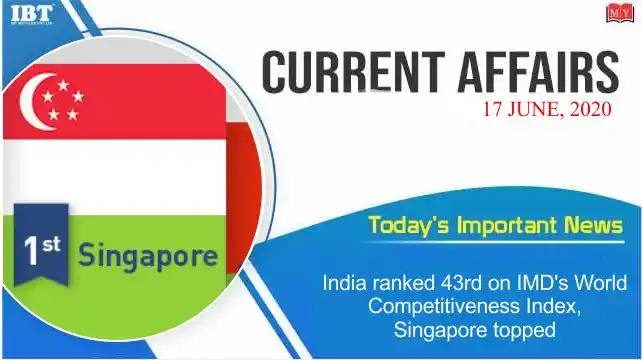 1. Serum Institute of India to supply Pneumonia Vaccine to low-income nations
The Pune based Serum Institute of India is to supply Pneumonia vaccine to low-income countries. The Institute is one of the leading manufacturers of vaccines and immunobiological drugs.

The Serum Institute of India and UNICEF have signed an agreement to supply pneumonia vaccine to low income countries. Under the agreement, the institutes are to provide 10 million Pneumococcal Conjugate Vaccine that will help prevent pneumonia to low income countries every year.

Pneumonia is the biggest single killer of children, claiming the life of a child every 39 seconds.
Foot Notes: About UNICEF
The United Nations Children's Fund
Founded: 11 Dec 1946 • New York, USA
Headquarters: New York, USA
Founder: Maurice Pate
2. AIIB approved 750 million USD loan to India to fight coronavirus
On June 17, 2020, the Asian Infrastructure Investment Bank (AIIB) approved 750 million USD loan to India. The fund granted is to be used by the GoI to strengthen battle against the impact of COVID-19 on the poor and vulnerable.

The aid was co financed by the Asian Development Bank (ADB). The funds are to be used for improving informal sector, safety nets for the needy and strengthen heath care system of the country.

The total sovereign loans to India that were already approved by AIIB amounts to 3.6 billion USD. This includes the recent emergency response of the bank that amounted to 500 million USD.
Foot Notes: About AIIB
Founded: 16 Jan 2016
President: Jin Liqun
Headquarters: Beijing, China
About ADB
Founded: 19 Dec 1966
Headquarters: Mandaluyong, Philippines
President: Masatsugu Asakawa
3. India ranked 6th in nuclear weapons increment since 2019; US topped: SIPRI's Yearbook 2020
In accordance with the "SIPRI Yearbook 2020-Armaments, Disarmament and International Security" of Swedish think tank, Stockholm International Peace Research Institute (SIPRI), from 2019 there is an increase in the nuclear weapons stockpile of India and China. However India's overall possession of nuclear weapons is less than half of Beijing's and also slightly lower than what Pakistan possesses.

Importantly, in April 2020, SIPRI had identified India as the 3rd largest military spender in the world, behind the United States (US) and China.
Foot Notes: About SIPRI
Chair by: Ambassador Jan Eliasson
Director: Dan Smith
Headquarter: Stockholm, Sweden
Founded: 6 May 1966
4. Kyrgyzstan's Prime Minister Mukhammedkalyi Abylgaziyev resigns due to corruption charges
On June 15, 2020 Kyrgyzstan's Prime Minister Mukhammedkalyi Abylgaziyev(52 years) resigned, amid ongoing criminal investigation into whether the government illegally sold radio frequencies. He was appointed as Prime Minister by President Sooronbai Jeenbekov after succeeding SaparIsakov in April 2018.

Mukhammedkalyi Abylgaziev mentioned that the government may not work well due to the uncertainty caused by the investigation as there is compelling work due to COVID-19 pandemic. He took a 2 week leave on May 27 so as to avoid interference with a corruption investigation over radio frequency resources.

Currently, First Deputy Prime Minister Kubatbek Boronov coordinates the work of the Government.
Foot Notes: About Kyrgyzstan
Capital: Bishkek
Currency: Kyrgyzstani Som
5.World Day to Combat Desertification and Drought: 17th June
The World Day to Combat Desertification and Drought is a United Nations observance each June 17.

Its purpose is to raise awareness of the presence of desertification and drought, highlighting methods of preventing desertification and recovering from drought.

The World Day to Combat Desertification And Drought was declared in the United Nations General Assembly resolution on January 30, 1995, after the United Nations Convention to Combat Desertification.

This year the theme for World Day to Combat Desertification And Drought is "Food. Feed. Fibre".
6. India ranked 43rd on IMD's World Competitiveness Index ; Singapore topped
India continues to remain ranked 43rd on an annual World Competitiveness Index compiled by Institute for Management Development (IMD).

Singapore has retained its top position on the 63-nation list.

Denmark has moved up to the second position (from 8th last year), Switzerland has gained one place to rank 3rd, the Netherlands has retained its 4th place and Hong Kong has slipped to the fifth place (from 2nd in 2019).

WCI compiled by Institute for Management Development (IMD)
7. India 9th largest recipient of FDI in 2019, US Topped: UN Report
India became the world's 9th largest recipient of the foreign direct investment in 2019 scoring deals worth $51 billion.

World Investment Report 2020 is the 30th edition of the annual report.

The United States is the largest recipient of FDI in 2019 at $246 billion.

China, Singapore, Netherlands and Ireland are the top 5 largest recipients of FDI in 2019 respectively.
8. Average temperature over India projected to rise by 4.4 degrees Celsius
Average temperature of India experienced a rise in temperature, along with decline in rainfall, significant increase in frequency of very severe cyclonic storms and droughts over the past few decades.

This was declared in a research report of the Ministry of Earth Sciences (MoES).

According to the report, "Since the middle of the twentieth century, India witnessed rise in temperature, decrease in rainfall, droughts, increasing sea levels and increase in intensity of severe cyclones.

India's average temperature has risen by around 0.7 degrees Celsius during 1901-2018, it said, adding that the rise is largely on account of GHG-induced warming and partially offset by forcing due to anthropogenic aerosols.

It states that the average temperature over India is projected to rise by 4.4 degrees Celsius, while the intensity of heat waves is likely to increase by 3-4 times by the end of the century.
Foot Notes:
Minister of Earth Sciences: Dr. Harsh Vardhan
9. Hyderabad's Deccan Development Society wins Prince Albert II of Monaco Foundation Award
Hyderabad-based Deccan Development Society has won the Prince Albert II of Monaco Foundation Award.

It is one of the most coveted environmental awards in the world for the year 2020.

This is in recognition of the individuals who dedicate their actions and organisations for their deep commitment to preserving our planet, in each of the Foundation's three priority areas: limiting the effects of climate change, preserving biodiversity, managing water resources and fighting against desertification.

The award of 40,000 Euros (approximately Rs 35 lakhs) has been given to the society "in recognition of the work of DDS women to rehabilitate degraded lands and promote biodiversity".
Foot Notes:
About Prince Albert II of Monaco Foundation:
President: Prince Albert II of Monaco
Vice President & CEO: Olivier Wenden
Headquarters: Monaco
About DDS:
Director: PV Satheesh
Headquarters: Hyderabad, Telangana
10. Maha Vir Chakra awardee and 1971 war hero, Lt Gen Raj Mohan Vohra dies of COVID-19
Lt Gen (retd) Raj Mohan Vohra, who was a 1971 warhero and a Maha Vir Chakra awardee, has died due to COVID-19.

Then a lieutenant colonel, Vohra commanded the elite Hodson's Horse in the Shakargarh Sector during the Indo-Pak War of 1971 and was awarded the Maha Vir Chakra for his conspicuous bravery and leadership.

During the Battle of Basantar, the regiment came under heavy fire from the enemy and faced huge resistance, but 27 enemy tanks were destroyed under his able command.

The Maha Vir Chakra (MVC) is the country's second highest gallantry award.

It is awarded for acts of conspicuous gallantry in the presence of enemy whether on land, at sea or in the air.

Vohra had received the coveted award in 1972.