Current Affairs 17 July, 2019
Current Affairs 17 July, 2019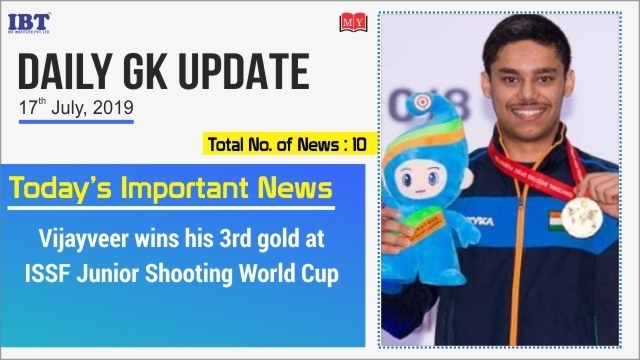 1. Rajya Sabha passed the Central Universities (Amendment) Bill, 2019
The Rajya Sabha passed the Central Universities (Amendment) Bill, 2019. The Bill aims the establishment of a Central University and Tribal University in Andhra Pradesh.

The total outlay for the Central University project is Rs 902.07 crore and for Tribal University is Rs 836 crore.

The Tribal University will offer research facilities in the fields of art, culture and technology to the tribal population.
Foot Notes:
Union HRD Minister of India: Ramesh Pokhriyal.
About Andhra Pradesh
Chief Minister: Y.S. Jaganmohan Reddy

Governor: E.S.L. Narasimhan.
2. Health Ministry to launch a "Jan Jagrukta Abhiyaan" in Delhi
Ministry of Health and Family Welfare will launch a Jan Jagrukta Abhiyaan in Delhi to accelerate measures for prevention and control of Vector Borne Diseases like Malaria, Dengue and Chikungunya.

It will start from 17th to 19th July, 2019 in Delhi through active involvement of people's representatives, officers from Government of India, Government of NCT Delhi, all three Delhi Municipal Corporations, New Delhi Municipal Council, Railways and Cantonment board and other stakeholders to combat malaria, dengue and chikungunya.

Union Minister of Health and Family Welfare: Dr Harsh Vardhan.
Foot Notes:
About Andhra Pradesh
Chief Minister: Y.S. Jaganmohan Reddy

Governor: E.S.L. Narasimhan.
3. China gifts warship 'P625' to Sri Lanka
China has gifted warship 'P625' to Sri Lanka. As a new member of the Lankan Navy, the 'P625' frigate will be mainly used for offshore patrol, environment monitoring and anti-piracy combats.

The Type 053 frigate was commissioned into China's People's Liberation Army Navy in 1994 as the Tongling.
Foot Notes:
About China
About Sri Lanka
Capitals: Colombo, Sri Jayawardenepura Kotte

Currency: Sri Lankan rupee.
4. Pakistan to allow 5,000 Sikh pilgrims per day to visit Gurudwara Kartarpur Sahib
After the second meeting of officials of India and Pakistan, the Foreign Office (FO) informed that Pakistan would allow 5,000 Sikh pilgrims per day throughout the year to visit Gurudwara Kartarpur Sahib situated in Kartarpur, Narowal District, Pakistan. It was established in 1522 by Sikh faith founder Guru Nanak Dev. The first meeting was held in Atari, India on March 14, 2019.

The decision was taken in line with Prime Minister Imran Khan's commitment to operationalise the corridor for the 550th anniversary of Guru Nanak Dev.

The corridor will connect Darbar Sahib in Pakistan's Kartarpur with Dera Baba Nanak shrine in Gurdaspur district, Punjab and ease visa-free movement of Indian Sikh pilgrims to visit Kartarpur Sahib.The experts from India & Pakistan also discussed technical details of the Kartarpur Corridor.
5. HDFC Bank GDRs Terminated, Delisted From Luxembourg Stock Exchange
India's leading private sector bank, HDFC Bank(Housing Development Finance Corporation) has terminated and de-listed its 22 outstanding global depository receipts (GDRs) from the Luxembourg Stock Exchange citing low trading volume of GDRs.

The listing and admission to trading of the HDFC Bank GDRs on the Luxembourg Stock Exchange will be cancelled .HDFC board has approved the proposal for termination of the GDR program and delisting of 22 GDRs, which are outstanding and listed on the Luxembourg Stock Exchange in April 2019.
Foot Notes:
About GDR:
It means any instrument in the form of a depository receipt or certificate (by whatever name it is called) created by the Overseas Depository Bank outside India and issued to non-resident investors against the issue of ordinary shares or Foreign Currency Convertible Bonds of issuing company.

It facilitates the trade of shares, especially those from emerging markets. Prices of GDR's are often close to values of underlying shares.
About Luxembourg Stock Exchange
About HDFC Bank:
Founded: August 1994, India
6. India & Italy to establish fast-track mechanism to facilitate investment
In a meeting which was held in New Delhi, it was decided by India and Italy to establish a fast-track mechanism for companies and investors of both countries to help the Italian companies and investors in India and Indian companies and investors in Italy.

In this regard, the documents were exchanged by the Secretary of the Department for Promotion of Industry and Internal Trade (DPIIT) Ramesh Abhishek and Ambassador of Italy to India, Lorenzo Angeloni.

It is aimed to identify and solve problems faced by Italian companies and investors with their operations in India.It will be a platform for discussion of general suggestions from the point of view of Italian companies and investors with regard to ease of doing business in India.
Foot Notes:
About Italy:
About DPIIT:
Parent Organization: Ministry of Commerce and Industry

Earlier: Department of Industrial Policy and Promotion (DIPP)
7. Virat Kohli, Jasprit Bumrah maintains top spots in ICC ODI ranking 2019
As per the ODI (One Day International )rankings 2019 released by the ICC( International Cricket Council), right-handed top-order batsman, Virat Kohli and pacer Jasprit Bumrah have retained their top numbered position following the conclusion of the World Cup.Virat Kohli and pacer Jasprit Bumrah.

Batsman list: Kohli tops the list with 886 points followed by Rohit Sharma, who is just five points behind Kohli. Babar Azam(Pakistan)got a 3rd position with 827 points. Faf du Plessis (820) of South Africa and Ross Taylor of New Zealand (817) are on the 4th and 5th position respectively.

Pace bowlers chart: Jasprit Bumrah got the 1st position with 809 points followed by Trent Boult(New Zealand). Kagiso Rabada(South Africa) is on 3rd with 694 points and is followed by Pat Cummins(Australia's) with 693 points. Maiden world cup title: England have regained the first position with 125 points in the ICC ODI Team Rankings after they lifted their maiden Cricket World Cup. India is on the 2nd place with 122 points. New Zealand got the 3rd position(112 points) followed by Australia(111). South Africa (110) and Pakistan (97) are on the 5th and 6th position respectively.

All-rounder rankings: Shakib Alasan remains at the top with 406 points followed by Ben Stokes of England(319) and Afghanistan's Mohammad Nabi (310).
Foot Notes
About ICC:
Chairperson: Shashank Manohar

Headquarters: Dubai, United Arab Emirates
8. International Justice Day observed on 17th July, 2019
World Day for International Justice is also known as International Criminal Justice Day or International Justice Day is observed annually on 17th July to recognize the emerging system of international criminal justice.

On 1st June, 2010, the Review Conference of the Rome Statute which was held in Kampala (Uganda) and the Assembly of the State Parties decided to celebrate 17 July as the International Criminal Justice Day.

This day is the anniversary of the adoption of the Rome Statute in 1998. With the help of this treaty International Criminal Court (ICC) was established. In 1998 since that day, 139 countries have signed the Courts treaty and nearly 80 States, representative of every region of the world, have ratified it.
Foot Notes:
Objective:
The objective of the day is to unite everyone who wants to support justice as well as promote victims rights & to help prevent serious crimes and those that put the peace, security and well-being of the world at risk.
9. President appoints Governors for Chhattisgarh, Andhra Pradesh
President Ram Nath Kovind has appointed Anusuiya Uikey as Governor of Chhattisgarh.

Biswa Bhusan Harichandan has been named as Governor of Andhra Pradesh.
Foot Notes:
CM of Chhattisgarh: Bhupesh Baghel

CM of Andhra Pradesh: Jaganmohan Reddy.
10. Vijayveer wins his 3rd gold at ISSF Junior Shooting World Cup
Vijayveer Sidhu picked up his third gold medal of the ongoing ISSF Junior World Cup in Suhl, Germany, combining with Rajkanwar Singh Sandhu and Adarsh Singh to clinch the men's 25m pistol.
Foot Notes:
National Rifles Association of India President: Shri Raninder Singh.