Current Affairs 16 July, 2019
Current Affairs 16 July, 2019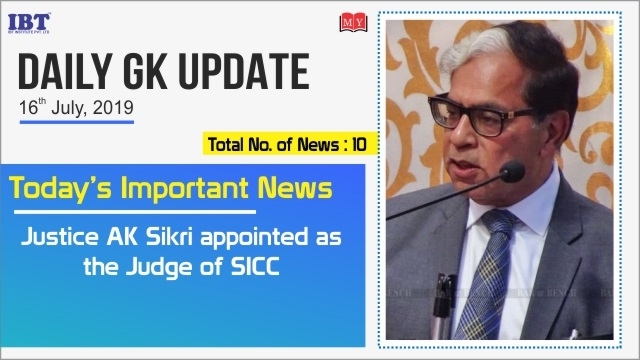 1. PV Sindhu to spearhead Indian campaign at Indonesia Open Badminton
PV Sindhu won the Indian campaign at the Indonesia Open Badminton tournament beginning.The tournament took place at Jakarta.

Sindhu will play her opening game against Japan's Aya Ohori. Saina Nehwal will not take part in the tournament.Kidambi Srikanth is placed at 8th position.

B. Sai Praneeth and HS Prannoy are other Indians seen in action in the Singles.Srikanth face Japan's Kenta Nishimoto, Praneeth take on Wong Wing Ki of Hong Kong. Prannoy meet second-seeded Chinese Shi Yuqi.Ashwini Ponnappa, N. Sikki Reddy, Satwiksairaj Rankireddy and Chirag Shetty are among those will figure in the Doubles.
Foot Notes:
About PV Sindhu
Awards: Padma Shri, Rajiv Gandhi Khel Ratna

Olympic medals: Badminton at the 2016 Summer Olympics Women's singles
2. Kiran More appointed as USA cricket team's interim coach
Kiran Shankar More (56), Indian former cricketer & wicket-keeper has been appointed as the interim coach of the USA (United States of America) cricket team. He replaces the head coach Pubudu Dassanayake of Sri Lanka, whose contract was to end by March 2019 but was extended to December 2019 resigned due to differences with USA Cricket Board.Kiran More appointed as USA cricket team's interim coach.

He is from Vadodara, Gujarat.The USA Cricket has also appointed former India spinner Sunil Joshi as spin bowling advisor, and PravinAmre and Kieran Powell as advisors for the batting department. In June 2019, More was also appointed as the USA's director of cricket.

He played for India in 49 Tests and 94 ODIs(One Day Internationals), has served as the Chairman of the Indian selection committee and also was the wicketkeeping-consultant of Mumbai Indians in the Indian Premier League (IPL).
Foot Notes
About the USA:
Capital: Washington DC

Currency: Dollar

President: Donald Trump
3. Indians bagged 6 gold, 3 silver and 1 bronze at Kladno Memorial Athletics Meet at Kladno
Indian athlete Mohammad Anas won gold in men's 400m and Hima Das won gold in women's 200m event at Kladno Memorial Athletics Meet at Kladno in Czech Republic.

Indians bagged 6 gold, 3 silver and 1 bronze.
Foot Notes:
About Mohammad Anas:
Anas won his own national record in men's 400m race and clocked with an effort of 45.21 seconds. Earlier, he set the national record as he clocked 45.24 seconds which he recorded in 2018.

Anas finished nearly one second ahead of silver winner Omelko Rafal (46.19) of Poland.
About Hima Das:
Hima Das timed 23.43 seconds to win gold while she has personal best of 23.10 sec in 200m. She won another gold in Poznan Athletics Grand Prix in Poland and one more at the Kutno Athletics Meet in Poland. This is Hima Das 3rd international triumph in within 2 weeks.
The other gold winner in the event are:
Archana in 100m (11.74 sec)

Lili Das in 1500m (4:19.05)

Harsh Kumar in 400m (46.76 sec)

Sahil Silwal in javelin throw (78.50m)

Women's 4×100 relay(45.81 sec)
4. World Bank planned to offer $250 million to Kerala
World Bank would offer a loan of $250 million to the Kerala Government for the Resilient Kerala project

The main aim is at enhancing the state's resilience against the impacts of natural disasters and climate change in the wake of last year's floods.

The World Bank recently signed a $250 million loan agreement to help Kerala enhance its resilience against natural disasters and climate change.
About World Bank
Headquarters: Washington, D.C., United States

Membership: 189 countries (IBRD)

Parent organization: World Bank Group

Founders: John Maynard Keynes, Harry Dexter White
About Kerala
Governor: P. Sathasivam

Chief Minister: Pinarayi Vijayan
5. Shah Rukh Khan bagged with an Honorary Doctorate by Melbournes La Trobe University
Shah Rukh Khan conferred with an Honorary Degree, Doctor of Letters (honoris causa) from Melbourne-based La Trobe University at the 10th edition of Indian Film Festival of Melbourne (IFFM) at Bundoora, Australia.

He is recognized for contributions to underprivileged children, women's empowerment.They meet through Meer Foundation and for the achievements in the Indian entertainment industry.

The function held on August 9, 2019 Mr. Khan is the chief guest.He got the first Australian University Award.
6. First-ever Himalayan States Conclave to be hosted by Uttarakhand on July 28, 2019
The first-ever Himalayan States Conclave will be hosted by Uttarakhand on July 28, 2019 with the main focus on sustainable development of the Indian Himalayan Region. It will be held at Mussoorie. The event will discuss the common issues pertaining to states located in the Himalayan Region like environmental protection, Himalayan culture and economic development.Himalayan States Conclave.

Along with the administrators and specialists, the conclave will host the Chief Ministers of the Himalayan states – Uttarakhand, Jammu and Kashmir, Himachal Pradesh, Sikkim, Assam, Arunachal Pradesh, Meghalaya, Nagaland, Tripura, Mizoram and Nagaland.

Rajiv Kumar, Vice President of Niti (National Institution for Transforming India) Aayog, will also be a part of the conclave. The key points adopted at the Himalayan conclave will be presented as a draft to the Niti Aayog. This will help to frame policies for the region's development.
Foot Notes:
About Uttarakhand
Capital: Dehradun

Chief Minister: Trivendra Singh Rawat

Governor: Baby Rani Maurya

National Parks: Corbett National Park, Gangotri National Park, Govind National Park, Nanda Devi National Park, Rajaji National Park, Valley of Flowers National Park

Wildlife Sanctuaries: Askot Musk Deer WLS, Nandhaur WLS, Binsar WLS, Govind Pashu Vihar WLS, Kedarnath WLS, Mussoorie WLS, Sonanadi WLS
7. Justice AK Sikri appointed as the Judge of SICC
The President of the Republic of Singapore Halimah Yacob appointed Justice AK Sikri, the former judge of the Supreme Court, as an international judge of the Singapore International Commercial Court (SICC) with effect from August 1, 2019. His term will expire on January 4, 2021. At present, SICC has 16 international judges.AK Sikri.

He retired as a Supreme Court judge on March 6, 2019.He also served as Chief Justice of the Punjab & Haryana High Court, and Acting Chief Justice of the Delhi High Court. He was appointed as a judge of the Delhi High Court in 1999.

Recently, he was appointed as the Chairperson of the News Broadcasting Standards Authority NBSA) by the News Broadcasters Association (NBA).
Foot Notes:
About Singapore:
Currency: Singapore dollar

Capital: Singapore City
8. Extinct bird Elektorornis chenguangi had an extra-long toe: Study
A study found that in the 2014 fossil of an extinct bird Elektorornis chenguangi, a hyper-elongated third toe was discovered in amber tree resin in Hukawng valley of Myanmar. It is a small bird which lived 99 million years ago and belonged to the group of extinct birds called Enantiornithes from the Mesozoic era.

The lead author of the study was Lida Xing of the China University of Geosciences. The study was published in the Journal Current Biology.

Bird's third toe measured 9.8 millimeters. It is 41% longer than its second toe, and 20% longer than its tarsometatarsus—the bone in the lower leg of birds.
9. India to host ISSF World Cup from March 15 to 26, 2020 in New Delhi
On July 15, 2019, International Shooting Sport Federation (ISSF) approved India's application to host the ISSF World Cup stages. ISSF World Cup in rifle/pistol/shotgun events to be held at the Dr. Karni Singh Range, Tughlakabad, New Delhi from March 15 to 26, 2020.

The dates for the event were approved by the ISSF Executive Committee.It will be preceded by the Shotgun World Cup in Nicosia, Cyprus, from March 4 to 13, 2020.The World Cup in rifle, pistol and shotgun, a test event for the Olympics, will be held in Tokyo, Japan from April 15 to 27, 2020, followed by the World Cup in rifle and pistol in Munich, Germany, from June 2 to 9, 2020

The combined World Cup for all three events will be held in Baku, Azerbaijan, from June 22 to July 3, 2020.
Foot Notes
About ISSF:
Headquarters: Munich, Germany

Founded: 1907

President: Vladimir Lisin
10. Boxing legend 'Sweet Pea' Pernell Whitaker passed away in Virginia, US
On July 14, 2019, Pernell Whitaker, former Olympic boxing gold medallist and four-weight world champion, passed away after he was hit by a vehicle in Virginia, United States. He was 55 years old. The American professional boxer who competed from 1984 to 2001 was nicknamed as 'Sweet Pea'.Sweet Pea' Pernell Whitaker passed away

Born on January 2, 1964, in Norfolk, Virginia, he fought 46 times as a professional, where he won 40 with 17 knockouts.He won Olympic gold at the 1984 Summer Games in Los Angeles, gold at the 1983 Pan American Games, silver at the 1982 World Championships and also won world titles at lightweight, light welterweight, welterweight and light middleweight

He was named as the fighter of the year by Ring magazine in 1989 and was also regarded as the best pound for pound boxer in the world during the early to mid 1990s. In 2002, the Ring magazine ranked him the 10th greatest boxer of the last 80 years and he was inducted into the International Boxing Hall of Fame in 2007.