Current Affairs - 15 October 2021
Current Affairs - 15 October 2021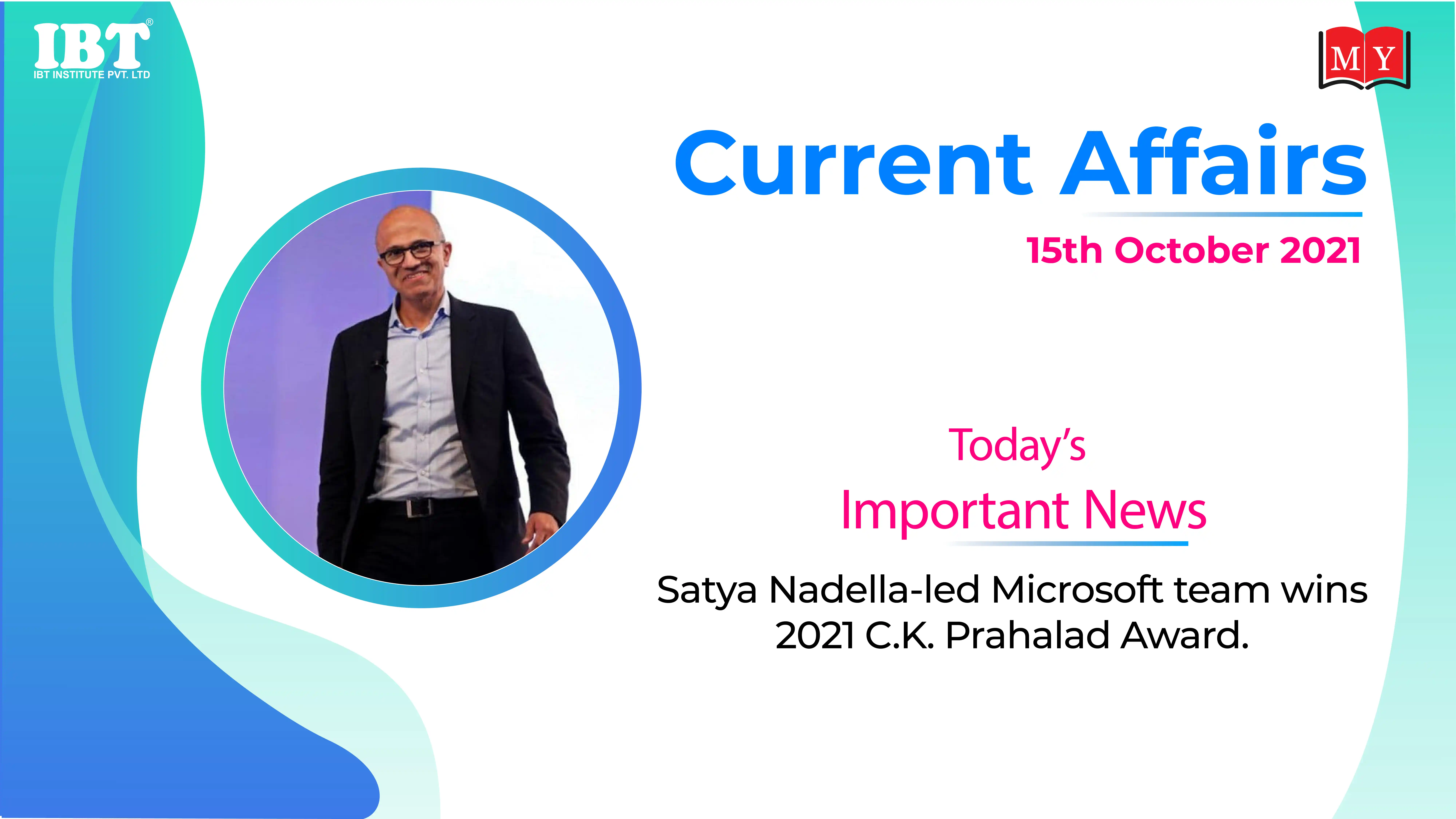 1. Satya Nadella-led Microsoft team wins 2021 C.K. Prahalad Award
Indian American Microsoft CEO, Satya Nadella has won the prestigious C K Prahlad award for Global Business Sustainability Leadership for the year 2021, along with three other top leaders of Microsoft.

Apart from Nadella, Microsoft's President and Vice-Chair Brad Smith, Chief financial officer Amy Hood and chief environment officer Lucas Joppa have shared the award for Global Business Sustainability Leadership.

The four top Microsoft leaders have received the Award for their collaborative leadership to transform Microsoft into a carbon negative company by 2030 and remove all its historical emissions by 2050.

C K Prahlad award for Leadership by an Individual Executive : This award has been given to Ecolab Chairman and former CEO, Douglas M. Baker, Jr. for his efforts to educate the business community about corporate responsibility and the business risks of global water scarcity and the need to account for the true value of water in financial decision making.

About C K Prahlad Award: The award was created in 2010 by the Corporate Eco Forum (CEF) in honour of its founding Advisory Board member C.K. Prahalad. The award recognizes winners for exemplifying the fundamental connection between sustainability, innovation and long-term business success in a globalizing world.
CEO: Satya Nadella
Founded: 4 April 1975
Headquarters: Redmond, Washington, United States
Chairperson: John W. Thompson
Founders: Bill Gates, Paul Allen
2. World Students' Day 2021: 15 October
World Students' Day is observed every year on October 15 to mark the birth anniversary of former President A. P. J. Abdul Kalam.

In 2010 the United Nations declared 15 October "World Students' Day", due to Kalam's love for students and who himself was a dedicated teacher and identified himself foremost in that role before anything else.

2021 marks 90th birth anniversary of the former president and 'Missile Man' Dr APJ Abdul Kalam.
3. MoRTH launches "Rewarding Scheme for Grant of Award to the Good Samaritan"
The Union Ministry of Road Transport and Highways (MoRTH) has launched a "Rewarding Scheme for Grant of Award to the Good Samaritan".

The scheme aims to motivate the general public to help the victims of road accident in emergency situation, as well as inspire and motivate others to save innocent lives on road.

Under this Good Samaritan scheme, a cash award of Rs. 5,000 per incident will be given to those who save the life of a road accident victim by administering immediate assistance and rushing him/her to hospital within the 'golden hour' of the mishap, i.e. within 60 minutes of the incident, to provide medical treatment.

An individual Good Samaritan can be awarded maximum 5 times in a year.

The Scheme would come into effect from October 15, 2021.
4. Department of Biotechnology launches India's first 'One Health' consortium in post-COVID times
The Department of Biotechnology (DBT) under the Ministry of Science and Technology has launched India's first mega consortium on 'One Health', in post-COVID times..

The 'One Health' project was launched by Dr. Renu Swarup, Secretary, DBT through video conferencing.

The Consortium comprise of 27 organisations, and will be led by DBT-National Institute of Animal Biotechnology, Hyderabad.

The 'One Health' is "where man, animal, plants and environment are considered complimentary to each other for maintaining 'health of all'".
About Minister of Science and Technology: Jitendra Singh
5. Varanasi To Become India's first City to Start Ropeway Service in Public Transportation
Varanasi of Uttar Pradesh will become the first city in India to use ropeway services in public transportation. Overall, Varanasi will be the third city in the world after Bolivia and Mexico City to use ropeway in public transportation.

The total cost of the ropeway project is Rs 424 crore. The total distance of 4.2 km will be covered in just 15 minutes.

The cost of the project will be divided between the Centre and the state government at 80:20.
6. Telangana develops India's first smartphone-based eVoting solution
Telangana has developed India's first smartphone-based eVoting solution considering the Covid-19 pandemic.

The system will undergo a dry run in the form of a dummy election being conducted in Khammam district with the registration on the application open from October 8-18 and the dummy voting on October 20.

The eVoting solution has been developed by Telangana State Election Commission (TSEC) with the implementation support of the Emerging Technologies Wing of the IT Department of the State and the Centre for Development of Advanced Computing (CDAC).
Capital: Hyderabad
Governor: Tamilisai Soundararajan
Chief Minister: K. Chandrashekar Rao
7. Assam launches app 'Fishwaale', India's first e-fish market
App named Fishwaale has been launched in Assam and it is India's first e-fish market.

The launch was done by Minister for Fisheries, Environment and Forest and Excise, Parimal Suklabaidya.
Capital: Dispur
Chief Minister: Himanta Biswa Sarma
8. Tata Sons wins bid to acquire Air India for Rs 18,000 crore
Talace Pvt Ltd the wholly-owned subsidiary of Tata Sons has won the bid to acquire Air India for Rs 18,000 Crore. Tata Sons is the holding company of Tata groups.

Now Tatas will own:

100% stake in Air India (a full-service airline operating in domestic and international markets),

100% in its subsidiary Air India Express (a low-cost carrier airline that focusses on short-haul international operations especially in the Middle East market) and

50% in the joint venture Air India SATS (airport services on ground and cargo handling)

It must be noted that Air India was founded by JRD Tata in 1932, but the Jawaharlal Nehru government had taken over 100% stake in Air India from Tata group through nationalisation in 1953 for Rs 2.8 crore.

The second bid to acquire Air India was for Rs. 15,100 crores by a consortium led by SpiceJet chief Ajay Singh.
9. Airtel, Ericsson conducts India's first rural 5G trial
Bharti Airtel and Ericsson conducted India's first 5G network trial in a rural location in the first week on October 2021.

The trial run was done in Bhaipur Bramanan village on the outskirts of Delhi-NCR using 5G trial spectrum allocated to Airtel.
CEO: Gopal Vittal
Founder: Sunil Bharti Mittal
Founded: 7 July 1995, India
10. 17th Edition of Indo-US Joint Military Exercise "Ex Yudh Abhyas 2021" organised in Alaska (USA) from Oct 15 to 29
The 17th edition of the Joint Military Training Exercise "Ex Yudh Abhyas 2021" between the Indian Army and the United States Army, is scheduled to take place from October 15 to 29, 2021 at Joint Base Elmendorf Richardson, Alaska in USA.

The Indian contingent will comprise of 350 personnel of an Infantry Battalion Group.

The exercise will further enhance understanding, cooperation and inter-operability between the two Armies.

The previous version of the exercise was held at Mahajan Field Firing Ranges in Bikaner, Rajasthan in February 2021.
Founded: 1 April 1895, India
Headquarters: New Delhi
Commander-in-Chief: President Ram Nath Kovind