Current Affairs 13 July - 14 July, 2019
Current Affairs 13 July - 14 July, 2019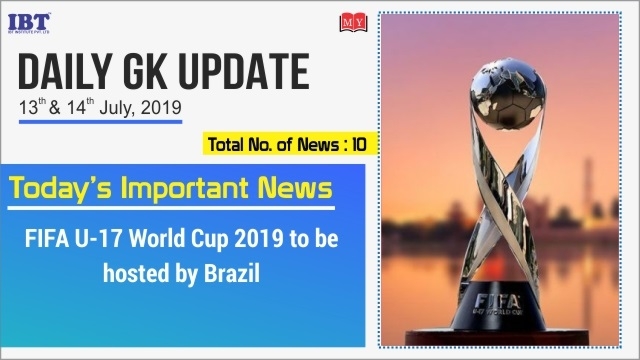 1. India to host COP-14 of UNCCD from September 2- 13, 2019
The Minister of Environment, Forest and Climate Change Prakash Javadekar in the presence of Ibrahim Thiaw, Executive Secretary of UNCCD and the UN Under-Secretary-General informed that India will host the 14th Session of the Conference of the Parties (COP) of the United Nations Convention to Combat Desertification (UNCCD) from September 2- 13, 2019 at India Expo Mart Limited in Greater Noida, Uttar Pradesh with the focus on 3 crucial issues- desertification, land degradation and drought.

Participants: 197 countries are expected to participate in the global conference. India has adopted various initiatives to address the issues of land degradation & desertification like:

It is a global effort to bring 150 million hectares of worlds degraded and deforested land under restoration by 2020 and 350 million hectares by 2030. In India, 3.5 years maiden phase will be implemented in the States of Haryana, Madhya Pradesh, Maharashtra, Nagaland, and Karnataka.
About UNCCD:
The United Nations Convention to Combat Desertification

Headquarters: Bonn, Germany

Founded: 1994
2. First Global Conference for Media Freedom held in London
The First Global Conference for Media Freedom 2019, hosted by the United Kingdom (UK) and Canada, was in London, UK. It was co-hosted by Chrystia Freeland, Canadian Minister of Foreign Affairs, and Jeremy Hunt, the UK Foreign Secretary.

The conference was structured around 4 themes: protection and prosecution, including impunity, national frameworks and legislation, building trust in media and countering disinformation and media sustainability.

The new Global Media Defence Fund, administered by the United Nations Educational, Scientific and Cultural Organization (UNESCO), will support, train and provide legal support to journalists in the most dangerous parts of the world.The UK will provide 3 million pounds and Canada will provide Canadian Dollar 1 million contribution to the new fund.
Foot Notes:
About UK:
Capital: London

Currency: Pound sterling
About Canada:
Capital: Ottawa

Currency: Canadian dollar
3. The US House passed a Bill to remove 7% cap on issuing Green Card
The United States (US) House of Representatives passed a Bill 'Fairness for High-Skilled Immigrants Act, 2019 or HR 1044' which removes the present 7% country-cap on issuing Green Cards. A Green Card allows a person to live and work permanently in the US.Green Card.

According to the Congressional Research Service (CRS), the bill increases the per-country cap on family-based immigrant visas from 7% of the total number of such visas available that year to 15% and eliminates the 7% cap for employment-based immigrant visas

It was passed by the 435-member House by majority of 365-65 votes.It establishes transition rules for employment-based visas from FY 2020-22 by reserving a percentage of EB-2 (workers with advanced degrees or exceptional ability), EB-3 (skilled and other workers) and EB-5 (investors) visas for individuals from other than the two countries that get the largest number of such visas.
Foot Notes
About USA
Capital: Washington, DC

Currency: US Dollar

President: Donald Trump
4.SBI's Anshula Kant appointed as MD and CFO of World Bank
Anshula Kant, the managing director(MD) of the State Bank Of India(SBI) has been appointed as managing director (MD) and chief financial officer(CFO) of the World Bank(WB). Since September 2018 she has been a Managing Director and member of the World Bank Board.

Kant has more than 35 years of expertise in finance, banking will be responsible for financial and risk management of the World Bank Group. She will also have to work closely with the World Bank CEO on the mobilization of the International Development Association (IDA) of WB and other financial resources.

Kant joined SBI in 1983 as a probationary officer and also served as the Deputy MD of Operations for National Banking Group. She has been a Managing Director and member of the Board since September 2018.
Foot Notes:
About World Bank:
Headquarters: Washington, D.C, U.S.

President: David Malpass

Chief Executive Officer: Kristalina Georgieva
5. FIFA U-17 World Cup 2019 to be hosted by Brazil
Federation Internationale de Football Association (FIFA) U-17 World Cup draw was held in the Home of FIFA in Zurich, Switzerland. The 18th edition of the FIFA U-17 World Cup for the year 2019 will be hosted by Brazil between 26 October and 17 November 2019.

The opening match will be held at the Estádio Bezerrão in Brasília (Gama). The other venues are Goiânia's Estádio Olímpico, Estádio da Serrinha and the Estádio Kléber Andrade in Vitória (Cariacica).

Opening Match: Brazil and Canada will contest in the opening match on October 26, 2019.
Foot Notes
About FIFA:
Headquarters: Zurich, Switzerland

Motto: For the Game. For the World

President: Gianni Infantino
6. Twitter bans religion-based dehumanizing tweets
Twitter is one of the most important parts of the day to day life.It helps too many people to check instant updates live when it gets updated instantly.The dehumanization on the religious reason is one of the frequent instances on social media.

Twitter is the land for such religion-based dehumanizing conducts.Twitter expanded its rules against hateful conduct to include language on its platform that dehumanizes others on the basis of religion.

Actually, the main aim of the twitter is to primary focus is on addressing the risks of offline harm, and research shows that dehumanizing language increases that risk.

Twitter asked for feedback from different communities and cultures to ban hateful content based on religion.But many people also raised concerns about Twitter's ability to enforce its rules fairly and consistently.The respondents also asked the company to use clearer language when defining policy violations and to be more consistent in its enforcement of the rules.
Foot Notes
About Twitter
Founded: March 21, 2006

Headquarters: San Francisco, California, United Statesa

CEO: Jack Dorsey
7. Meghalaya is the first state in India to ensure water conservation
Meghalaya became the first state in India to ensure water conservation with its State Water Policy. The draft water policy was approved by the State Cabinet in a meeting chaired by Meghalaya Chief Minister Conrad K. Sangma.Meghalaya.

The policy aims to recognize water resources as a common pool resource, to provide safe and hygienic water for drinking, domestic, sanitation & livelihood development to all residents of the state, ensure the protection and conservation of catchment areas of all water sources to prevent degradation of the quantity and quality of water sources.

It will be implemented through active participation of the community by constituting a Water Sanitation Village Council at the village level.
Foot Notes
About Meghalaya:
Capital: Shillong

Governor: Tathagata Roy

National Parks: Balphakram National Park, Nokrek Ridge National Park

Wildlife Sanctuaries: Baghmara Pitcher Plant Wildlife Sanctuary, Nongkhyllem Wildlife Sanctuary
8. Padma Shri awardee Raghu Ram receives FRCS of Thailand
Popular breast surgeon and Padma Shri awardee P.Raghu Ram has been conferred the Honorary Fellowship of the Royal College of Surgeons (FRCS) of Thailand at the 44th annual congress of the Royal College in Pattaya themed "ASEAN collaboration in value-based surgery".Raghu Ram receives FRCS of Thailand.

The highest recognition bestowed by the Institute in recognition of Raghu Ram's bold vision coupled with an intense body of work that has paved towards significantly improving the delivery of breast healthcare in India & also in recognition of his contribution in promoting the highest standards of surgical education in India through his association with the Royal College of Surgeons of Edinburgh and England.

It was conferred by professor Tanaphon Maipang, the President of the Royal College of Surgeons of Thailand.With this, Raghu Ram achieved the rare distinction of having been conferred FRCS from six Royal Colleges include London, Edinburgh, Glasgow, Ireland, and Thailand & from the American College of Surgeons.In 1995, he qualified to become a surgeon and he had 24 years of experience. He also created awareness about the importance of early detection of breast cancer.
Foot Notes:
About Thailand:
Capital: Bangkok

Prime Minister: Prayut Chan-o-cha
9. Russia Successfully Launched Spektr-RG, a powerful X-Ray Observatory, into Space
The Russian space agency has successfully launched Proton-M rocket carrying the Spektr-RG(Spectrum Roentgen Gamma) space telescope from the Baikonur Cosmodrome in Kazakhstan.

Joint Project: The Spektr-RG, developed together with Germany(German space agency, DLR) create a three-dimensional (3D) X-ray map of the universe and expected to detect 100,000 galaxy clusters, 3 million black holes, tens of thousands neutron stars, and magnetic fields.

Structure: The observatory includes two X-ray mirror telescopes:

A German-built eROSITA (Extended Roentgen Survey with an Imaging Telescope Array.

A Russian-built ART-XC (Astronomical Roentgen Telescope X-ray Concentrator).
Foot Notes:
About Russia
Capital: Moscow

Currency: Russian Ruble

President: Vladimir Putin

Prime Minister: Dmitry Medvedev
10. Navjot Singh Sidhu resigned as Punjab Cabinet Minister
Navjot Singh Sidhu, Congress leader, resigned as Punjab Cabinet Minister from the Amarinder Singh cabinet. He had submitted the resignation letter dated June 10, 2019 addressed to the then Congress President Rahul Gandhi.Navjot Singh Sidhu.

Cabinet reshuffle, Chief Minister of Punjab, Amarinder Singh had divested Sidhu of the key portfolios of local government, tourism and cultural affairs and allotted him power and new and renewable energy sources ministry. But he did not assume the new charge.

He was also left out of the consultative groups formed by the chief minister on June 8, 2019.
Foot Notes
About Punjab:
Capital: Chandigarh

Governor: V.P. Singh Badnore

Wildlife Sanctuaries: Abohar WLS, Bir Bhadson WLS, Harike Lake WLS, Jhajjar Bacholi WLS, Kathlaur Kushlian WLS, Nangal WLS etc