Current Affairs 13 & 14 June 2020
Current Affairs 13 & 14 June 2020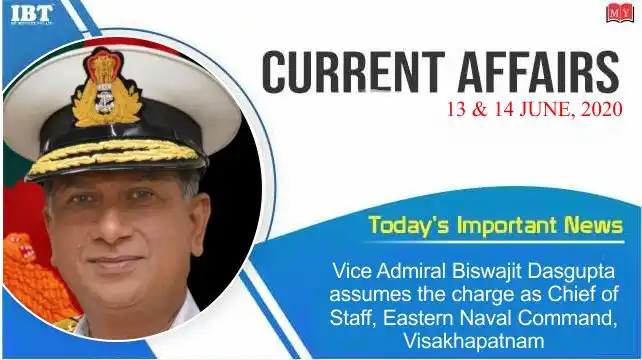 1. Nepal Parliament's Lower House passes amendment bill to redraw political map
The lower house of Nepal's parliament unanimously passed the historic Second Constitution Amendment Bill guaranteeing legal status for the updated political map of Nepal which includes India's territories in Pithoragarh district.

The voting came after a day-long discussion which also included Maoist leader Prachanda's praise for the Nepal Communist Party which he said is reversing centuries of diplomatic humiliation of Nepal.

Following this amendment, the region of Kalapani, Limpiyadhura and Lipulekh located at present in Pithoragarh district of Uttarakhand will be part of the map of Nepal which will be included in Nepal's national emblem.
Foot Notes: About Nepal
Capital: Kathmandu
Currency: Nepalese rupee
President: Bidhya Devi Bhandari
Prime Minister: KP Sharma Oli
2. Narendra Singh Tomar virtually launched "Sahakar Mitra" scheme to provide paid internship to the Youth under NCDC initivative
Narendra Singh Tomar, Union Agriculture and Farmers Welfare Minister inaugurated a Sahakar Mitra: Scheme on Internship Program (SIP) an initiative of the NCDC (National Cooperative Development Corporation). The program will provide practical experience of the cooperative sector and assured project loans on liberalized terms to young professionals in the start-up industry. The portal for online application is available on the NCDC website:https://www.ncdc.in/.

The young professionals from academic institutions will be working with the NCDC under the scheme to develop leadership and entrepreneurial skills through the cooperative sector by playing the role of FPO(Farmer Producer Organisation).
Foot Notes:
About NCDC(National Cooperative Development Corporation):
Head office: New Delhi
Managing Director: Sundeep Kumar Nayak
3. Central Railway launches Robotic "CAPTAIN ARJUN" to intensify screening and surveillance
Railway Protection Force, Pune has launched a Robotic 'CAPTAIN ARJUN' (Always be Responsible and Just Use to be Nice) to intensify the screening and surveillance.

This Robot is launched to screen passengers while they board trains and keep a watch on anti-social elements.

Captain ARJUN is equipped with a motion sensor, one PTZ camera and one Dome Camera.

The Cameras use Artificial Intelligence algorithms to track suspicious and antisocial activity.

It also has an inbuilt siren, motion activated spotlight, with an in-built internal storage for recording in case there is a network failure.

Captain ARJUN does thermal screening and records the temperature in a digital display panel.
Foot Notes: About Indian Railways:
Union Railway Minister: Piyush Goyal
Minister of State: Suresh Channabasappa Angadi
Chairman of Railway: Vinod Kumar Yadav
4. Vice Admiral Biswajit Dasgupta assumes the charge as Chief of Staff, Eastern Naval Command, Visakhapatnam
Vice Admiral Biswajit Dasgupta assumed the charge as Chief of Staff, Eastern Naval Command, Visakhapatnam.

Biswajit Dasgupta is an alumnus of National Defence Academy.

He was commissioned into the Indian Navy in 1985 and is a specialist in Navigation and Direction.

He has commanded four frontline ships including the missile corvettes INS Nishank, INS Karmuk, stealth frigate INS Tabar and the aircraft carrier INS Viraat.
Foot Notes:
Chief of the Naval Staff :Admiral Karambir Singh.
Commander-in-Chief: President Ram Nath Kovind
Recently Indian Navy indigenously-made PPE kit, "NavRakshak" for enhancing comforts of the health workers under Indian conditions and to help them fight the war against Covid-19 in a better and effective manner.
5. Punjab CM Captain Amarinder Singh launches mobile App- "Ghar Ghar Nigrani" to contain community spread
Punjab Chief Minister Captain Amarinder Singh has launched a mobile based app - 'Ghar Ghar Nigrani', to undertake house to house surveillance in the state till the elimination of the pandemic.

It is a Health Department initiative, encompassing ASHA workers/Community Volunteers, as a tool for early detection and testing of the people for Covid19, and preventing its community spread.

Entire rural and urban population of Punjab above 30 years of age shall be surveyed as part of the drive, which will also cover persons below the age of 30 having co-morbidity or Influenza like Illness/Severe Acute Respiratory Illness.

This would not be a one-time activity but an ongoing process till the containment of COVID.

He said that the survey would help the state develop an extremely important database to further plan its COVID containment strategy and make targeted interventions for the community.
Foot Notes: About Punjab
Capital: Chandigarh
Governor: V.P. Singh Badnore
6. UP Government launches "Bal Shramik Vidya Yojana" on child labour prohibition day
Uttar Pradesh Chief Minister Yogi Adityanath inaugurated 'Bal Shramik Vidya Yojana',

Under this scheme Uttar Pradesh government will pay Rs 1,000 to sons and Rs 1,200 to daughters of labourers every month to support their families and keep them away from child labour.

Children in the age group of 8-18 years will be eligible for the scheme and to encourage them to focus on studies.

The government has also included another incentive of Rs 6,000 yearly after the child completes each class – that is 8th, 9th and 10th.
Foot Notes: About Uttar Pradesh
Capital: Lucknow
Governor: Anandiben Patel
Chief Minister: Yogi Adityanath
7. Every year, World Blood Donor Day is celebrated on June 14
Every year, World Blood Donor Day is celebrated on June 14. The day is celebrated to thank voluntary blood donors and also raise awareness about the need for regular blood donations. This year the World Blood Donor Day is celebrated under the theme.

The World Blood Donor Day event was established in 2004. It is one of the eight official campaigns that are marked by the World Health Organization.
Foot Notes: About WHO
Founded: 07 Apr 1948
Headquarters: Geneva, Switzerland
Founder: Brock Chisholm
Director-General: Tedros Adhanom
8. Former Head of Publications Division, Surinder Kaur passes away
Mrs. Surinder Kaur, former Head of Publications Division and Directorate of Advertising & Visual publicity passed away after a brief illness.

A senior Indian Information Service Officer of 1968 batch, and wife of former CBI Director late Joginder Singh, she held several important positions in All India Radio News and Press Information Bureau.

Mrs. Kaur also served as a Director in the Ministry of Home Affairs.
9. 'STREE' Program launched to support and empower women undergoing domestic violence in Hyderabad
Hyderabad City Security Council (HCSC) in association with Hyderabad City Police has launched a programme 'STREE' that will support and empower women undergoing domestic violence and abuse.

Considering the fact that this year's International Women's Day theme is 'Each for Equal', a programme for women's empowerment that will be sustainable and impactful involving women from the community has been ideated.

The name reflects the vision - "She Triumphs through Respect, Equality, and Empowerment" (STREE).

Its objective is to create a platform for women from various walks of the community to come together on a common platform to facilitate a joint forum for women and Police to work together on issues of safety and security of women and girls.
10. Maharashtra CM Uddhav Thackrey launched "State-of-the-art Flood Warning System" in Mumbai
iFLOWS- Mumbai, a state-of-the-art Integrated Flood Warning System for Mumbai was launched jointly by Chief Minister of Maharashtra, Uddhav Thackeray, and Union Earth Sciences Minister Dr. Harsh Vardhan on 12 June through video conference.

The system will help make Mumbai become more resilient as it provides early warning for flooding, especially during high rainfall events and cyclones.

Using this device, the floods can be estimated 3 days in advance, at ward-level. Decision Support System will enable smart decision-making and field action based on risk assessment iFLOWS flood warning system is developed by the Ministry of Earth Sciences (MoES).
Foot Notes:
Minister of Earth Sciences: Dr. Harsh Vardhan