Current Affairs 12 June 2020
Current Affairs 12 June 2020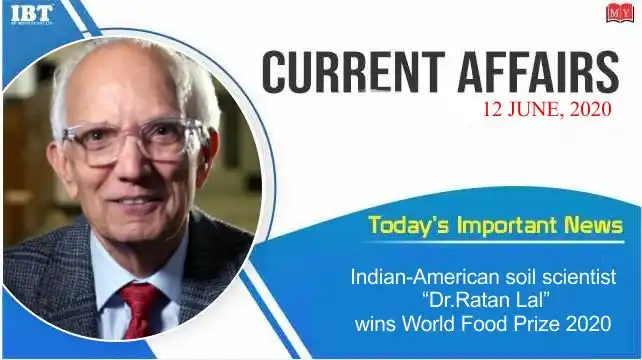 1. Indian Musician Shobha Sekhar receives "the Medal of the Order of Australia"
Indian Musician Shobha Sekhar, the founder of Kalakruthi a music organisation in Australia receives the Medal of the Order of Australia(OAM) in the Queen's Birthday 2020 for her service to Indian music and dance.

Shobha Sekhar is a management graduate and an artist based in Montreal. She works as a lecturer at the University of Melbourne. She was trained by DKP, DK Jayaraman and K V Narayanaswamy. She started the Kalakruthi in 1994 affiliated with The Music Academy, Chennai and has been training many aspirants of Carnatic music.

The medal of the order of Australia is awarded to the individuals contributing to their community or to Australia globally or domestically. The recipients are nominated and assessed independently as worthy of recognition.
Foot Notes: About Australia
Prime Minister: Scott Morrison
Currency: Australian dollar
Capital: Canberra

2. Himachal Pradesh CM Jai Ram Thakur launched "Panchvati Yojana" for the senior citizens of rural areas
Himachal Pradesh(HP) Chief Minister(CM) Jai Ram Thakur launched 'Panchvati Yojana' for the senior citizens of rural areas of the state. Under the yojana parks & gardens will be established in every development block with mandatory facilities under Mahatma Gandhi National Rural Employment Guarantee Act(MGNREGA) 2005, Scheme of Rural Development Department. About 100 such parks will be developed in different parts of the state during FY 2020.

Main objective of the yojana is to enable elderly to spend their leisure time in these parks & gardens.
Foot Notes: About Himachal Pradesh
Capital: Shimla (summer capital), Dharamshala (winter capital).
Governor: Bandaru Dattatraya
3. Indian-American soil scientist "Dr.Ratan Lal" wins World Food Prize 2020
Indian-American soil scientist Dr. Rattan Lal has won the prestigious 2020 World Food Prize, which is considered to be equivalent to a Nobel Prize in the field of agriculture. The award recognized his contribution to increasing the global food supply by helping small farmers improve the health of the soil. The award also highlights the importance of managing & restoring soil health.

Dr.Rattan Lal was awarded for his role in developing and mainstreaming a soil-centric approach to increase food production that restores and conserves natural resources and mitigates climate change.
Foot Notes:About World Food Prize
World Food Prize was first awarded in 1987. The award is presented by the World Food Prize Foundation, with various sponsor companies. The award recognizes contributions that are made in the various field involved in the world food supply including Animal Science/Aqua Culture, Food Technology/Food Safety, Nutrition/Health, Plant Science/Seed Science, Plant Pathology/Crop Protection, Soil Science/Water/Conservation, Policy/Research/Extension, Infrastructure/Emergency Relief, and Poverty and Hunger Alleviation.

The first awardee of the award is an Indian agricultural scientist Dr. M S Swaminathan, who is the father of the Green Revolution in India.
4. World Day Against Child Labour is observed on 12 June
World Day Against Child Labour (or Anti-Child Labor Day) is observed on 12 June every year. The day focuses on the impact of the crisis on Child labour. The economic crisis and labour market shock that is caused due to the COVID-19 pandemic is having a huge impact on people's lives and livelihoods. In such a crisis, the children are the first to suffer. The crisis due to the pandemic can push many vulnerable children into child labour.

On the World Day Against Child Labour or Anti-Child Labor Day. a virtual campaign was conducted. It will be organized jointly with the Global March Against Child Labour and the International Partnership for Cooperation on Child Labour in Agriculture (IPCCLA).

A joint ILO-UNICEF paper on the impact of COVID-19 on child labour will be released on 12 June. The report highlights some of the main channels through which the pandemic is likely to affect progress towards the eradication of child labour.
Foot Notes: About ILO (International Labour Organization):
Headquarters: Geneva, Switzerland
Head: Guy Ryder
Founder: Paris Peace Conference
Founded: 1919
About UNICEF:
Headquarters: New York, United States
Head: Henrietta H. Fore
Founded: 11 December 1946, New York, United States
5. No late fee will be charged for non-filing of GST returns by small taxpayers
Finance Minister Nirmala Sitharaman chaired the 40th GST council meeting through video conferencing on June 12, 2020. During the press briefing after the meeting, the Finance Minister said that no late fee will be charged from small taxpayers who have not filed their GST returns between July 2017-January 2020.

The Finance Minister noted that a lot of GST return filing has been pending for the period from July 2017 to January 2020, prior to the COVID-19 outbreak. To provide relief to small taxpayers, Sitharaman said that no late fees will be charged for non-filing of GST returns during the stipulated period by those who have no tax liabilities.

For those who have tax liability, the GST Council has capped the maximum late fee for non-filing of GSTR-3B returns for the period between July 2017-January 2020 at Rs 500. This will apply to all returns submitted between July 1 and September 30, 2020.
6. UK's economy shrinks by record 20.4 percent in April
The United Kingdom's economy shrank by record 20.4 percent in April, amid strict lockdown to combat COVID-19, revealed official data on June 12, 2020.

The record slump in the economy is likely to be the low point before a long and slow recovery, as Britain readies to open up its economy.

The Office of National Statistics stated that the gross domestic product of Britain contracted by 10.4 percent in the three-month period till April in comparison to the previous three-month period.
Foot Notes: About UK
Capital: London
Prime Minister: Boris Johnson
Currency: Pound sterling
7. NHAI becomes first construction sector to go completely digital
The National Highway Authority of India (NHAI) has become of the first construction sector organization to go fully digital.

The entire project management workflow of NHAI has been transformed from manual to the online portal based, with the launch of cloud-based and artificial intelligence-powered big data analytics platform Data Lake and Project Management Software.

The digital platform will be beneficial amid the ongoing COVID-19 pandemic in which social distancing is one of the key methods to prevent the infection. The online portal will help the NHAI employees in continuing their work without any physical contact.
Foot Notes: NHAI (National Highways Authority of India):
Founded: 1988
Headquarters: New Delhi
Chairperson: Sanjeev Ranjan
8. India retains 108th rank in FIFA Ranking, Belgium topped
On June 12, 2020, the FIFA ranking was released. Indian team retained its 108th position as the international football for the year 2020 has been suspended since March.

Belgium remained at the top spot and was ahead of France and Brazil. England and Uruguay continued to remain at fourth and fifth position. Croatia and Portugal were at sixth and seventh position respectively. They were followed by Spain, Argentina and Colombia.

FIFA is Federation Internationale de Football Association. It is an international governing body of association football. It was founded in 1904 and is headquartered in Zurich. Around 211 member countries are associated with FIFA.
Foot Notes: About FIFA
Founded: 21 May 1904
Headquarters: Zürich, Switzerland
President: Gianni Infantino
9. Andhra Pradesh Chief Minister Jagan Mohan Reddy recently launched "Jagananna Chedodu" scheme.
The Andhra Pradesh Chief Minister Jagan Mohan Reddy recently launched "Jagananna Chedodu" scheme. The scheme is to provide financial assistance to barbers, tailors and washer men.

The Jagananna Chedodu scheme is to provide Rs 10,000 per person. It is to benefit 2.47 lakhs of barbers, washer men and tailors. The State Government has transferred Rs 247 crores to the bank accounts so far under the scheme.

The Andhra Pradesh Government had recently launched several schemes that benefitted people of Andhra in a greater way. This includes Rythu Bharosa, Pension Kanuka, Amma Vodi, Vidya Devena, Vahana Mitra, Vasathi Deevena, Nethanna Nestham, Matsyakara Bharosa.
Foot Notes: About Andhra Pradesh
Capitals: Amaravati , Hyderabad
Chief Minister: Y. S. Jaganmohan Reddy
Governor: Biswabhusan Harichandan
10. Ukrainian boxing champion and Olympic medalist Oleksandr Gvozdyk retires
The 33-year-old Ukrainian lightweight boxing champion Oleksandr Gvozdyk also known as "The Nail" announced his retirement. He was born on 15th April 1987 in Kharkiv, Ukraine.

He won the Bronze medal in the 2012 Olympic games. He won the 2018 World Boxing Councils(WBCs) light heavyweight world title against Adonis Stevenson in Quebec.

He lost the 2019 championship against Artur Beterbiev, Russian fighter which was the only loss in his pro career (17-1).He was the Former light heavyweight champion of North American Boxing Federation(NABF).