Current Affairs 12 July, 2019
Current Affairs 12 July, 2019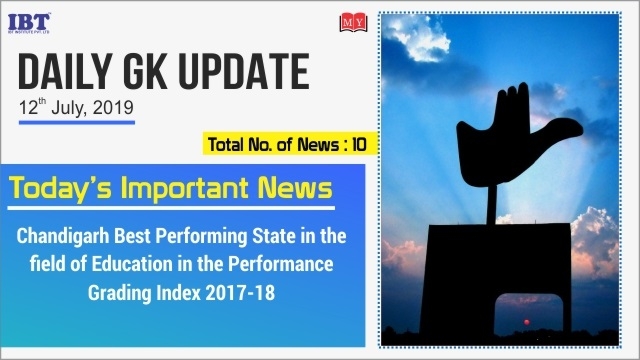 1. Kalyani JV gets missile kits order
A joint venture of a Kalyani group firm and Israel's Rafael Advanced Systems has secured a $100 million contract for manufacturing 1,000 Barak-8 MRSAM missile kits.

Kalyani Rafael Advanced Systems will manufacture the kits at its production facility near Hyderabad and supply them to Bharat Dynamics for further integration.

The product will be used by the Indian Army and the Air Force.
Foot Notes:
About Israel
President: Reuven Rivlin

Capital: Jerusalem

Currency: Israeli new shekel

Prime minister: Benjamin Netanyahu: Jerusalem
2. Rajghat coal plant to be turned into solar park
The Delhi government has announced that the Rajghat thermal power plant will be officially shut and turned into a solar park. A 5,000 KW of solar power will be produced at the 45 acre plant site.

The coal-based plant, whose current units were commissioned in 1989, has been lying in a shutdown mode from 2014.
Foot Notes:
About New Delhi
Chief Minister of Delhi: Arvind Kejriwal

Lieutenant Governor of Delhi: Anil Baijal.
3. USISPF second annual leadership summit held in Washington
The US India Strategic and Partnership Forum 2nd annual leadership summit held in Washington. "US India Bilateral Trade Report" was released on the occasion.

Some findings of the report are:

US India bilateral trade could reach USD 238 billion by 2025.

Sectors such as defence trade, commercial aircrafts, oil and LNG, coal, machinery and electronics are areas of potential growth.

The US-India trade balance has grown 3.8 per cent on an average in favour of India.
Foot Notes:
About USA
President of United States: Donald Trump

Capital: Washington, DC.
4. WCD implements a Scheme for Women in Difficult Circumstances called "Swadhar Greh"
The Ministry of Women and Child Development(WCD), Government of India implementing the Swadhar Greh Scheme for the rehabilitation of women in difficult circumstances so that they could lead their life with dignity.Swadhar Greh.
Support: It envisages providing shelter, food, clothing, and health as well as economic and social security for the women who are deserted and without any social and economic support, victims of domestic violence, family tension, and natural disaster.
Helpline: The ministry also implementing Universalisation of Women Helpline Scheme to provide 24 hours emergency and non-emergency response to women affected by violence.
OSC: As a part of Nirbhaya Framework, One Stop Centres(OSC) has been established for violence affected women across the country with the help of States/UTs (Union territory).
Facilities: OSC formed under One Stop Centre Scheme provides legal and psycho-social counseling &other facilities include temporary shelter, police facilitation and medical support to the women affected by violence.
Foot Notes:
About WCD
Founded: 30 January 2006

Headquarters: New Delhi

Union Minister: Smriti Irani
5. Chandigarh best performing state in the field of education in the Performance Grading Index 2017-18
Ministry of Human Resource Development (HRD) informed that in the Performance Grading Index 2017-18, Chandigarh was ranked best among States and Union territories (UTs) in the field of education.

The Index ranked the states on the basis of 5 parameters including learning outcomes and quality, access, infrastructure and facilities, equity and governance process. 36 States/ UTs were ranked in the Index.
Foot Notes:
About Other Ranking
Other Rankings: Kerala was ranked second followed by Gujarat (3), Haryana (4), Tamil Nadu (5), Punjab (7), Rajasthan (8), Delhi(9).

Least Rankings: Arunachal Pradesh (36), Nagaland (35) and Meghalaya (34) were the least performing states.

Literacy: Kerala had the highest literacy rate followed by Lakshadweep and Mizoram.
6. Tamil Nadu to be the first state to manufacture electric cars: Minister
M C Sampath, minister for industries stated that South Korean multinational automotive manufacturer Hyundai plans to launch its electric car for India and the global market from Chennai facility will help make Tamil Nadu the first state in India to manufacture electric cars.Tamil Nadu to be the first state to manufacture electric cars

Key points:

Motive: The Tamil Nadu (TN)State Government aims to attract the multinational companies that are moving out of China after the US(United States)-China trade dispute.
Investment: Tamil Nadu ranks 3rd in capital investment in the industrial sector with Rs 4.02 lakh crore, after Gujarat (Rs 8.14 lakh crore) and Maharashtra (Rs 5.02 lakh crore).
Industrial o/p: The state which has 37,220 factories (the most in India followed by Maharashtra (27,010 units) and Gujarat (25,966 units)) also ranks 3rd in total industrial output(o/p), with Rs 7.66 lakh crore, after Gujarat (Rs 12.22 lakh crore) and Maharashtra (Rs 10.74 lakh crore).
Workforce: TN has a high number of persons engaged in the factory at 24.08 lakh persons which are 25%higher than the next state Maharashtra.
Eco-friendly initiative: The TN Industries Development Corporation (TIDCO is selecting a consultant for preparing a report on developing a greenfield airport near Chennai.
Defence: The state also aims to attract Rs 10,000 crore in the defence sector for five years.
Foot Notes:
About Tamil Nadu
Capital: Chennai

Chief minister: Edappadi K. Palaniswami

Governor: Banwarilal Purohit

National Parks: Guindy National Park,Gulf of Mannar Marine National Park, Indira Gandhi (Annamalai) National Park, Mudumalai National Park,Mukurthi National Park
7. Exim Bank signs Loan Pact worth $124 Mn For Infra, Health Projects In Papua New Guinea, Senegal
The Export-Import Bank of India (Exim Bank) has signed a loan agreement of providing $124 million (over Rs 850 crore) to Papua New Guinea and Senegal governments to finance infrastructure and health care projects.

Exim bank has extended Line of Credit(LoC) of USD 100 million to the Government of Independent State of Papua New Guinea for the purpose of financing infrastructure related projects($60 million is to go for Bayer-Madang road project and $40 million for Hoskins-Kimbe road project).

Exim Bank has also extended Line of Credit of $24.50 million to the Government of the Republic of Senegal for the purpose of financing up-gradation and rehabilitation of Health Care System.
Foot Notes:
About Exim Bank:
Headquarters: Mumbai

CEO: David Rasquinha

Founded: 1 January 1982
About Papua New Guinea
Capital: Port Moresby

Currency: Papua New Guinean Kina

Prime minister: James Marape
About Senegal
Capital: Dakar

Currencies: CFA franc, West African CFA franc

President: Macky Sall
8. France became the first country to pass GAFA tax on digital giants
France became the first country to pass GAFA (Google, Apple, Facebook, Amazon) Tax on digital giants in defiance of a probe ordered by the United States (US) President Donald Trump.france-gafaKey Points:

It will levy a 3% tax on total annual revenues of the largest tech firms providing services to French consumers.

It will help to plug taxation gaps.
Foot Notes:
About France
Capital: Paris

Currency: Euro

President: Emmanuel Macron
9. Indian Army places an order for procuring Israeli anti-tank Spike missiles
Indian Army has placed an order for procuring anti-tank Spike missiles from Israel under emergency purchases powers to meet operational preparedness. The deal was approved by Army in April 2019 after emergency purchase powers granted to three armed forces after February 14, 2019, Pulwama terror attack in which 40 CRPF personnel were killed followed by Balakot airstrike.
Anti-tank Spike missiles: It is designed and developed by Israeli company Rafael Advanced Defense Systems. It can be fired from different platforms -vehicles, helicopters, ships and ground launchers.
Speciality: It is known for its precision targeting with an ability to pierce even bunkers. It can hits targets at a range of four kilometers and can be deployed in both mountains and plains. It can be deployed even along the Line of Control (LoC).
Power: Under the emergency provision, the forces can make procurement up to Rs 300 crore.
Foot Notes
About Israel:
Capital: Jerusalem

Currency: Israeli new shekel

Prime minister: Benjamin Netanyahu

President: Reuven Rivlin
10. The Brazilian singer and composer Joao Gilberto, one of the pioneers of bossa nova passed away
Joao Gilberto, a Brazilian singer, guitarist, and songwriter &considered one of the fathers of the bossa nova passed away after battling with health issues. He was 88.Joao GilbertoKey points:

He was born on 10 June 1931 in Bahia, Brazil. He won two Grammy awards and was nominated for six.

In 2009, The U.S. jazz magazine DownBeat named him one of the 75 great guitarists in history and one of the five top jazz singers.

In 1959, he released the record Chega de Saudade which marked the beginning of the world-famous bossa nova music style.His last live performance was in 2008.