Current Affairs 11 July, 2019
Current Affairs 11 July, 2019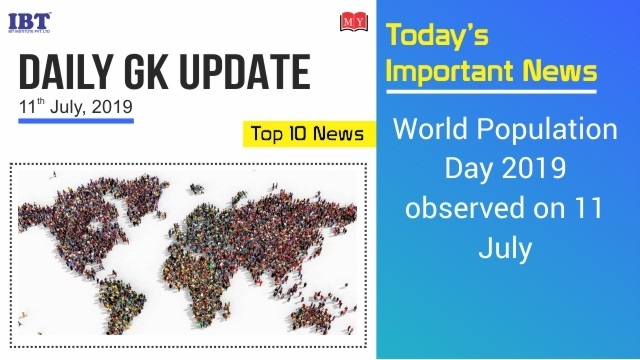 1. India – ASEAN Troika Trade Ministers' Meeting held in New Delhi
India – Association of Southeast Asian Nations (ASEAN) Troika Trade Ministers' Meeting was held in New Delhi for informal consultation on the ongoing Regional Comprehensive Economic Partnership (RCEP). Union Minister of Commerce & Industry and Railways, Piyush Goyal, Acting Minister of Commerce of Thailand, Ms. Chutima Bunyapraphasara, Minister of Trade of Indonesia, Enggartiasto Lukita, Secretary General, ASEAN, Lim Jock Hoi and Trade Negotiating Committee (TNC) Chair of RCEP, Iman Pambagyo attended the meeting.

India emphasized on adherence to the RCEP guiding principles in order to balance high ambition on goods tariff reduction with addressing of sensitives in bilateral pairings between India and China through temporary and permanent deviations/ exclusions.

China had demanded that India should eliminate duties on more than 90% of the items from the country, as it is willing to do in case of the ASEAN, Japan and South Korea. But India has tentatively offered to eliminate duties on 74% of items from China as part of the RCEP deal. It also highlighted to stress on possible mechanism to address persistent and wide imbalances in trade.
Foot Notes:
About RCEP
Headquarters: London, UK

Founded: 20 November 2012

Members: 10 Asean group members – Brunei, Cambodia, Indonesia, Malaysia, Myanmar, Singapore, Thailand, the Philippines, Laos and Vietnam and 6 FTA (Free Trade Partners) partners — India, China, Japan, South Korea, Australia and New Zealand.
2. Samsung join hands with Paisabazaar.com to offer financial products
South Korean multinational conglomerate, Samsung partners with Paisabazaar.com, India's largest online marketplace to offer financial products.Samsung join hands with PaisabazaarKey points:

Paisabazaar.com will now supports Samsung Pay users by providing a one-stop solution to their financial requirements.

Samsung Pay users can apply for credit cards and personal loans from the platform by using this facility.The loan approval feature in Paisabazaar will be extremely fast and seamless for the benefit of customers.
Foot Notes:
About Samsung:
Founder: Lee Byung-Chul

Founded: 1 March 1938

Headquarters: Seoul, South Korea
About Paisabazaar
Headquarters: Gurugram

Founders: Yashish Dahiya, Naveen Kukreja

Founded: 15 December 2011
3. Prasar Bharati signs MoU with IIT Kanpur for research collaboration
India's largest public broadcasting agency, Prasar Bharati has signed an MoU(Memorandum of Understanding) with IIT,Kanpur(Indian Institute of Technology) for research collaboration in newly emerging technologies and broadcasting-related areas in New Delhi.

This will help in boosting research activities in the broadcasting field.

The areas of cooperation would be Direct to mobile broadcasting, Convergence of 5G, Artificial Intelligence(AI), Incubation Centre and internship for students of IIT, Kanpur at Prasar Bharati .
Foot Notes:
About Prasar Bharati:
Headquarters: New Delhi

CEO: Shashi Shekhar Vempati

Founded: 23 November 1997

Chairman : Dr. A. Surya Prakash
4. World Population Day 2019 observed on July 11
World Population Day was observed on July 11, 2019. It creates awareness on the growing population issues. Population issue may be family planning, gender equality, child marriage, human rights, right to health, baby's health etc.World Population Day 2019Key Points: It was established by the United Nations Development Programme (UNDP) in 1989.

It was inspired by public interest in Five Billion Day celebrated on July 11, 1987. It was on this date, the world's population reached five billion people.

2019 World Population Day calls for global attention of the 1994 International Conference on Population and Development (ICPD).

China is the most populous country in the world followed by India.India's 35% population is living in 3 states- Bihar, Uttar Pradesh and Maharashtra.

According to data provided by the Pew Research Center, India will try to accommodate 1450 million people in the year 2100 and will also surpass China.
Foot Notes:
About UNDP:
Headquarters: New York City, US

Founded: 22 November 1965

Administrator: Achim Steiner
5. Haryana launched a 'Meri Fasal Mera Byora' portal for farmers.
The Chief Minister of Haryana Government Manohar Lal Khattar has launched online portal named "Meri Fasal Mera Byora" (https://www.fasalhry.in/ )for farmers to directly avail crop related benefits of state government schemes after self -reporting their land and crop-related details. The farmers who will register on the portal required to upload information like the name of crop sown, area under cultivation, cropping month, bank account number and mobile number at Common Service Centres (CSCs) or Atal Seva Kendras (ASK) or with the help of VLEs (Village Level Entrepreneurs )by end of July.

Each farmer, who registered on the portal get a financial incentive of Rs 10 per acre or part thereof subject to a minimum of Rs 20 to maximum Rs 50. It will enable farmers to avail the subsidy on agriculture implements easily & make damage assessment during natural calamities and disbursal of relief in cases of crop damage easier and other financial assistance under different schemes.

The state government will get the accurate data of area and name of crop cultivated in various parts of the state and it is a step forward towards Prime Minister Narendra Modi's vision of doubling the farmer's income by 2022.
Foot Notes:
About Haryana
Capital: Chandigarh

Governor: Satyadev Narayan Arya

Chief minister: Manohar Lal Khattar
6. UP has highest number of senior citizens with more than one crore 54 lakh
Rattan Lal Kataria ,the Minister of State for Social Justice and Empowerment stated that Uttar Pradesh(UP) has highest number of senior citizens with more than one crore 54 lakh followed by Maharashtra with one crore 11 lakh.Totally the country has over 10.38 crore senior citizens.

Schemes: For the betterment of senior citizens, the centre has launched various schemes to lead a socially secured life. And since 2017,the ministry has launched Rashtriya Vayoshri Yojana for senior citizens belonging to BPL (Below Poverty Line)category, who are suffering from age-related disabilities.
Foot Notes:
About Rashtriya Vayoshri Yojana:
The Scheme aims at providing physical aids and assisted-living devices for senior citizens(who are aged above 60 years) belonging to Below Poverty Line (BPL) category.
About Uttar Pradesh
Capital: Lucknow

Governor: Ram Naik

Chief Minister: Yogi Adityanath

Wildlife sanctuaries: Bakhira WLS,Chandraprabha WLS ,Dr. Bhimrao Ambedkar Bird WLS,Hastinapur WLS Uttar, Kaimur WLS, Katerniaghat WL
7. "Operation Thirst" launched by RPF
RPF launched "Operation Thirst" to crack down selling of unauthorised Packaged Drinking Water in the railway premises.

During the operation, 1371 persons were arrested for selling of packaged drinking water of unauthorised brands.
Foot Notes:
Union Minister for Railways: Piyush Goyal.
8. Ukraine inaugurates world's largest Metal Dome
Ukraine has inaugurated the world's largest movable metal dome encasing the destroyed reactor at the infamous Chernobyl plant.

It is a 108-meter high dome which weighs 36,000 tonnes.
Foot Notes:
About Ukrain
Capital of Ukraine: Kyiv

Currency of Ukraine: Ukrainian Hryvnia
9. RBI panel moots changes in timings for foreign exchange market
Internal committee of the RBI has suggested that the foreign exchange market could function from 9 am to 9 pm. At present, the currency market works from 9 am to 5 pm. The panel suggested call money market timings could be extended till 6 pm instead of the 5 pm now.

The extension of market timings is expected to provide benefits such as better pricing of post market hours information/data, improved onshore price discovery and a possible shift of offshore volumes to onshore.
Foot Notes:
About RBI
RBI 25th Governor: Shaktikant Das

Headquarters: Mumbai

Founded: 1 April 1935, Kolkata.
10. Gold medals for India in Commonwealth Championships
Rakhi Halder and Davinder Kaur has won a gold medal each in the senior women's section of weightlifting in the Commonwealth Championships.

Davinder Kaur has won the gold medal in women's 59kg event. While Rakhi Halder has won the gold medal in the 64kg category. The Championship is taking place in Apia, Samoa.