Current Affairs 10 June 2020
Current Affairs 10 June 2020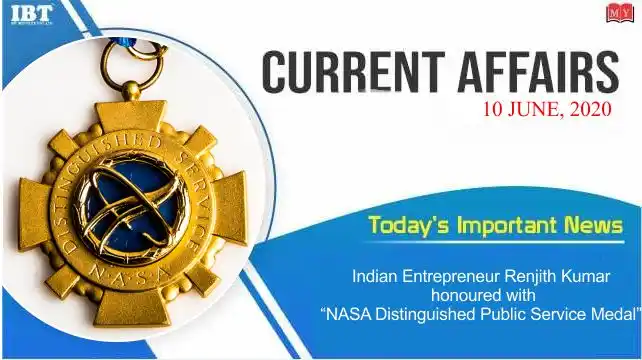 1. Asian Champion Gomathi Marimuthu gets four-year ban for doping
Athletics Integrity Unit (AIU) has banned athlete Gomathi Marimuthu for 4-years after testing positive for banned substances.

Her ban starts from 17th May 2019 to 16th May 2023. All of Gomathi's competition results between March 18 and May 17, 2019, stand annulled.

The Gold Medal she bagged in the 2019 Asian Championship that was held in Doha, Qatar with the timing of 2 minutes and 2.70 seconds has been stripped by the Athletics Integrity Unit (AIU) when the B sample of Gomathi returned positive.
Foot Notes: About AIU(Athletics Integrity Unit)
Head: Brett Clothier
Headquarters: Monaco
Founded: 3 April 2017
About NADA:
Director General: Navin Agarwal
Headquarters: Jawaharlal Nehru Stadium, New Delhi
Founded: 24 November 2005
Motto: Play fair
2. Recykal partnered with UNDP and HCCB to launch Project Prithivi for plastic waste management
Recykal, a digital technology company in the waste management space collaborated with United Nations Development Programme (UNDP) and Hindustan Coca-Cola Beverages Pvt Ltd (HCCB) for Project Prithvi, a joint initiative for developing sustainable plastic waste management practices in the country.

As part of this partnership, Recykal will leverage its cloud applications, mobile applications to raise consumer awareness on segregation, and recycling.
Foot Notes: About Recykal
Founder: Abhay Deshpande
Co-Founder: Abhishek Deshpande, Anirudha Jalan
Headquarter: Hyderabad, Telangana
About HCCB:
Chief Executive Officer (CEO): Christina Ruggiero
Headquarter: Bengaluru, Karanataka
About UNDP:
Administrator: Achim Steiner
Headquarters: New York, United States (US)
3. Indian Entrepreneur Renjith Kumar honoured with "NASA Distinguished Public Service Medal"
Renjith Kumar, Engineer from Kerala and Indian Entrepreneur based in Virginia is honoured with NASA's highest form of recognition for a non-governmental individual "NASA Distinguished Public Service Medal" for his service to NASA through executive leadership, engineering contribution, technical excellence and customer satisfaction.

The "NASA Distinguished Public Service Medal" is given for the non-governmental individuals or individuals who are not a part of government employees during the performed service who provide a level of excellence supporting or impacting the success of NASA's missions and contribution in NASA's advancement of United States interests.

RK Chetty Pandipati was the First Indian to win this award in 2002.
Foot Notes: About NASA:
Administrator: James Frederick "Jim" Bridenstine
Headquarters: Washington, DC, United States.
Founder: Dwight D. Eisenhower
Founded: 1 October 1958, United States
4. Scientists discover new star Kepler-160 & planet KOI-456 :'mirror image' of Earth and Sun
A team of scientists from the Max Planck Institute for Solar System Research (MPS) in Gottingen (Germany), the Sonneberg Observatory, the University of Göttingen, the University of California, and NASA ( National Aeronautics and Space Administration) led by MPS, have discovered a new planet named KOI-456.04 & its host star called Kepler-160 by using Kepler Space Telescope. Scientist have mentioned these two newly discovered planet and its host as "mirror image" of our own planet and sun.

The research has been published in the journal Astronomy and Astrophysics & lead author of the study was Dr Rene Heller.
5. The Ramon Magsaysay awards 2020 canceled due to coronavirus pandemic
The Ramon Magsaysay awards, regarded as Asia's version of the Nobel Prize, have been canceled this year due to the global pandemic.

This is the only third time the annual awards were disrupted in six decades. The awards were also canceled due to a financial crisis in 1970 and a disastrous earthquake that hit the Philippines in 1990.

The Ramon Magsaysay awards are named after Ramon Magsaysay, the third president of the Republic of the Philippines after World War II.
6. CBIC launches its flagship programme 'Turant Customs' at Bengaluru & Chennai
Central Board of Indirect Taxes and Customs, CBIC launched its flagship program Truant Customs, at Bengaluru and Chennai.

This is a giant leap forward to leverage technology for faster Customs clearance of imported goods.

Importers will now get their goods cleared from Customs after a faceless assessment is done remotely by the Customs officers located outside the port of import.

Now, the goods imported at Chennai may be assessed by the Customs officers located at Bengaluru and vice versa, as assigned by the Customs' automated system.

Turant Customs is a mega reform for the ease of doing business.

The start of Turant Customs at Bengaluru and Chennai will be the first phase of the All India roll out which will get completed by 31st December this year.
Foot Notes: About CBIC:
Chairperson: M. Ajit Kumar
Founded: 1 January 1964
Headquarters: New Delhi
7. Myanmar military to use Facebook to counter 'misinformation'
Myanmar military 'Tatmadaw' has decided to use Facebook again to provide 'accurate' news to people.

This was announced by the Tatmadaw spokesperson Zaw Min Tun in Myanmar.

The military has decided to use the popular social media platform to counter fake news and misinformation and provide accurate news to people swiftly, reports Irrawady.

Facebook had removed several accounts linked to the Myanmar military in 2018.

While removing the accounts on August 28, 2018 the Facebook had said that they removed 425 Facebook pages, 17 groups and 135 Facebook accounts and 15 Instagram accounts linked to the Myanmar military as evidence suggested that they had committed serious human rights violations in Myanmar.
Foot Notes: About Facebook
Founded: 04 Feb 2004 , Cambridge, MA,USA
Headquarters: California, USA
CEO: Mark Zuckerberg
About Myanmar:
Capital: Naypyitaw
Currency: Burmese kyat
President: Win Myint
8. Gujarat CM announces Phase-2 of SAUNI Yojana to be completed before August 15
The Gujarat Chief Minister Vijay Rupani announced on June 10, 2020 that the Phase-2 of the Saurashtra-Narmada Avataran Irrigation (SAUNI) Yojana will be completed before August 15.The State Water Resources Department has been instructed to complete the work on the scheme. The scheme aims to meet the drinking water requirements of Saurashtra and Kutch regions with Narmada waters.

The SAUNI Yojana is a vital engineering skilled scheme, which aims to fill 115 water reservoirs of arid Saurashtra and Kutch region with water from the Narmada river, to meet the region's drinking and irrigation requirement. This is expected to benefit around 737 villages of 11 districts and 31 cities of the region.

The work on the second phase of the scheme, which involves filling up of 57 water reservoirs through laying pipeline networks of 541 kilometres is almost about to be completed.
Foot Notes: About Gujarat
Capital: Gandhinagar
Governor: Acharya Dev Vrat
Chief Minister: Vijay Rupani
9. Former Union minister and Odisha MP Arjun Charan Sethi passes away at 79
Former Union minister Arjun Charan Sethi died in a hospital following a brief illness.

An eight-time MP from Bhadrak Lok Sabha constituency, Sethi was the Union Water Resources Minister in the Atal Bihari Vajpayee-led NDA government from 2000 to 2004.

Active in social and political spheres since his youth, soft-spoken Sethi was also elected to the Odisha Assembly twice.

During his long stint as an MP and an MLA, the late Arjun Sethi had earned the goodwill of the people for his dedicated service and commitment.
10. Pune based DIAT develops Nano-technology based disinfectant spray to combat COVID-19
Defence Institute of Advanced Technology, a Deemed University, Pune has developed a Nano-technology based disinfectant spray to combat COVID-19 by disinfecting all types of surfaces.

It has been named "ANANYA". This can be used by anyone, from a common man to a healthcare worker, for individual as well as large scale use.

This spray can be used on masks, PPEs, hospital linens, as well as other likely contaminated surfaces such as medical instruments, elevator buttons, door knobs, corridors and rooms.

This Nano-technology assisted formulation will not only stop the novel coronavirus from entering the human body, but it will also kill the virus when the virus comes in contact with this formulation layer on masks and PPEs.

This is a water-based spray and will be effective for more than 24 hours after spray.
Foot Notes: About DIAT
Chancellor: Rajnath Singh
Founded: 1952