Current Affairs 10 July, 2019
Current Affairs 10 July, 2019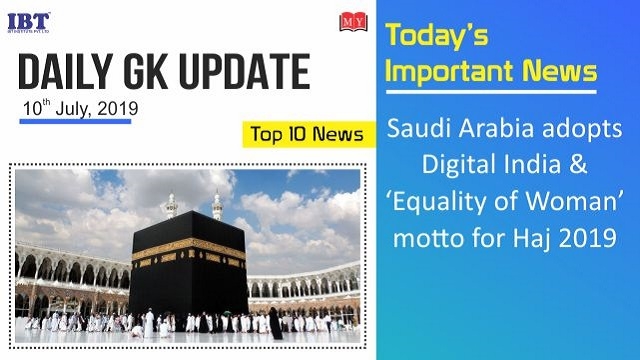 1. India's first elephant rehabilitation centre will be set up at Kerala's Kottoor
India's first elephant rehabilitation centre will be set up by the Kerala State Government in its ecotourism village of Kottoor.Rs.105 crore has been allotted to this project which was launched by Chief Minister of Kerala, Pinarayi Vijayan.Kerala's Kottoor

At present, the center has only 15 elephants and it will be increased once work has been completed.The centre will have an elephant museum, mahout training centre, super-specialty hospital, a retirement home and crematorium for the animals, will house orphaned, injured and older elephants.

Now the state has 507 captive elephants & forest department plans to admit more captive elephants.The centre will be set up with 65 hectares of natural forests area will have elephant safari and other activities to attract tourists.
Foot Notes:
About Kerala:
Capital: Thiruvananthapuram

National Parks: Eravikulam National Park, Silent Valley National Park, Pampadum Shola National Park, Mathikettan Shola National Park, Anamudi Shola National Park.
2. Saudi Arabia adopts Digital India &'equality of women' motto for Haj 2019
Indian Haj mission in Saudi Arabia adopts Digital India and 'equality of women' motto for the empowerment of Muslim women pilgrims & to reach out to a large number of pilgrims as part of the Government of India's initiative of Digital India.

Indian Haj Information SystemKey points:App for Grievance redressal: An App called " Indian Haj Information System" has been introduced to receive grievances and feedback from Hajis to improve the service.

It also connects the pilgrims with Qadimul Hajjaj (Haj service coordinators, who were deployed to assist pilgrims during the Haj), of their respective States.
Foot Notes:
About Saudi Arabia:
Crown Prince: Mohammad Bin Salman
3. Beryllium-7,new method has been identified for predicting monsoon.
Lucrezia Terzi, a researcher at the Belgian Nuclear Research Centre (SCKCEN), has come up with a new way of predicting the monsoon at a science and technology conference organised in Vienna by the Comprehensive Nuclear-Test-Ban Treaty Organisation (CTBTO).

The new method measures how much Beryllium-7 (an isotope of the element Beryllium) is present in the air. The Be-7 is chosen because it is created only in the stratosphere, when cosmic rays hit and break the nuclei of nitrogen and oxygen.

Due to the sun warming the oceans differently at different latitudes, and the spin of the earth, water-bearing air moves up and down in circular fashions, which is the basic cause of the monsoons. When air flows down from the stratosphere (upwards of 33,000 feet from the earth's surface), it brings with it some Be-7. That makes the strong connection between the amount of Be-7 and the timing of monsoons.
4. Russia successfully launched its Soyuz-2.1a carrier rocket with 33 satellites
On July 5, 2019, The Russian space agency Roscosmos has successfully launched its Soyuz-2.1a carrier rocket with a hydrometeorological satellite and 32 small satellites. It was launched from the Vostochny spaceport in the Far Eastern Amur Region aimed at solving problems of space weather research and monitoring the movement of civil aircraft.Russia successfully launched its Soyuz-2.1aKey points:

This was the 5th launch of a spacecraft for civilian purposes and to provide images of clouds, the surface of the Earth, ice and snow covers. It also obtains data on sea surface temperature, the state of the ozone layer as well as level of humidity, which will help to provide accurate meteorological forecasts.

The hydrometeorological satellite of Russia, Meteor-M No.2-2 put into a target orbit with a height of about 832 km.The small satellites were developed by Germany, France, the US, Israel, Britain, Sweden, Finland, Thailand, Ecuador, the Czech Republic, and Estonia.

This launch will allow accessing the outer space & reducing the dependence of Baikonur Cosmodrome in Kazakhstan.
Foot Notes:
About Russia:
President: Vladimir Putin

Prime Minister: Dmitry Medvedev
5. Former Indian football team goalkeeper AU Celestine passed away at the age of 73
AU Celestine(Tamil Nadu), Former India football goalkeeper passed away after a brief illness. He was 73.

He played for the Tamil Nadu state men's team as a goalkeeper in Senior Nationals in the 1965 and 1969 National Championships and also represented India in the Merdeka Cup in Malaysia in 1969.In 1967, He joined Reserve Bank of India (RBI), Madras.

He worked as a talent spotter of All India Football Federation (AIFF) and he trained the underprivileged children in North Madras area in Football and help them with their education. He also served as a coach for the Tamilnadu State Junior, Sub Junior and Women's teams.
Foot Notes:
About Tamil Nadu
Governor: Banwarilal Purohit

Chief Minister : Edappadi K. Palaniswami
6. Madhya Pradesh will soon be able to produce its own seeds
The Madhya Pradesh State Cooperative Seed Federation will produce its own seeds in addition with distribution and marketing of certified and high-quality seeds to farmers. The brand name of seeds to be 'Sah-Beej' produced from next Rabi season.

The decision was taken in a meeting Board of Directors' held under the chairmanship of Govind Singh, Minister for Cooperatives in Bhopal, Madhya Pradesh.

Seed societies in the state linked with seed federation will help in the marketing of seeds.

Training will also be given to members of seed societies through agriculture science centres to make them competent and empowered.
Foot Notes:
About Madhya Pradesh
Chief minister: Kamal Nath

Governor: Anandiben Patel
7. Phase-II DBT in fertilizer subsidy launched
Union Minister for Chemicals and Fertilizers launched the Phase-II of the Direct Benefit Transfer of Fertilizer Subsidy.

DBT in fertilizer subsidy is a step in the direction of bringing ease of living in the lives of farmers through use of modern technology and plugging leakages, pilferages and black marketing.
Foot Notes:
About Chemicals and Fertilizers
Union Minister for Chemicals and Fertilizers: D.V. Sadananda Gowda.
8. France to impose green tax on plane tickets from 2020
France will impose green tax up to €18 on plane tickets from 2020. The move aims to fund less-polluting transportation projects.

A similar tax was introduced in Sweden in April 2018, which imposed an added charge of up to €40 on every ticket in a bid to lessen the impact of air travel on the climate.
Foot Notes:
About France
President of France: Emmanuel Macron
9. Sri Lanka eliminates measles
Sri Lanka has become fifth country in the World Health Organisation (WHO) Southeast Asia region to eliminate measles.

The other countries in the region which have achieved this feat are Bhutan, Maldives, DPR Korea and Timor-Leste.
Foot Notes:
About Sri Lanka
Capitals of Sri Lanka: Colombo, Sri Jayawardenepura Kotte.

Currency of Sri Lanka: Sri Lankan rupee.

Prime minister: Ranil Wickremesinghe

President: Maithripala Sirisena
10. Lal Bahadur Shastri Statue unveiled by PM
The Prime Minister unveiled the statue of former Prime Minister Sh. Lal Bahadur Shastri at the Lal Bahadur Shastri International Airport in Varanasi.

It is built by Northern Coalfields, a subsidiary of Coal India.
Foot Notes:
About UP
CM of UP: Yogi Adityanath

Governor of UP: Ram Naik.