Current Affairs 1 June 2020
Current Affairs 1 June 2020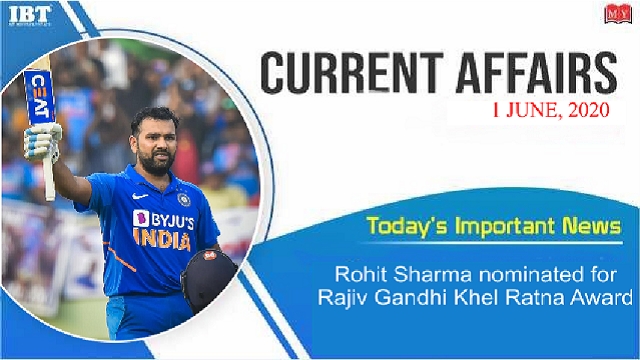 1. Virat Kohli , only cricketer in the forbes top 100 highest paid athletes of 2020,Federer topped
Virat Kohli, Indian Cricket Team Captain becomes the only cricketer and the only Indian to feature in the Forbes' Top 100 highest paid athletes of 2020. Kohli ranked 66 with Forbes Magazine estimated earning of around 26 million USD (24 million from endorsements and 2 million from salary/winnings).

Tennis player Roger Federer Tops the list for the first time with estimated earnings 106.3 million USD. He placed 4th in the 2019 list with the estimated earnings of 95million USD.

Naomi Osaka became the highest paid female athlete ranking 29 overtaking Serena Williams who ranks 33. Williams joined the ranking in 2017 and 2019.In 2018 no women entered the list.
Foot Notes: About Forbes
CEO: Mike Federle
Editor-in-chief: Steve Forbes
CEO-Asia: William Adamopoulos
Headquarters: New Jersey, United States of America
2. Google launches app 'Sodar' to help people maintain social distancing
Google has launched 'Sodar' app that will help people maintain distance in real life using augmented reality. The app has been developed under Experiments with Google and is not available on the Google Play Store but can be side-loaded separately.

The app called 'Sodar', will create a visual boundary using the user's smartphone camera and constantly show who's breaching that distance. The company claims Sodar uses "WebXR to help visualise social distancing guidelines in your environment.

Using Sodar on supported mobile devices, create an augmented reality two meter radius ring around you. Once another person breaches the circle, the screen will visually alert the user.
Foot Notes: About Google
Headquarters:California, United States
CEO: Sundar Pichai
Founders: Lary Page & Sergey Brin
3. Indian Navy launched Next phase of Operation Samudra Setu on June 1
The Indian Navy started the next phase of Operation Samudra Setu from June 1 to repatriate Indians who are stranded overseas amid the coronavirus pandemic.

In this phase, Indian Navy Ship Jalashwa will repatriate 700 personnel from Colombo, Republic of Sri Lanka to Tuticorin, Tamil Nadu and subsequently repatriate another 700 personnel from Male, Republic of Maldives to Tuticorin.

The Indian Navy has already repatriated 1,488 Indian nationals from Male to Kochi during the previous phases of the operation. After disembarkation at Tuticorin, the evacuated personnel will be entrusted to the care of the state authorities.
4. Aiman Ezzat becomes new CEO of French Tech Giant Capgemini Group
Aiman Ezzat has become the new Chief Executive Officer (CEO) of French technology major Capgemini Group. He has replaced the presently serving Paul Hermelin who will continue to serve as the Chairman of the Board.

The appointment of Aiman Ezzat was made at the close of the Annual General Meeting of Shareholders.

Aiman Ezzat was earlier serving as the Chief Operating Officer of the Capgemini Group and has also served as the Chief Financial Officer of the company in the past.
Foot Notes: About Capegemini
Headquarters: Paris, France
Founder: Serge Kampf
5. Pradip Kumar Tripathi Assumes Charge as Secretary in Ministry of Steel
Shri Pradip Kumar Tripathi has assumed charge as Secretary, Ministry of Steel, Govt. of India on 1 June 2020. He took over as Secretary upon the superannuation of present incumbent Binoy Kumar. The appointment was approved by the Appointment Committee of Cabinet.

Binoy Kumar is a 1983 batch officer who had taken over as Secretary, Ministry of Steel on 1 September 2018. He retired on 30 May 2020.

Pradip Kumar Tripathi is an Indian Administrative Service (IAS) officer of the 1987 batch of Jammu and Kashmir (J&K) cadre. Prior to this appointment, Tripathi had been posted as Special Secretary and Establishment Officer in Department of Personnel and Training (DoPT), Ministry of Personnel, Public Grievances and Pensions.
Foot Notes:
Minister of Steel: Shri Dharmendera Pradhan
6. World Milk Day is observed on 1 June
World Milk Day is observed on 1 June every year. The day aims to provide an opportunity to bring attention to activities that are connected with the dairy sector. This year's theme is "20th Anniversary of World Milk Day".

2020 Milk day marks the 20th year since the initiative and the entire world celebrates the day to mark the significance of milk intake in the diet.

World Milk Day aims to provide information about the need and importance of milk in a human being's life. The day will raise awareness about milk and its products. The day also aims to educate people about the nutrients that are present in milk like calcium, protein, vitamin B2, potassium, iodine, etc.
7. Famous Music composer Wajid Khan dies due to COVID-19
Music composer, director and singer Wajid Khan died due to COVID-19.

The 42 year old music composer was also suffering from kidney ailments and had undergone a kidney transplant a few months ago.

Wajid Khan, of the famous Sajid-Wajid music composer duo, composed most of the songs of actor Salman Khan's movies.
8. Rohit Sharma nominated for Rajiv Gandhi Khel Ratna Award
BCCI nominated Rohit Sharma for the Rajiv Gandhi Khel Ratna Awards. The Award is considered to be the highest sporting honour award in India.

The period of consideration for a person to get nominated is from January 2016 to December 2019. Rohit has become the first T20 cricketer to score four centuries. Also, he holds record of 150 plus score in around 8 ODIs. He also holds the greatest number of centuries in ODI matches since 2017, that numbered to 18.

He was also the ICC ODI Cricketer of the year, 2019. He received this award as he was the first player to score five ODI centuries in a single edition of the World Cup.

The award is the highest sporting honour of India. The award is presented by the Ministry of Youth Affairs and sports. The award is presented for outstanding performance for a period of 4 years. The award comprises of cash prize of Rs 7.5 lakhs.
Foot Notes: About BCCI
Headquarters: Mumbai, India
CEO: Rahul Johri
President: Sourav Ganguly
Minister of Sports and Youth Affairs: Kiren Rijiju
9. Centre to discontinue 7.75% savings bonds scheme
The Reserve Bank of India recently announced that the Government of India has discontinued 7.75% savings bonds.

The 7.75% savings bonds that are also called government bonds or RBI bonds were issued in 2018. They were available for the resident citizens of India alone. The value of one bond was Rs 1000 and there was no maximum limit of investment. The interests of the bonds were taxed under Income Tax Act, 1961.

The rates of Small Savings scheme were cut. Also, the rates of PPF were cut from 7.9% to 7.1%. On the Sukanya Samriddhi Yojana, the rates were cut from 8.4% to 7.6%. RBI also reduced the repo rates twice after COVID-19.
Foot Notes: About RBI
Founded: 01 Apr 1935
Headquarters: Mumbai, India
Governor :Shaktikanta Das
10. South African AIDS researcher "Quarraisha Abdool Karim" wins France's Christophe Merieux Prize
A South African HIV researcher Quarraisha Abdool Karim, who found that a topical gel could stop many women catching the virus has been awarded one of France's top science prizes.

She won the half a million-euro ($551,000) Christophe Merieux Prize for her work for the Durban-based Centre for the AIDS Programme of Research in South Africa (CAPRISA), which she heads.

The Christophe Merieux Prize is one of France's top science prizes.