Current Affairs 09 July, 2019
Current Affairs 09 July, 2019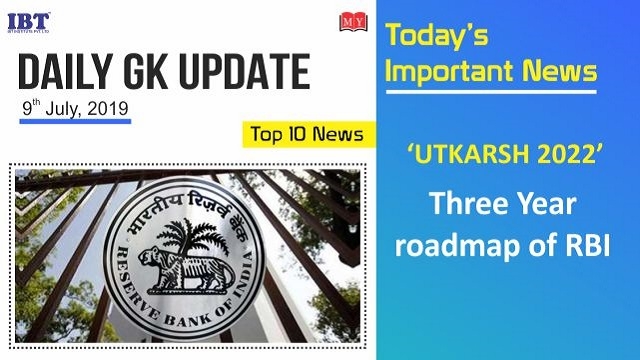 1. RBI Board Finalises 'Utkarsh 2022'
The Reserve Bank of India (RBI) board, which met in New Delhi, finalised a three- year roadmap to improve regulation and supervision, among other functions of the central bank. This medium term strategy — named Utkarsh 2022 — is in line with the global central banks' plan to strengthen the regulatory and supervisory mechanism, sources aware of the board meeting.

"It is a three-year road map for medium term objective to be achieved for improving regulation, supervision of the central bank," said a source. "Worldwide, all central banks strengthen the regulatory and supervisory mechanism, everybody is formulating a long-term plan and a medium-term plan.

So, the RBI has also decided it will formulate a pragramme to outline what is to be achieved in the next three years," the source added.
Foot Notes:
About RBI
RBI 25th Governor: Shaktikant Das

Headquarters: Mumbai

Founded: 1 April 1935, Kolkata.
2. Shailesh Tinaikar assumes charge as Force Commander of UN mission
Newly appointed Force Commander of the UN mission in South Sudan, Lieutenant General Shailesh Sadashiv Tinaikar assumed charge in Juba last Saturday. UN Secretary-General Antonio Guterres had announced the appointment of Tinaikar in May. In a tweet, the UN mission said Tinaikar was officially welcomed by a guard of honour.

Lieutenant General Shailesh Tinaikar of India assumes charge as Force Commander of United Nations Mission in South Sudan.

Shailesh Tinaikar has been awarded the Sena Medal and the Vishisht Seva Medal for Distinguished Service.
Foot Notes:
About UN
UN Secretary-General: António Guterres

Headquarters: New York, United States

Established: 24th October 1945.
3. Indian Naval Ship Tarkash arrives in Morocco
Then Indian Naval Ship Tarkash arrived at Tangier, Morocco today for a three-day visit. The visit is part of an ongoing Overseas Deployment by the Indian Navy to the Mediterranean Sea, Africa and Europe. The visit seeks to strengthen the bonds of friendship between India and Morocco.

INS Tarkash, commanded by Captain Sathish Vasudev, is a state-of-the-art stealth frigate of the Indian Navy, equipped with a versatile range of weapons and sensors capable of addressing threats in all three dimensions.

The ship is a part of the Indian Navy's Western Fleet and is under the operational Command of Flag Officer Commanding-in-Chief, Western Naval Command.
Foot Notes:
About Naval Staff
Chief: Karambir Singh.
4. India successfully tests a new version of Brahmos missile
India has successfully tested the vertical steep dive version of the Brahmos supersonic cruise missile.

Made in India 'Brahmos Aerospace' is also ready with a longer 500 km range version of the Brahmos missile that can be fired from Sukhoi 30 fighter jets.

BrahMos Aerospace is a joint venture company owned by the governments of India and Russia and its missiles are produced in India.
Foot Notes:
About BrahMos Aerospace
CEO of BrahMos Aerospace: Sudhir Mishra.
5. Arctic mission will trap scientists in ice to study climate
In a couple of months, the German icebreaker RV Polarstern, a hulking ship will set out for the Arctic packed with supplies and scientific equipment for a year-long mission to explore the planet's frigid far north.

The icebreaker will be the base for scientists from 17 nations studying the impact of climate change on the Arctic and how it could affect the rest of the world.

Scientists plan to sail the ship into the Arctic Ocean, anchor it to a large piece of sea ice and allow the water to freeze around them, effectively trapping themselves in the vast sheet of white that forms over the North Pole each winter. The organizers say that the project is unprecedented in scale and ambition.
6. Vinesh, Divya wins gold at Wrestling Grand Prix of Spain
Wrestler Vinesh Phogat has won a gold medal in the 53kg category, while Divya Kakran has won the gold medal in the 68kg category at the Grand Prix of Spain.

Pooja Dhanda (57kg) has won a silver after losing the title clash to Russia's Veronika Chumikova.
Foot Notes:
About Spain
Capital of Spain: Madrid

Currency of Spain: Euro.
7. 'Gully Boy' wins hearts in South Korea, awarded at Bucheon film festival
Film-maker Zoya Akhtar's directorial 'Gully Boy' has won the Network for the Promotion of Asian Cinema (NETPAC) Award at the 23rd Bucheon International Fantastic Film Festival (BIFAN) in South Korea.

NETPAC Jury Committee, comprised of NETPAC members and film professionals, select the best Asian Film from World Fantastic Blue section, which features newer genres and varied stories of comedy, fantasy and drama, read a statement.

'Gully Boy', which features actors Ranveer Singh and Alia Bhatt, is based on the lives of street rappers. The film has performed well in the Indian and overseas market.
Foot Notes:
About South Korea
Capital of South Korea: Seoul

Currency of South Korean: South Korea won.
8. Bhupesh Baghel the Indian CM inaugurated 'Jan Choupal' program to hold public meetings in the state.
The Chief Minister of Chhattisgarh, Bhupesh Baghel has inaugurated the 'Jan Choupal' program in Raipur, Chhattisgarh for holding public meetings once every week to discuss the issues of the people.

In order to resolve the issues of people, the concept of this program has been taken from the practices of ancestors in the village. So that people can come and discuss their issues in the meeting.
Foot Notes:
About Chhattisgarh
Chief minister: Bhupesh Baghel

Governor: Anandiben Patel
9. Sri Lanka inaugurates model village built with Indian assistance
Sri Lanka has inaugurated first model village built with Indian assistance. The village is a part of housing project meant for war affected people.

India has partnered with the ministry of housing and construction and cultural affairs of Sri Lanka to build 100 model villages with Indian grant of Rs 1,200 million.
Foot Notes:
About Sri Lanka
Capitals of Sri Lanka : Colombo, Sri Jayawardenepura Kotte

Currency: Sri Lankan Rupee.
10. Sharjah issues 1st permanent residency visa to Lalu Samuel
Sharjah's first Golden Card visa was issued to an Indian expat businessman Lalu Samuel. The move is a part of the permanent residency system tailored for investors.

The Golden Card is a 10-year long-term visa eligible for investors and entrepreneurs to engage them in the renaissance and development of the UAE.

Lalu Samuel is a Chairman and Managing Director of Kingston Holdings and Chairman of Sharjah Industry Business Group.
Foot Notes:
About UAE
Capital of UAE: Abu Dhabi

Currency: Dirham.