Current Affairs 05 July, 2019
Current Affairs 05 July, 2019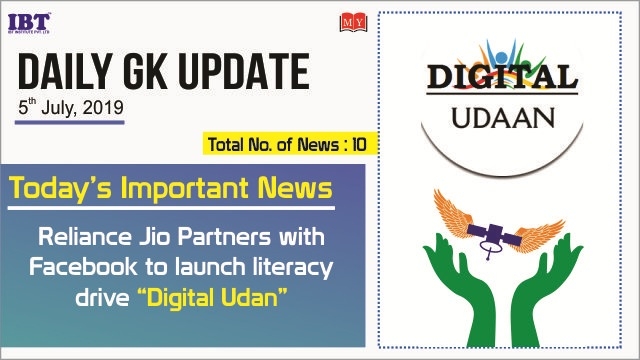 1. Reliance Jio partners with Facebook to launch literacy drive "Digital Udaan" for first-time internet users in India
The initiative is being launched in nearly 200 different locations across 13 states and soon expected to reach over 7,000 locations in the country.

Through this program, which has audio-visual training in 10 regional languages, jio will engage with its users to help them learn about features of JioPhone, apps and Internet safety including the use of Facebook.

Facebook is an ally in this mission to achieve 100% digital literacy in the country.At present Jio have 300 million users and it added 8 million users in April 2019.
Foot Notes:
About Jio
Founder: Mukesh Ambani

Founded: 2007
About Facebook
CEO: Mark Zuckerberg

Headquarters: Menlo Park, California, United States.

Founded: February 2004
2. UP govt launches toll-free 'CM helpline 1076' for complaint registration
Uttar Pradesh Chief Minister (CM) Yogi Adityanath launched 24X7 toll-free 'CM Helpline 1076' for people to lodge complaints from anywhere in the state. It will facilitate a direct medium between the people and the CM's Office.

The CM will select 100 out of total complaints and review them himself.He honoured Rajveer Singh, the helpline logo-maker, with a cheque of Rs 21,000.

The complaint will be forwarded to the respective departments for speedy action and follow-up will be done within 3-4 days. The people who make fake calls will be punished.
Foot Notes:
About Uttar Pradesh
Capital: Lucknow

Governor: Ram Naik

Wildlife Sanctuary: Hastinapur Wildlife Sanctuary

National Park: Dudhwa National Park
3. Tata Steel Kalinganagar included in WEF's Global Lighthouse Network.
Tata Steel Kalinganagar becomes the first and the only Indian manufacturing plant has been included in prestigious Lighthouse Network of the World Economic Forum, a community of manufacturers that are frontrunners in applying 4th Industrial Revolution technologies to draw a competitive advantage from either innovating their production system or by innovating their entire value chains and offering new products and services.

TSK in Odisha's Jajpur district commissioned at May 2016 included as one in 10 new factories added in Global Lighthouse Network which has 16 existing lighthouses across multiple geographies and industries.

The factories were selected based on their success in integrating cutting-edge technologies such as Artificial Intelligence (AI), big data analytics and 3D(three-dimensional) printing to increase efficiency and make innovation.
Foot Notes:
About TATA steel
CEO: T. V. Narendran

Headquarters: Mumbai

Founder: Jamsetji Tata

Founded: 25 August 1907
About WEF:
Headquarters: Cologny, Switzerland

Founder: Klaus Schwab

Founded: January 1971
4. Kuwait supports India in countering terror
An Arab country on the Persian (Arabian) Gulf, Kuwait that completes its two-year term as the non-permanent member in the UNSC (United Nations Security Council) has played a major role in declaring JeM chief Masood Azhar a global terrorist and in UNSC condemnation of Pulwama terror strike. It also assured that to support India's global ambitions including investments.

In the 8543rd United Security Council meeting which was held on June 11, 2019, Kuwaiti proposed draft resolution 2474 with the aim of protecting civilians that deals with the matter of persons reported missing during armed conflicts.

The State of Kuwait actively engages in the sessions of United Nations and when the Security Council unanimously adopted Resolution 2475 on Protection of Persons with Disabilities in conflicts calling up member states and parties of armed conflicts to ensure they have access to justice, basic services, and unimpeded humanitarian assistance.
Foot Notes:
About Kuwait
Capital: Kuwait City

Currency: Kuwaiti dinar
5. Airtel Payments Bank has tied up with Bharti AXA Life Insurance to offer the Bharti AXA Life POS Saral Jeevan Bima Yojana.
The first live payments bank in the country, Air-tel Payments Bank has partnered with Bharti AXA Life Insurance to offer Bharti AXA Life POS (Point of Sale) Saral Jeevan Bima Yojana, a pure life term insurance plan up to Rs 5 lakh which is aimed at the under-insured and uninsured segments in India. The policy available at Airtel Payments Bank's 25,000 retail outlets will be expanded to cover over 60,000 banking points.

The customers are offered the option of life cover between 3-5 lakh and it will soon be extended up to Rs 25 lakh. Any individual between the ages of 18 and 55 can enroll for this product. In 2018 Airtel Payments Bank had also partnered with Bharti AXA Life Insurance to offer Pradhan Mantri Jeevan Jyoti Bima Yojana (PMJJBY).
Foot Notes:
About Airtel Payments Bank
Founded: 2016

CEO: Anubrata Biswas
6. Karnataka bank launched web tool for NPA recovery process named 'Vasool So-Ft'.
Karnataka Bank launched web tool for NPA recovery process named 'Vasool So-Ft'.

The tool will enable easy & faster processing, real-time information and immediate decision making in the recovery area.
Foot Notes:
About Karnataka bank
Founded: 1924

Headquarters: Mangalore, India

CEO: Mahabaleshwara M S
7. Gujarat FM presents the state's highest budget pegged at over 2 Lakh crore
Finance Minister of Gujarat Nitin Patel presented the Budget size of Rs 2,04,815 crore for the year 2019-20 for the state. The budget indicates the overall surplus of Rs 572 crore. An additional tax income of Rs 287 crore is added to it. This is the first time the State's budget crossed Rs.2 lakh crore.

The budget estimates around Rs 1,54,732 crore revenue expenditure of Rs 1, 51, 858 crores for the year 2019-20. The tap water to every household by 2022. The state government allotted Rs.4,500 crore for this purpose.
Foot Notes:
About Gujarat
Capital: Gandhinagar

Governor: Om Prakash Kohli
8. AXIS Bank won the Finance Organisation of the Year during the 3rd edition of the UK-India Awards.
Uttar Pradesh government launched a toll-free Chief Minister helpline 1076. This scheme will enable people from across the state to register their complaints and a time-bound action will be taken.

Chief Minister Yogi Adityanath will personally review the complaints every month. The people now don't need to travel to Lucknow to lodge their complaints. The action will be taken against those who make false complaints.

The CM helpline number 1076. The helpline will work 24x7 and anyone from any part of the state. The 500-seater call center established for the helpline.
About AXIS Bank
Headquarters : Mumbai

Founded: 1993, Ahmedabad

CEO:Amitabh Chaudhry
9. Quantela Inc was awarded with World Economic Forum's (WEF) 'Technology Pioneers' award 2019.
Quantela Inc, a Hyderabad and Silicon Valley-headquartered digital technology company, was awarded World Economic Forum's (WEF) 'Technology Pioneers' award 2019.

It was selected by a selection committee of more than 59 academics, entrepreneurs, venture capitalists, and corporate executives.Quantela: It is a new age digital technology solutions company focused on IoT(Internet of Things).

It provides a comprehensive, customizable, scalable platform, "Atlantis" that helps cities to proactively predict and solve social, economic and environmental problems.Technologies: This year technology pioneers emerged from a diverse set of industries focusing on AI(Artificial Intelligence), IoT, robotics, blockchain, etc.
Foot Notes:
About Quantela
CEO : Sridhar Gadhi
10. Duty Free shops at Dubai airports to accept Indian currency
Dubai Duty Free has announced that Indian Rupee will now be an accepted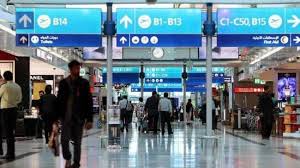 currency at all the retail outlets of the Dubai airport.
The move makes the Indian rupee the 16th international currency to be accepted at Dubai's airports.
Stores at the Dubai Airport will accept notes of various denominations, including 100s, 200s, 500s and 2000s.
Foot Notes:
About Dubai
Country : United Arab Emirates

Currency: United Arab Emirates dirham

Capital: Abu Dhabi

Dubai is a city and emirate in the United Arab Emirates known for luxury shopping, ultramodern architecture and a lively nightlife scene.

Burj Khalifa, an 830m-tall tower, dominates the skyscraper-filled skyline.