Current Affairs 04 July, 2019
Current Affairs 04 July, 2019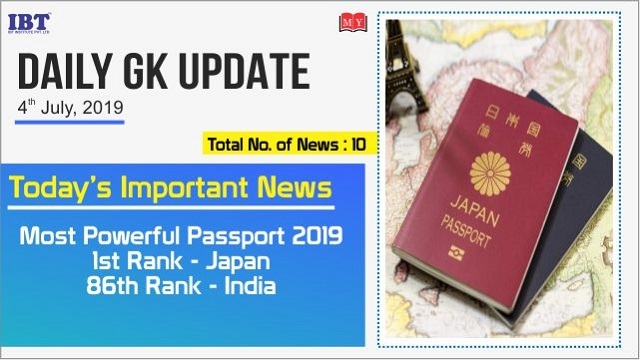 1. Most Powerful Passport 2019: Japan tops, India ranks 86th
As per the Henley Passport Index 2019 Japan and Singapore have the world's most powerful passports. Both the countries secured top position out of 199 countries, thanks to passports which allow visa-free or visa-on-arrival travel to 189 places.

South Korea now sits in second place on the index along with Finland and Germany, with citizens of all three countries having access to 187 destinations around the world without a prior visa.

India stands at 86th position in this index with a mobility score of 58. India shares this 86th position with Mauritiana and Sao Tome and Principe.
Foot Notes:
About Top powerful passports of the world
Japan, Singapore

Finland, Germany, South Korea

Denmark, Italy, Luxembourg

France, Spain, Sweden

Austria, Netherlands, Portugal, Switzerland
About Global passport index
Henley Passport Index shows that countries around the world increasingly view visa openness as crucial to economic and social progress.
2. Indo-French Joint Air Exercise "Garuda-V" has started in Mont-de-Marsan.
The 6th edition of Exercise Garuda-VI has started between Indian and French Air Force from 1st of July 2019 at French Air Force Base - Mont-de-Marsan.

The exercise will see the most potent fighter aircraft of the two countries going head-to-head to validate the latest defence strategies and fine-tune their waging capabilities and is expected to showcase fighter jets like Rafale, Mirage 2000, Sukhoi 30 from the two sides.

Participation of Indian Air Force (IAF) in the exercise will also promote professional interaction, exchange experiences and operational knowledge besides strengthening bilateral relations with the French Air Force. It will also provide a good opportunity to the air warriors to operate in an international environment.
Foot Notes:
About Indian Air force
Air Chief Marshal: Birender Singh Dhanoa
3. South Central Railway commissions longest electrified tunnel in Andhra Pradesh
The South Central Railway (SCR) has added yet another feather in its cap by commissioning the longest electrified tunnel.

The 6.6 km long tunnel, which is an engineering marvel, is constructed between Cherlopalli and Rapuru railway stations in a horseshoe design.

It is part of the recently completed Obulavaripalli - Venkatachalam new railway line.
4. UIDAI started its first Aadhaar Seva Kendra in Delhi and Vijayawada
Making it easier for citizens to apply for a new Aadhaar card or update existing ones, the Unique Identification Authority of India (UIDAI) has opened its first 'Aadhaar Seva Kendra' in Delhi and Vijayawada.

The new Aadhaar centres, which will soon be rolled out across 53 cities of India, are similar to Passport Seva Kendras run by the Ministry of External Affairs.

The Aadhaar enrolment and updation centre is open from 9.30 am to 6 pm on all days except Tuesdays.
Foot Notes:
About UIDAI
CEO: Ajay Bhushan Pandey

Headquarters: New Delhi

Founded: 28 January 2009

Ministry: Ministry of Electronics and Information Technology
5. AYUSH, MeitY ministries to collaborate for digitisation of AYUSH sector.
The Ministries of AYUSH (Ayurvedic, Yoga and Naturopathy, Unani, Siddha and Homeopathy) and Ministry of Electronics and Information Technology (MeitY) signed a Memorandum of Understanding (MoU) in New Delhi for the digitization of the AYUSH sector.

The partnership aimed for the transformation in the field of health care delivery at all levels, along with greater research, education, delivery of various health care programmes for the accomplishment of National Health Policy 2017 and e-governance initiative.

As a part of partnership the MeitY will provide technical support to the AYUSH Ministry for planning and development of AYUSH GRID Project.
Foot Notes:
About AYUSH
Founded: 9 November 2014

Minister of State (Independent charge): Shripad Yesso Naik
About MeitY
Founded: 19 July 2016

Minister – Ravi Shankar Prasad

Minister of State: Surinderjeet Singh Ahluwalia
6. Indian Railways to install CCTV cameras in over 7,000 train coaches
According to the GoI, the Indian Railways has set a target to install CCTV cameras in more than 7,000 coaches of mainline passenger trains by March 2021.

Also, CCTV cameras have already been installed in coaches of premium, mail, express and suburban trains.
Foot Notes:
Minister for Railways: Piyush Goyal.
7. Maharashtra ranks first in NITI Aayog's AMFFR Index
Maharashtra achieves first rank in NITI Aayog launched "Agricultural Marketing and Farmer Friendly Reforms Index (AMFFRI)".

The index ranks states based on the degree of reforms they have undertaken in agricultural marketing.

AMFFRI has a score that can have minimum value "0" implying no reforms and maximum value "100" implying complete reforms in the selected areas.
Foot Notes:
About NITI Aayog
NITI Aayog CEO: Amitabh Kant

Vice Chairman: Rajiv Kumar.
8. US auto industry legend Lee Iacocca passes away
Automobile industry legend from USA Lee Iacocca passed away.

He was known for creating the iconic Ford Mustang and saving Chrysler from bankruptcy.
9. Veteran industrialist BK Birla passes away
Birla Group patriarch and an ace of the Indian industry Basant Kumar Birla passed away in Mumbai.

He was the chairman of Century Textiles and Industries and was active in business since the age of 15.
10. ICICI & IndoStar Capital partner to finance commercial vehicles
ICICI Bank has tied up with NBFC IndoStar Capital for vehicle financing for small and medium fleet owners to buy new as well as old commercial vehicles.

Under this partnership, IndoStar will originate and service the customers through the entire loan life cycle including sourcing, documentation, collection and loan servicing.
Foot Notes:
About ESIC
Managing Director & CEO of ICICI Bank: Sandeep Bakhshi.