Current Affairs 02 July, 2019
Current Affairs 02 July, 2019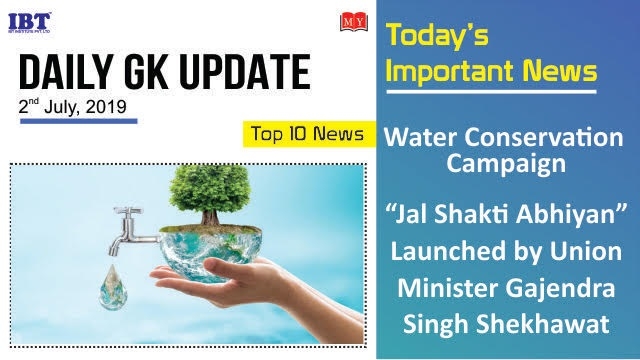 1. Jal Shakti Abhiyan
Union Jal Shakti Minister has launched a water conservation campaign 'Jal Shakti Abhiyan' , with an emphasis on 1592 stressed blocks in 256 districts.

The campaign will run through citizen participation during the monsoon 1st July-15th September. An additional phase II will run from 1st October-30th November for states receiving the northeast retreating monsoons.

The campaign will focus on five aspects: water conservation and rainwater harvesting, renovation of traditional and other water bodies, reuse of water and recharging of structures, watershed development, and intensive afforestation.
Foot Notes:
About Jal Shakti
Union Jal Shakti Minister of India: Gajendra Singh Shekhawat.
2.Abu Dhabi is hosting the ISALEX19, the International Security Alliance (ISAs) first joint security exercise.
Abu Dhabi is hosting the ISALEX19, the International Security Alliance (ISAs) first joint security exercise.The exercise will simulate a real-life security threat in a virtual context.

It also aims to test the readiness of the different teams and to evaluate the tools, strategies and procedures developed jointly between member countries.

ISALEX19 is based on the unexpected scenarios where the teams of the ISA countries will operate according to different security theories and strategies in order to test the readiness of the international teams in facing security threats. The realistic experience in the exercise is one of its kind in the world.
Foot Notes:
About Abu Dhabi
Abu Dhabi, the capital of the United Arab Emirates
3.NS Viswanathan,recently re-appointed as RBI's Deputy Director.
The Appointment Commitments of the Cabinet has approved the re-appointment of NS Viswanathan as Deputy Governor of RBI for a period of one year with effect from 4 July.

Earlier on June 24, RBI Deputy Governor Viral Acharya resigned six months before the scheduled end of his term to return to New York University.
Foot Notes:
Governor: Shaktikanta Das Trending

Bank rate: 6.00%

Interest on reserves: 4.00% (market determined)

Headquarters: Mumbai

Founded: 1 April 1935, Kolkata
4. Zaira Wasim Bollywood actress recently decided to quit bollywood due to religious reasons.
Zaira Wasim, Dangal fame actress, announced her decision of quitting Bollywood and acting career.Zaira Wasim released a statement on Twitter and Facebook that reads she no longer wants to be a part of the bollywood as it drove her away from her 'imaan' and her relation from religion.

It's been more than 24 hours since Zaira Wasim announced her decision to quit films.

she revealed that her profession was threatening her relationship with her religion.
5. Aparna Kumar becomes first IPS officer to complete Seven Summit challenge by scaling Mt Denali.
After hoisting India's tricolour on Everest, IndianPolice Service (IPS) Officer and DIG Frontier in Indo-Tibetan Border Police (ITBP) Aparna Kumar summitted Mount Denali in Alaska, USA becoming the first civil servant to climb the rare mountain.

She started her final climb on June 15 and had planned to finish it around July 10. However, owing to the clear weather conditions on the mountain, Kumar managed to finish her climb 10 days before her estimated date.

The IPS Association congratulated the officer for her "unflinching spirit & unflappable mind" that has made India a proud nation inspiring many people.
Foot Notes
About USA
Capital: Washington, D.C.

President: Donald Trump
6. High Powered Committee for 'Transformation of Indian Agriculture'
Prime minister has constituted a high powered committee of chief ministers for transforming Indian agriculture and raising farmers' income.

Maharashtra chief minister will be the convenor of the committee. The committee has been asked to submit its report within two months.
The other members of the committee include:
H.D. Kumaraswamy, Chief Minister, Karnataka

Manohar Lal Khattar, Chief Minister, Haryana

Pema Khandu, Chief Minster, Arunachal Pradesh

Vijay Rupani, Chief Minster, Gujarat

Yogi Adityanath, Chief Minister, Uttar Pradesh

Kamal Nath, Chief Minister, Madhya Pradesh

Narendra Singh Tomar, Minister, Agriculture Rural Development and Panchyati Raj.

NITI Aayog member Ramesh Chand will be the member secretary of the committee.
Foot Notes:
About Maharashtra
Chief Minister: Devendra Fadnavis

Capital: Mumbai

Governor:C. Vidyasagar Rao
7. New Zealand bans single-use plastic shopping bags
New Zealand has officially banned single-use plastic shopping bags. Under the new rules, thin plastic single-use shopping bags can no longer be supplied, but reusable carriers are allowed.

Companies that break the ban will face heavy penalties, including fines of up to 100,000 New Zealand dollars.
Foot Notes:
About New Zealan
Capital: Wellington

Prime minister: Jacinda Ardernd

Currency:New Zealand dollar
8.NALCO to get President's award for excellent CSR
National Aluminium Company Limited has been selected for President's award for utilisation of Corporate Social Responsibility fund in social development.

NALCO started a scheme "Aliali Jhia" in 2015 to promote the education of Girls of BPL families. NALCO is an Odisha based Navaratna Company.
Foot Notes:
About NALCO
National Aluminium Company Limited

Chairman cum Managing Director: T.K. Chand

Headquarters: India

Founded: 1981
9. SBI, NIIF in pact for funding infrastructure projects
The State Bank of India has signed a memorandum of understanding with National Investment and Infrastructure Fund to boost availability of capital for infrastructure projects.

The scope of the agreement includes equity investments, project funding, bond financing, renewable energy support and take-out finance for operating assets.
Foot Notes:
About SBI
SBI Chairperson: Rajnish Kumar

Headquarters: Mumbai

Founded: 1 July 1955.
About NIFF
National Investment and Infrastructure Fund

MD & CEO: Sujoy Bose
10. Professional motorcycle racer, Carlin Dunne passes away
Professional motorcycle racer, Carlin Dunne passes away.

He unfortunately suffered a fatal crash during Ducati Streetfighter V4 prototype run at Pikes Peak Hill Climb. He was also known as "The King of the Mountain".