Current Affairs 01 June 2023
Current Affairs 01 June 2023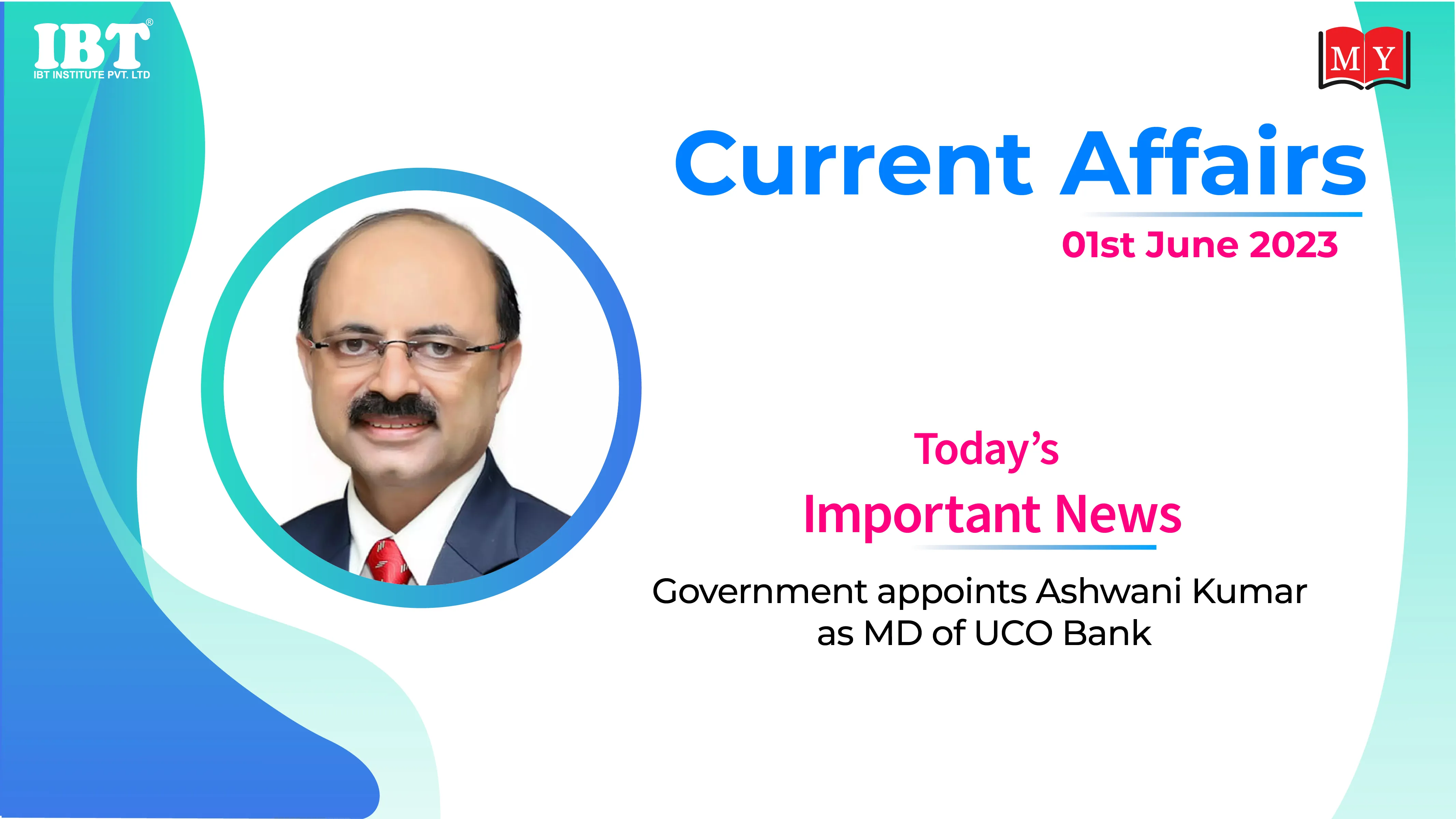 1. Government appoints Ashwani Kumar as MD of UCO Bank
The government has appointed Ashwani Kumar as managing director of UCO Bank in place of Soma Sankara Prasad whose terms comes to an end. Kumar is currently an executive director of Indian Bank and prior to this, he served as Chief General Manager of Punjab National Bank.

Kumar, a chartered accountant, rose through ranks serving various offices of five public sector banks — Bank of Baroda, Corporation Bank, Oriental Bank of Commerce, Punjab National Bank and Indian Bank. His work experience includes working in wholesale banking division and as head of several branches (including Industrial Finance Branches). As general manager, he was heading mid corporate and large corporate verticals and was also chief financial officer.
Foot Notes:
About UCO Bank:
Founded: 6 January 1943
Headquarters: Kolkata
2. Odisha government announces 'Mo Ghara' housing scheme
Odisha Chief Minister (CM) Shri Naveen Patnaik announced the launch of the 'Mo Ghara' (My House) a credit-linked housing scheme to provide financial assistance to people of states for completing or upgrading their houses.

The housing scheme was approved by the Odisha cabinet "to meet the aspiration of the lower and lower middle income households of rural Odisha This scheme will cover all such families who have been left out of the existing housing schemes.
Foot Notes:
About Odisha :
Capital : Bhubaneswar
Chief Minister : Naveen Patnaik
Governor : Ganeshi Lal
3. World Milk Day is observed every on 01st June 2023
Every year, World Milk Day is observed internationally on June 1 to recognize the importance of milk as a global food. The day was established by the Food and Agriculture Organization (FAO) of the United Nations in 2001.

World Milk Day is also intended to provide an opportunity to bring attention to activities that are connected with the dairy sector and support in any and every way we can. In this article, important details about World Milk Day 2023 such as its history, significance, celebration, etc are provided.
4. Cabinet approves Rs 1 lakh crore scheme to increase grain storage capacity in co-operative sector
The Union Cabinet has approved one lakh crore rupee scheme to increase grain storage capacity in cooperative sector. This will be done by convergence of various schemes of the Ministry of Agriculture, Ministry of Consumer Affairs, Food and Public Distribution, and Ministry of Food Processing Industries.

In order to ensure time-bound and uniform implementation of the Plan in a professional manner, Ministry of Cooperation will implement a pilot project in at least ten selected Districts of different States and UTs in the country. The Pilot would provide valuable insights into the various regional requirements of the project, the learnings from which will be suitably incorporated for the country-wide implementation of the Plan.
5. Bank of Maharashtra emerges as top performer in NPA management during FY23
Bank of Maharashtra (BoM) has emerged as the best bank as far as management of bad loans is concerned with its net non-performing assets (NPAs) falling as low as 25% during the financial year ended March 2023. This is the lowest level among all banks having total business above 3 lakh crore and not just public sector banks (PSBs).

Bank of Maharashtra was followed by HDFC Bank with net NPA declining to 0.27%. Kotak Mahindra Bank stood at the third place with NPAs at 0.37% of net advances. Among the PSBs, Bank of Maharashtra was followed by the State Bank of India (SBI) with net NPAs declining to 0.67% at the end of March 2023.
Foot Notes:
About Bank of Maharashtra:
Established : 16 September 1935
Headquarters : Pune, Maharashtra
MD & CEO : A. S. Rajeev
Tagline : Ek Parivaar, Ek Bank (One Family One Can)
6. Ajay Yadav takes charge as MD of SECI
Ajay Yadav, a seasoned IAS officer from the 2005 batch of the Bihar cadre, has assumed the charge of Managing Director at Solar Energy Corporation of India Limited (SECI), effective immediately.

SECI, a Miniratna Category-I Central Public Sector Enterprise (CPSE) established in 2011, serves as the primary implementing agency for renewable energy schemes and projects under the Ministry of New and Renewable Energy, Government of India. With over 58 GW of Renewable Energy (RE) project capacities awarded to date, SECI has played a pivotal role in driving the growth of India's renewable energy sector.
7. P Upadhyay INAS takes over as Director General of Naval Armament
P Upadhyay, INAS has taken over as Director General of Naval Armament (DGONA) from KSC Iyer, who superannuated on 31 May 23. P Upadhyay is an officer of the 1987 batch of Indian Naval Armament Service. He joined the Naval Armament Organization of the Indian Navy on 12 July 1989.

An Electrical Engineering Graduate from SGSITS Indore, he earned his Post Graduate degrees from Devi Ahilya University in Electrical Engineering with specialization in 'Digital Techniques and Instrumentation' in 1988. He is postgraduate in Mechanical Engineering from University of Pune with specialisation in 'Guided Missiles', in 1995.
8. Razorpay unveils India's fastest one-step payments solution Turbo UPI
Razorpay has launched 'Turbo UPI' which the fintech unicorn says is India's fastest one-step UPI (unified payments interface) payment solution. This new product allows customers of online merchants to make UPI payments directly without getting redirected to a third-party UPI app during checkout.

Razorpay Turbo UPI aims to deliver a 5X faster payment experience. It streamlines the payment process and eliminates any redirection to external apps. This helps businesses achieve a significant increase in the success rate of UPI payments by 10 per cent.
Foot Notes:
Headquarters : Bangalore
Founded: 2013
CEO: Harshil Mathur
9. Shashi Tharoor releases Vijay Darda's book Ringside
On May 30, 2023 Renowned author and Congress MP Dr. Shashi Tharoor released the book "Ringside" written by Lokmat Media Group Editorial Board Chairman and former MP Dr. Vijay Darda. "Ringside" is a compilation of Dr Darda's weekly articles published between 2011 and 2016 in Lokmat Media Group newspapers and other leading national and regional dailies.

The book serves as a follow-up to Dr. Darda's previous work, "Straight Thoughts" and provides readers with a wide range of topics covering a variety of topics such as science, environment, economy, security, social development, sports, arts, culture, foreign policy Provides an intellectual journey. , and national and international affairs.
10. Hrithik Roshan and Alia Bhatt win the award for best actor at IIFA 2023.
Hrithik Roshan won Best Actor in a Leading Role (male) award at the International Indian Film Academy Awards (IIFA) 2023 held in Abu Dhabi. Alia Bhatt also won the award for Best Actor in a Leading Role (Female) for her role in the movie Gangubai Kathiawadi for her role in the film Gangubai Kathiawadi.

While Alia was not present at the ceremony, producer Jayantilal Gada accepted the award on her behalf. Hrithik Roshan won best actor for Vikram Vedhan in Indian Film Academy Awards 2023. Ajay Devgn's crime thriller Drishyam 2 won the award for best editing and Best film. Abhishek Bachchan and Vicky Kaushal hosted the award.