Current Affairs 01 July, 2019
Current Affairs 01 July, 2019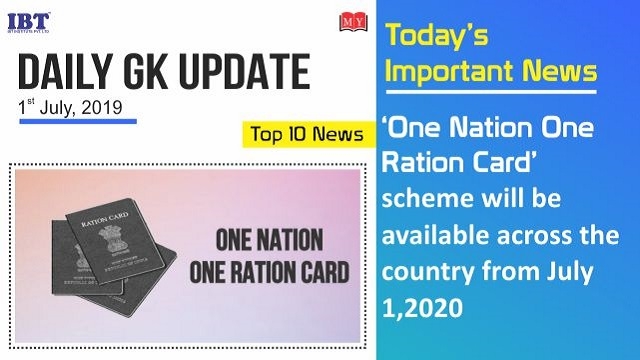 1. 'One Nation One Ration Card' scheme will be available across the country from July 1, 2020
The central government's ambitious project of 'One Nation One Card', under which beneficiaries can buy subsidized foodgrains from any ration shop in the country will begin on 1 July 2020.

The Centre has given states and Union Territories time till June 30, 2020, to use point of sale (PoS) machines in the ration shops and roll out the scheme.

Present status: 77% % of the ration shops across the country have PoS machines.Andhra Pradesh, Gujarat, Haryana, Jharkhand, Karnataka, Kerala, Maharashtra, Rajasthan, Telangana, and Tripura are the states already providing portability of Public Distribution System (PDS) entitlements.
Foot Notes:
About'One Nation One Ration Card'
One Nation One Ration Card (RC) will ensure all beneficiaries especially migrants can access PDS across the nation from any PDS shop of their own choice.

Benefits: no poor person is deprived of getting subsidised foodgrains under the food security scheme when they shift from one place to another. It also aims to remove the chance of anyone holding more than one ration card to avail benefits from different states.

Significance: This will provide freedom to the beneficiaries as they will not be tied to any one PDS shop and reduce their dependence on shop owners and curtail instances of corruption.
2. Money in Swiss banks: India slips to 74th place
India has moved down one place to 74th rank in terms of money parked by its citizens and enterprises with Swiss banks, while the UK has retained its top position, as per data released by the central banking authority of the Alpine nation. India was ranked 73rd last year, after jumping 15 places from its 88th position a year ago.

An analysis of the latest annual banking statistics released by the Swiss National Bank (SNB) shows that India remains ranked very low when it comes to money parked by Indian individuals and enterprises in Swiss banks, including through their India-based branches, while accounting for just about 0.07 per cent of the aggregate funds parked by all foreign clients of Switzerland-based banks.

In comparison, the top-ranked UK accounted for more than 26 per cent of the total foreign funds parked with Swiss banks at the end of 2018.
Foot Notes:
About Swiss Bank
Headquarters: Basel, Switzerland

Fate: Merged with Union Bank of Switzerland to form UBS
3. Sarada Kumar Hota has taken charge as the Managing Director of National Housing Bank.
Government of India, Canara Bank General Manager (GM)Sarada Kumar Hota assumed charge as the National Housing Bank (NHB) Managing Director.

It lasted for a period of three years.

He succeeds Sriram Kalyanaraman. He served as the managing director of Can Fin Homes. A subsidiary of Canara Bank. NHB wholly owned by the Government.
Foot Notes:
About National Housing Bank
4. UGC approves a scheme "STRIDE" to boost research culture in India
University Grants Commission has approved a 'Scheme for Trans-disciplinary Research for India's Developing Economy' to boost research culture in India. It will provide support to research projects that are socially relevant, locally need-based, nationally important and globally significant.

An Advisory Committee has been set up by the UGC under the chairmanship of Prof Bhushan Patwardhan to oversee the entire scheme.

Objectives of STRIDE:
To identify young talent, strengthen research culture, build capacity, promote innovation and support trans disciplinary research for India's developing economy and national development.

To fund multi institutional network high impact research projects in humanities and human sciences.
Foot Notes:
About University Grants Commission
Founded: 1956

Objectives: Coordination, determination and maintenance of standards of university education. It provides recognition to universities in India, and disburses funds to such recognized universities and college

First executive: Shanti Swaroop Bhatnagar

Headquarters: New Delhi
5. No charges on NEFT, RTGS money transfers from 1 July
As per Second Bi-monthly Monetary Policy Statement for 2019-20, the Reserve Bank of India will stop imposing additional charges on Fund transfer through RTGS and NEFT systems from 1st July, 2019.

This has been done to provide an impetus to digital funds movement.

The real time gross settlement (RTGS) system is meant for large value instantaneous fund transfers and the national electronic funds transfer (NEFT) system is used for fund transfers of up to Rs 2 lakh.
Foot Notes:
About RBI
RBI 25th Governor: Shaktikant Das

,

Headquarters: Mumbai

Founded: 1 April 1935,Kolkata.
6. National Doctors' Day: 1 July.
India observe 1st July as the National Doctors' Day. The day is celebrated to recognize the contributions of physicians to individual lives and communities.

National Doctor's Day is also celebrated to honour the legendary physician Dr. Bidhan Chandra Roy.

Dr Roy was honoured with the country's highest civilian award, Bharat Ratna on February 4, 1961.
7. 2nd anniversary of GST to be celebrated as "GST Day" on 1st JULY.
India will celebrate 1st July as the "Goods & Services Tax DAY". This year, it is the second anniversary of the implementation of historic tax reform of Goods & Services Tax.

The introduction of GST in the Indian economy has replaced a multi-layered, complex indirect tax structure with a simple, transparent and technology-driven tax regime.
About GST
GST was launched on 1st July 2017 in New Delhi.

Chairperson of GST Council: Union Finance Minister of India.
8. K. Natarajan has sworn in as the 23rd chief of ICG
K. Natarajan took over as the Director-General of the Indian Coast Guard (ICG).

He is the 23rd chief of India's coastal security force.

He took over form Rajendra Singh, who was the first Director-General to be appointed from within the force. Prior to taking over as D-G, Mr. Natarajan was the Coast Guard Commander, Western Seaboard.
Foot Notes:
About Indian Coast Guard
Motto: वयम् रक्षामः (Sanskrit); Vayam Rakṣāmaḥ (IAST); We protect (English)

Headquarters: New Delhi
9. Krishi kiosk, a scheme for farmers was launched in the state of Haryana.
Om Prakash Dhankar, Haryana agriculture, and farmers' welfare minister launched 'Krishi kiosk' for farmers at Panchkula, Haryana.

The kiosk comes under state's ''Digital Kisan Suvidha' plan, will give farmers information about government schemes and also help them file claims under the 'Pradhan Mantri Fasal Bima Yojana' Scheme.

It has been connected with the Deputy Commissioners' offices of the state, and a telephone facility has also been made available for farmers, who in turn could give information through telephone.
Foot Notes:
About Haryana
Governor: Satyadev Narayan Arya

Chief minister: Manohar Lal Khattar
10. Ministry of Electronics and Information Technology (MeitY) has proposed the National Mission on Natural Language Translation worth Rs 450 crore for next 3 years.
The Ministry of Electronics and Information Technology (MeitY) will put forward the proposal of National Mission on Natural Language Translation with an outlay Rs 450 crore for next 3 years before the Union Cabinet.

It is one of the key missions identified by the Prime Minister's Science, Technology and Innovation Advisory Council (PM-STIAC).